Blurring the lines between defenders and midfielders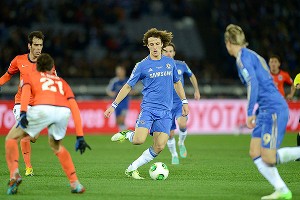 Darren Walsh/Chelsea/AP ImagesThere's been a convergence in centre-backs and central midfielders as the game has become more technical and focused on ball retention.
A recent tactical trend is to field midfielders at centre-back, an approach favoured by Barcelona's Pep Guardiola and Tito Vilanova, who have refused to buy a "traditional" central defender despite needing back-up for Carles Puyol and Gerard Pique. Instead, they've converted Javier Mascherano, Alex Song and Sergio Busquets into defenders, with varying levels of regularity and success.

There's been a convergence in the two positions as football has become more technical, and more focused upon ball retention. Top-level centre-backs are now required to be ball-players, and they need to be quicker and more mobile across the ground. Using a high defensive line requires outright pace, while attackers' emphasis upon clever passing and integrated movement means defenders are battling on the ground more than fighting in the air. Meanwhile, certain types of central midfielders have become more defensive, or at least play deeper -- the popularity of the 4-2-3-1 means two 'shielding' players, protecting the back four and denying opponents space between the lines.

Yet while plenty of central midfielders have been used at the back (Javi Martinez, Michael Carrick and Daniele De Rossi have done so in 2012, while Esteban Cambiasso was superb at the heart of Inter's three-man defence in the 2-1 weekend win over Napoli) it's been rare to see regular central defenders used as central midfielders.

David Luiz might be the exception. Rafael Benitez used him in the centre of midfield for the final 20 minutes of Chelsea's 6-1 win over Nordsjaelland – although the contest was effectively over, and Chelsea were set to be eliminated from the Champions League. "I was in a different position against Nordsjaelland, the manager pushing me upfield a bit," Luiz says. "We were winning 5-1 so I could be box to box, helping out the team."

Still, it showed that Benitez was considering the positional switch, and in today's 3-1 win over Monterrey in the World Club Cup semi-final, Luiz was used alongside Jon Obi Mikel from the start. "If the manager wants me as a striker, a right-back, a winger … I'll do anything to help the team," the Brazilian insists.

By all accounts, Luiz performed very well, offering energy in contrast to Mikel's solid positioning. Without the ball, his defensive positioning was good, minimising the space between defence and midfield, and he also broke forward, playing one excellent pass to Eden Hazard and generally distributing the ball positively to prompt quick Chelsea attacks. Benitez removed him after an hour to give playing time to Frank Lampard, still recovering from a calf injury picked up in October, but Luiz was impressive.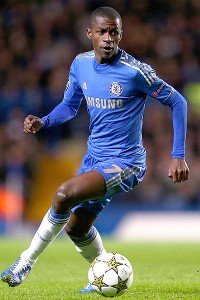 Clive Rose/Getty ImagesRamires is a first-choice midfielder for Chelsea, but the club should have held on to either Raul Meireles or Michael Essien for more depth in that position.
In truth, it was no great surprise to see him played there – Roberto Di Matteo and Eddie Newton had discussed playing him in midfield, but never quite got around to it. Ever since Luiz arrived in England, nearly two years ago, many have suggested he's not suited to playing centre-back – at least not in the Premier League. His defensive positioning was often suspect (in Andre Villas-Boas' early days at Chelsea, the Portuguese coach spent most of the game whistling and pointing, beckoning Luiz into position), and he's not great in the air.

In truth, much of the criticism has been unreasonable. Luiz's positioning has improved considerably and he's become a much stronger player, visibly bigger and more intimidating. Some think he would make a decent full-back, but anyone who watched him struggle at left-back during Porto's 5-0 thrashing of his Benfica side in 2010/11 will disagree – all five Porto goals came from Luiz's wing, and the experiment was never repeated.

The Brazilian being utilised higher up the pitch is not necessarily a reflection of his lack of defensive ability, and more about Chelsea's problems in midfield, where they lack depth after the news Oriol Romeu will be out for the season. Aside from Mikel, Benitez might prefer to use Ramires on the right, while Lampard is less reliable these days and is expected to leave the club in 2013. Josh McEachran is out on loan at Middlesbrough.

In hindsight, it was a mistake to allow both Raul Meireles and Michael Essien to leave in the summer – Meireles was unspectacular but a handy squad man, while Essien has declined significantly since his peak, but was still capable of doing a job. One should have been retained, but perhaps that lack of foresight will benefit Luiz, and Chelsea, in the long run.

But Luiz's midfield audition should be treated with caution; Monterrey were disappointingly tame, and the game was played at a remarkably slow tempo – Chelsea's midfielders had an extraordinary amount of time on the ball. It was impossible to judge how Luiz might fare in a quicker, more physical midfield zone in the Premier League – even Petr Cech wouldn't have looked out of place as a holding midfielder today.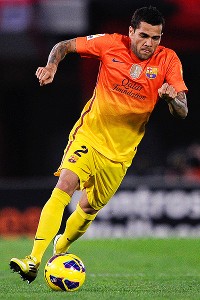 David Ramos/Getty ImagesJust because a defender shows skill in the attack -- like Dani Alves -- doesn't mean he's necessarily suited for a more forward role.
Besides, when players are deemed 'too attacking' for their regular position and moved up the pitch accordingly, it's often a disappointment. On paper, Daniel Alves would appear perfect for a right-sided midfield position, but when used there by Guardiola, or former Brazil coach Dunga, he fared very poorly. His attacking quality from right-back depends upon him arriving late, and making constant runs up and down the touchline. As a winger, his movement is too obvious and his stamina is less noticeable. Similarly, while Tim Cahill was excellent as a goalscoring midfielder, he was less effective as a forward; he wasn't able to make unchecked runs into the box because the defenders are aware of his presence. Luiz's positional switch is different, but the point remains – he's an attacking threat from centre-back precisely because he comes from a position the opposition don't expect.

Luiz can be a decent back-up midfielder, so Chelsea might not need to purchase another in January, but he's yet to prove himself against quality opposition in that role, and his development at centre-back shouldn't be ignored. Benitez was encouraged by the Brazilian's performance today, and says it's an "option for the future" – but Luiz in midfied is likely to be a Plan B, rather than Chelsea's first-choice.

Michael Cox is a freelance writer for ESPN.com. He runs zonalmarking.net.