Benitez's plans to win over Chelsea faithful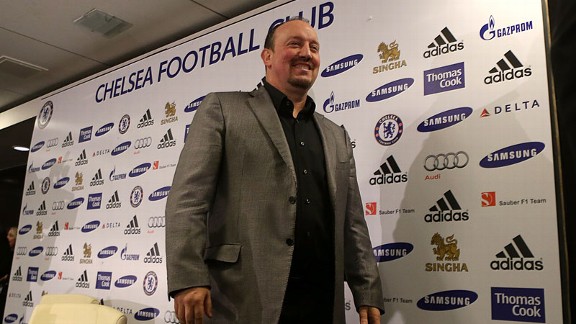 PA PhotosRafa Benitez has replaced Roberto Di Matteo as Chelsea manager
We know one thing for certain. When Rafa Benitez first met the Chelsea squad on Thursday morning, he didn't tell them to take all of their medals -- and their pots and their pans -- and "throw them in the biggest [expletive] dustbin" they could find.

Unlike Brian Clough on his first day at Leeds United, this seemed a much more serene affair.

"I went to the training session today, everything was fine, the players trained really well. The intensity was there, talking about ideas and tactics. I didn't see any problems at all," he said.

Much like Clough, though, this is an exceptionally rare case of a manager who had previously been intimately associated with one big English club taking over a rival he made a big effort to rile.

Only George Graham, who went from Arsenal to Tottenham, will really know how the Spaniard feels at present. Very often, though, Benitez personally made Chelsea fans feel pretty resentful. There was one comment, in particular, which angered them as much as anything Clough said about Leeds while he was at Derby.

"We don't need to give away flags for our fans to wave," Benitez said in 2007, as Chelsea tried to whip up more of an atmosphere ahead of a Champions League semifinal against Liverpool. "Our supporters are always there with their hearts, and that is all we need. It's the passion of the fans that helps to win matches -- not flags."

Those words are now carved into a plaque at Liverpool's Melwood training centre, effectively symbolising Benitez's immersion into the club's mythology. They also set in stone Chelsea fans' animosity toward him. Indeed, in the 24 hours before Thursday's introductory news conference, it was difficult to find a Stamford Bridge regular who wasn't vociferously against the appointment.

It was a statement, however, that had also obviously been flagged for Benitez. Because, in the entire 38 minutes, it was the only time he provided a truly pointed response.

"I don't remember some of the comments, but I will say, and I want to be honest, you have to analyse the context," he said. "We were playing against Chelsea, a top side, in the semifinals of the Champions League. If I'm a fan, I'd like to see my manager fighting for my team, my club, and doing almost everything. So I don't think it's a lack of respect for the Chelsea fans. It's more a manager defending his team. I'm sure the fans here would like to see me doing the same now that I am here, defending their club."

In truth, it was an impressive enough reply from Benitez. He probably answered an awkward question -- and situation -- as best he could and even attempted to turn it into a positive. In other words, he outright confronted it.

He must have felt he had to particularly tackle that one head on, though, because it was about the only thing he confronted. Otherwise, Benitez was generally evasive on a number of questions. For the most part, he had four or five rehearsed answers that he was reluctant to deviate from. "We have five trophies to fight for," was a popular one.

To a degree, that approach was understandable. Benitez only arrived in from Abu Dhabi on Thursday, had barely met his squad and hadn't even seen Roberto Di Matteo's last game against Juventus. It is understood the Spaniard wasn't yet comfortable at having to speak so much given he still knew so little of his new job.

It did, however, leave a lot of uncertainties throughout a news conference in which he was amiable but still a little on-guard.

Take the question over when first contact came from Chelsea. ESPN FC has learned there may have been meetings as long as six weeks ago, and possibly even with Roman Abramovich. That wasn't what Benitez said on Thursday, though.

"To be fair, I'm not worried about 'when' [first contact as made]. That's a question for my agent ... I will meet [the owner] today."

As such, there were also unanswered questions over what is expected of Benitez, particularly in relation to style of football -- a notorious issue for Abramovich. Somewhat ironically, it was those series of Champions League semifinals against Chelsea which earned the Spaniard a somewhat unfair reputation for dull football, with Jorge Valdano memorably describing the games as "s--- on a stick".

To a degree, though, that was only necessary -- if also unnecessarily overt -- pragmatism with limited players. Benitez's ideal has always been Arrigo Sacchi's pressing game and, when he had what was probably his finest squad at Anfield in 2008-09, they did occasionally apply it with some supreme football -- especially over March and April of that season.

"I don't know about the style he wants," Benitez surprisingly said. "But he'll be happy with the team winning. It's not about one way to play -- a passing game and then you can't use long balls to get behind the defenders. You manage for the games, for the opposing teams, and with these players and the quality we have, we can do well. Michael [Emenalo, the technical director] told me we have a good team and they trust me ... if we play like Valencia, we can win and he'll be happy anyway."

Much of that, though, may depend on the fitness and form of his notionally first-choice striker, Fernando Torres. A lot has naturally been made about the relationship between the striker and manager given their Liverpool history, but curiously, Benitez was eager to downplay it on Thursday and didn't want to talk about any individuals directly.

"I spoke with him with the other players today, and his attitude was really good," he said. "It seems everybody was saying he wasn't doing well. I was saying the same, watching games. But his attitude was really good. With this attitude, all the players will do well. We can win important things for the club with these players.

"I saw today a lot of players with a great attitude. Fernando was one of them. Oscar, Ramires, Azpilicueta ... any of them, they were training very well. With this attitude, they will improve. Can we help them improve? We will do our best.

"It will be easier with Fernando than the others. He is a top-class player and, with his attitude, he will do it. I know how good he can be, as I know how good David Luiz or Ramires can be. He's one of the important players in this team, and I'll try and improve him like I will the other players."

That, however, is another source of uncertainty. Benitez is a notorious authoritarian whose man-management techniques weren't always spoken of in glowing terms. How he deals with a famously abrasive group of personalities will be interesting.

Then, there is the other big uncertainty: how good a manager Benitez actually is at present. He is a figure who has curiously forced most arguments to the extremes. A significant portion of Liverpool fans describe him as a genius; a significant number of critics think he's utterly hapless.

The truth is somewhere in between, although Benitez's history of two Spanish titles and a Champions League should really prove he at least has a highly respectable number of talents. The question is whether they remain as sharp given he's been out of the game for almost two years.

"Out of the game is not out of the game when you've been analysing games every weekend, developing things for coaches, analysing games for a website on the Champions League," he said. "I was there, perhaps not on the pitch, but my passion for the game and forward thinking is still there. I haven't lost anything. And it's the opposite: I have more desire and trophies now than ever before."

Can he retain this job, though, for longer than the allotted time?

"At this moment, I'm here. I got the job," he said. "This is very simple: winning games. Winning games is a guarantee for everything. If I do well and win trophies, I'd be really happy and then we will see."

That's for certain.