Leadership vacuum undermining Chelsea defence
Chelsea's run of three Premier League games without a win has prompted many to ask questions about Roberto Di Matteo's team with much of the focus on the attack and, principally, Fernando Torres. After Sunday's draw with Liverpool, this blog laid the blame for the failure to win the grotesquely one-sided contest at the door of those paid to score goals. But a look at the bigger picture will also illuminate the defence as a significant cause for the faltering points tally.

Almost two months have past since the Blues last kept a clean sheet in the league. That came in the 1-0 home defeat of Stoke and only lowly Nordsjaelland have been unable to find the net in any other competition since then, yet they did rattle the woodwork. The inability to keep out the opposition has been all the more surprising seeing as the clean sheet against the Potters was the fourth in five league games, the consistency hinting at a rapidly discovered balance between resolute defence and exhilarating attack.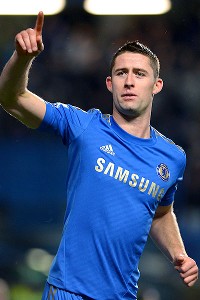 Shaun Botterill/Getty ImagesIn John Terry's absence, Gary Cahill is the most likely candidate to assume the mantle of leader at the back, but does he feel empowered to take charge?
Unfortunately, that impression has been exposed as little more than a mirage with several soft goals having been conceded since then. The turnaround is partly the result of opposing teams learning how to exploit the Chelsea system, but also a lack of vocal organisation during the game. It is here where the absence of John Terry was so keenly felt during his recent suspension and will continue to be after he has been ruled out for the next few weeks with knee ligament damage. Terry's ability to quickly assess and anticipate dangerous situations is arguably his greatest talent and together with his communication is one that has marked him out as the leader in every team he has played in. An excellence in marshalling a defence is such a key trait that it is hard to think of a great centre-back that has not possessed it.

That cohesion allied to on-field leadership has been absent of late, compounded by the injuries to Ashley Cole and Frank Lampard. That Chelsea have been unable to draw on the experience and composure of those senior players – whether from the start or from the substitutes' bench - has clearly contributed to the malaise. Such players are needed to help guide more impetuous youngsters through difficult periods in matches as well as to keep minds focused in situations of both adversity and prosperity. With these qualities in scarce supply throughout the rest of the team, it is easy for concentration to dip and players to be left chasing shadows. Petr Cech can communicate well in ultra-defensive situations such as in the stubborn last stand against Barcelona, but a goalkeeper can provide little organisation when play is further upfield

Last season, Terry was injured during the final weeks of Andre Villas-Boas' reign. While it would be far-fetched to suggest that his presence could have staved off the Portuguese's dismissal, his unavailability alongside the alienation of Cole and Lampard by the manager helped create a leadership vacuum at a crucial point of the campaign. Curiously enough, Villas-Boas' last match in charge of Chelsea was away at West Bromwich Albion, which just so happens to be the next date in this season's fixture list. Though I think we can safely predict that even if Roberto Di Matteo was to replicate the 1-0 defeat he will not be given his P45 from Roman Abramovich just yet.

Even so, the game has taken on added significance given the drop in form, and with a vital Champions League tie against Juventus to follow it is essential that whoever makes up the back four steps up and takes on the responsibility of organising the defence. Branislav Ivanovic, Gary Cahill and David Luiz are all talented defenders but none have yet shown that they are capable of leading from the back. Luiz is too unpredictable to be the foundation stone, and while Ivanovic has always got on with his job superbly well he seems too softly spoken to galvanise his team-mates. Cahill is probably the most likely candidate to assume the mantle, but having spent less than a year at Stamford Bridge he might not feel sufficiently empowered to take charge.

Leadership and organisation are the pillars of a successful defence and the reinforcement of both can – and must - be addressed before January, unlike the problems at the other end of the pitch. Di Matteo has enjoyed a relatively smooth ride since he was given the manager's job on a permanent basis. Now, as he attempts to keep pace with the two Manchester clubs and qualify for the knockout stages of the Champions League, he faces the first true test of his tenure.

Follow Phil Lythell on Twitter @PhilLythell