Torres not alone in failing to shine at Chelsea and Liverpool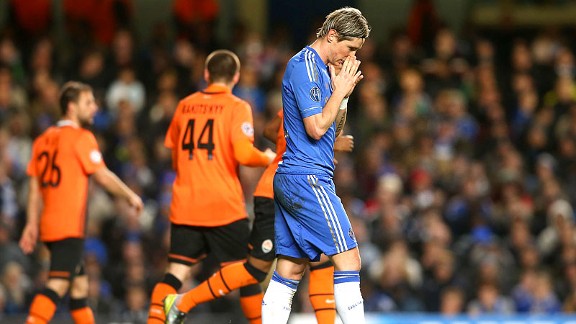 Scott Heavey/Getty ImagesFernando Torres is one of a few players that have crossed between Chelsea and Liverpool and failed to excel at both clubs.
When Chelsea play Liverpool in any competition these days, the enmity in the air is palpable. The last decade has seen the two clubs meet in several high stakes encounters in the Premier League, FA Cup and, most notably, the Champions League, with each occasion feeling more fractious than the last.

- Walsh: Visit to Chelsea is just football
- Brewin: Rodgers aims to lay first true marker

The ill-feeling is borne out of a combination of familiarity, controversy and inflammatory rhetoric -- the latter largely coming from Jose Mourinho and to a lesser extent, Rafael Benitez -- but the mutual disrespect was not always so prevalent.

While Londoners (Chelsea fans are not cockneys, no matter what people living north of Watford might claim) and Scousers have never been the closest of friends -- especially when it comes to football -- there had been little in the way of genuine blood-boiling rivalry between the clubs prior to the last 15 years or so. However, the philosophies of the two institutions have always been different; this contrast can be seen by the relatively small amount of players that have transferred from one to the other and their contrasting fortunes at each.

When discussing this topic, there is no other place to start than with Fernando Torres. There is not an football observer anywhere that would argue against the assertion that the Liverpool version was on a different planet to the one currently turning out for the Blues. Once a veritable goal-machine at Anfield, injury, a dearth of self-belief and a Samson-esque haircut appears to have shorn him of his old ruthlessness as the striker continually chooses to take an extra touch rather than rely on his predatory instincts. A less palatable style of play at Stamford Bridge has often been cited as the cause of his malaise, but the array of playmakers currently at his disposal have still failed to rouse him from his slumber.

Going the other way, Joe Cole has enjoyed a very different career on Merseyside than he did in West London. A former player of the year at Chelsea, a regular England international and a key member of two of Chelsea's three Premier League title-winning sides, Cole has now become the butt of jokes at a club that has only won three home league games all year and is presently shrugging its shoulders in the Europa League. Quite a fall from grace.

Raul Meireles and Yossi Benayoun -- still technically a Chelsea player -- have also both swapped red for blue in recent years. They certainly did not flop quite as spectacularly as Cole or Torres, but it can also be fairly stated that neither managed to win themselves a permanent place in Chelsea fans' hearts even if the Portuguese made memorable and essential contributions in last season's Champions League matches against Benfica at home and Barcelona away.

Four others to have represented both parties but made the journey via an indirect route are Glen Johnson, Nicolas Anelka, Bolo Zenden and David Speedie.

Johnson has been a relative success at Liverpool even if he never quite developed into the star that many expected him to be when watching him as a teenager. However, he is definitely faring better than he did at Stamford Bridge, where his naivety would drive Mourinho into a fury. Anelka was only at Liverpool for the blink of an eye, hardly becoming part of the furniture or buying into the Anfield ethos. Zenden, to put it as politely as I can, flattered to deceive at both clubs while Speedie was only at Anfield for a matter of months in 1991 -- despite scoring an impressive six goals in just 12 appearances -- with incoming manager Graeme Souness shipping him out to Coventry upon arrival.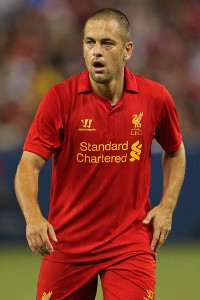 Tom Szczerbowski/Getty ImagesOf all the players to struggle across the Chelsea-Liverpool divide, Joe Cole's fall from grace has arguably been the most severe.

Stretching back still further into the 1980s, Nigel Spackman was a cultured yet determined midfielder who played a huge role in Chelsea's indomitable march to the second division title in 1984 and is perhaps the one player who could call his time at both Liverpool and Chelsea an undoubted success. His subsequent efforts in the top flight did not go unnoticed by Liverpool (who were by far the biggest and most successful club in England at the time) and the lure of the north-west was too tempting to turn down -- extraordinary by modern standards but totally understandable, if regrettable, at the time. 'Spackers' did win a league title on Merseyside but was never regarded as one of their main men; he left after two seasons, going on to win an array of silverware across the border with Rangers before returning to Stamford Bridge in the twilight of his career.

The only other person who enjoyed genuine good times at both was Joey Jones. The affable Welshman won two European Cups with Liverpool (albeit one of them as a substitute) before playing alongside Spackman as Chelsea won promotion in impressive style. But the fact that he only joined the Blues as his career was winding down would probably prevent him from being called an unqualified success.

So, out of the ten players to have worn the rampant lion and the liver bird on his chest in the last 35 years, the only one to be recalled by both sets of supporters with a degree of genuine fondness is Spackman -- and even that might be pushing it a bit as far as Liverpool fans are concerned.

It's a pretty poor return given the status of the two clubs but perhaps it is just that the cultures at Chelsea and Liverpool are as contrasting as the colour of their kits. The rivalry will be in full bloom once again on Sunday -- it would be the perfect time for a certain Mr. Torres to take his first significant step on the road to emulating 'Spackers' by bagging the match-winning goal.

Follow Phil Lythell on Twitter @PhilLythell