In the red corner, Wenger; in the Blue, Mourinho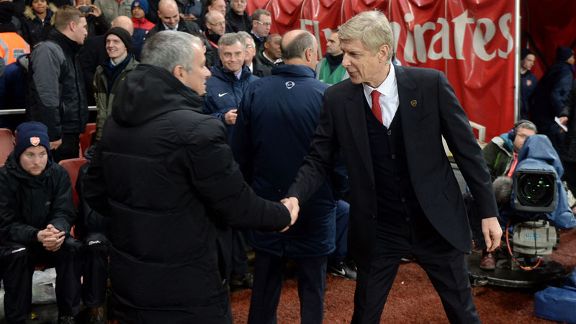 AllsportJose Mourinho and Arsene Wenger: medals-on-the-table time.
Much has been made of the ongoing war of words between Arsenal manager Arsene Wenger and his Chelsea counterpart, Jose Mourinho -- too much, perhaps. The competitive edge to the indirect dialogue between Wenger and Mourinho dates back to the Blues boss' initial tenure at Stamford Bridge, when the self-anointed Special One stepped up to the plate and brought Premier League title glory to SW6 at the end of the 2004-05 campaign -- his first season in charge.

And 2005 proved to be a defining year for both Chelsea and Arsenal. The Blues won the League Cup and the league title and the Gunners won the FA Cup. Since then, Chelsea have won a further two Premier League titles, the FA Cup four times, the League Cup again, the Champions League and the Europa League, whilst their north London rivals have won nothing. Nada, niente, rien, nichts ... it's the same in any language.

- Wenger rebuffs 'silly' Mou comments

Mourinho departed Stamford Bridge and Chelsea in 2007, arriving in 2008 at the Stadio Giuseppe Meazza where he guided Inter Milan to the Supercoppa Italiana and Serie A title in his first season, followed by an unprecedented treble comprising the Serie A title again, Coppa Italia and Champions League in his second. Next stop, 2010, the Santiago Bernabeu and Real Madrid, where the Portuguese manager improved his CV by winning the Copa del Rey, Supercopa de Espana and La Liga before returning to London and his beloved Chelsea in 2013.

Whilst Mourinho was furthering his reputation in Europe, Wenger remained at Arsenal, which in 2006 moved from Highbury to a fabulous, state-of-the-art, 60,000-plus, all-seated stadium at nearby Ashburton Grove. Renamed The Emirates after the club signed a sponsorship deal for 100 million pounds with the UAE-based airline, the stadium's trophy cabinet remains empty to this very day.

Wenger is by some distance the Premier League's longest-serving manager. His Arsenal service record dates back to 1996, and with it comes seven major trophies: three Premier League titles and four FA Cups. In recent seasons (we are in the ninth now), the club seems to have been more motivated by the acquisition of and/or saving of money than winning trophies. Campaign after campaign, Arsenal have been preoccupied with Champions League qualification, with Wenger setting an unwelcome precedent for English clubs fielding under-strength teams in the early rounds of domestic cup competitions.

Over the corresponding period, the Gunners' activity in the transfer market has been, frankly, bizarre. The sale of Robin van Persie to Manchester United and a failed bid to sign Luis Suarez from Liverpool highlight the fact that accountants lacking ambition rather than ambitious accountants are in control of Arsenal's destiny.

In August 2012, Wenger sold van Persie, his best player and captain, to title rival United for 22.5 million pounds with a further 1.5 million pounds payable if the Red Devils won either the Premier League or Champions League in the next four years. United duly won the Premier League title in the first of these four years, with van Persie scoring 26 goals in the process. For now, it remains unclear how Arsenal invested the additional 1.5 million pounds secured through van Persie immediately leading United to the Premier League title; the Emirates' accountants are probably still counting it now.

At the start of this season, Wenger fronted an audacious Arsenal bid to sign Suarez from Liverpool. Why audacious? The Gunners tabled an offer of 40,000,001 pounds, believing that the additional 1 pound would be sufficient to trigger a release clause in the Uruguay international's contract with the Anfield club. It wasn't. Maybe that 1.5 million pounds from the van Persie bonus could have been put to better use?

Suarez has 23 Premier League goals to his name for Liverpool this season. But Wenger doesn't seem too fussed. "He was never our player. It is just a situation that did not come off and that is it," he commented, when asked about the player. Perhaps, though, if Wenger carried more sway with the Emirates' accountants, Suarez would have been rippling the net for Arsenal this season. Curiously, during the same press conference, the Gunners' manager did talk about what he found lamentable. "You have sometimes regrets when a player played for you and scores goals or does well somewhere else," he'd said ruefully, leaving no one under any illusions whom he might have been referring to.

With Arsenal at last looking like genuine title contenders, last month's transfer window gave Wenger an opportunity to strengthen his squad, and gave Arsenal a chance to prove to their fans that they are interested in winning competitions rather than impressing the bank manager. The window duly slammed shut with the accountants grinning from ear to ear as the Emirates' coffers remained replete with the income generated from merchandising and ticket sales to their long-suffering supporters. Fans who would soon face the ignominy of seeing their side thrashed 5-1 by Liverpool.

Chelsea and Jose Mourinho had other ideas. High-profile arrivals included Nemanja Matic (21 million pounds), Mohamed Salah (11 million) and Kurt Zouma (12.5 million). Amongst those leaving were peripheral players Kevin de Bruyne (17 million) and, most notably Juan Mata (37.1 million).

Mata's sale to Manchester United provoked a reaction from Wenger that started the recent spat with his old adversary Mourinho. Perhaps forgetting the Gunners' sale of Robin van Persie to the Red Devils, Wenger expressed surprise that Chelsea had sold "a great player to a direct opponent," going on to allude that the sale was unfair because the Blues had already played United twice in the league and were strengthening their own hand as David Moyes' side would be better-equipped to face title rivals including Manchester City, Liverpool and, of course, Wenger's own precious Arsenal.

Mourinho quipped back that it seemed unfair that Arsenal had more time to rest in between games, citing the League and FA Cups as an example, and Wenger quickly countered, stating that he dealt only in facts. Forgotten amongst the brouhaha is the fact that the Chelsea manager subsequently feted his Gunners counterpart when news broke that Wenger was to sign a new contract to extend his stay at the Emirates. "I think he's one of the best manager's in the game," said Mourinho. "In the last years he couldn't win a trophy -- it doesn't change what I think."

Wenger's Valentine's Day gift to Arsenal's title rivals was to suggest that a "fear of failure" was the reason they were playing down their title chances. A direct dig perhaps at Mourinho and his suggestion that Chelsea were akin to a "little horse" in the race for the title.

Perfectly scripted for the media, Mourinho's response was provocative and truthful in equal measures. "If supposedly he is right and I'm afraid to fail, it's because I haven't failed many times," said the Portuguese forthrightly. "Maybe he's right. Maybe I'm not used to failing. The reality is he is a specialist. Eight years without a piece of silverware, that's failure."

With Mourinho cast as the villain, the BBC stoked up the fires of controversy by trotting out their former presenter, the venerable one-time custodian of Arsenal's goal, Bob Wilson, to add his unbiased thoughts that the Chelsea manager's comments about Wenger were at best "disrespectful" and "at worst despicable."

Wenger wasn't lost for words, either: "I do not want to go into that silly, disrespectful remark. I never spoke about him in my press conference and I will not start. The only thing I know is it's more embarrassing for Chelsea than for me."

If a line under the ongoing row was to be drawn, it was by Mourinho. "The only thing I feel is that I was very quiet in my place, and somebody spoke not in a nice way about us," he said when asked about the falling-out with Wenger. "After that, I don't accept that one is always 'Monsieur polite' and the other one is always the bad guy. I don't accept. I'm sorry."

So who is right and who is wrong? In the red corner, Arsene Wenger; in the Blue corner, Jose Mourinho.

Whilst it would make for a global television audience of billions, a boxing match will not take place to settle their arguments -- but fortunately a football match will go a long way toward doing so. By the time Chelsea play Arsenal at Stamford Bridge on March 22, this season's Premier League title race will be entering its final furlong, and the outcome of that game could go a long way toward deciding which of these clubs will stay the pace.

In the meantime, Blues supporters will continue to laugh at the war of words and the fact that it's been eight years, eight months and 28 days since Arsenal and Wenger last won a trophy. On Wednesday, it will be eight years, eight months and 29 days. Perhaps "Monsieur polite" needs to have an impolite word with the Emirates' accountants -- time has a habit of ticking by. Nine years, 10 years. What then?