Chelsea aim to keep momentum going vs. West Brom
Life cannot currently get much better for Jose Mourinho.

His Chelsea team is beginning to purr with the quicksilver talents of Eden Hazard eclipsing all the others in the league with the possible exception of Liverpool's Luis Suarez. The defence has stopped conceding silly goals with the autumn scourge of the set piece seemingly eradicated. And if that wasn't enough, the Blues' main rivals are starting to reveal the weak spots in their armour while at least one of their managers has been drawn into an unwanted verbal spat with the Machiavellian master of the mind game. All the Special One's dastardly plans are slowly slotting into place.

Despite the upturn in fortunes, Mourinho is well aware that now is the time to keep his players' feet on the grounds and not to allow anybody to get carried away with the situation. To be fair, he has been pursuing that line ever since he arrived back at the club and while it might initially have been designed to protect him from any disappointing results it is now proving to be a useful shelter for his "little horses" as they go about their business of winning football matches away from the glare of expectation. This policy serves to ease the pressure on his players while also keeping targets simple: win the next game, do not think beyond that.

Of course, what Mourinho says publicly and what he says privately to his squad are sure to differ, though to what degree it is impossible to know. One thing that is certain -- as it is a requirement that Mourinho demands with almost fanatical zeal -- is that he will be exhorting his players not to become complacent and start believing their own press.

He will be underlining the importance of concentration even more this week as Chelsea travel to West Bromwich Albion to face the team that came closer than anyone to beating his unbeaten home record as Blues boss, a run that now stands at 73 games. Only a generous penalty decision by Lee Probert deep into injury time salvaged a draw for Chelsea last November. Hazard's successful conversion from 12 yards ensured that the record was preserved in the most narrow fashion imaginable.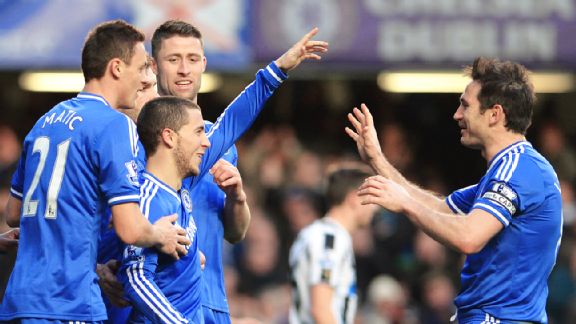 Shaun Botterill/Getty ImagesChelsea hope to keep the celebrations going when they head to The Hawthorns to face West Brom.
Although a thoroughly professional approach from his players will help, Mourinho will also be aware that the context of this fixture is very different from the one at Stamford Bridge three months ago. Back then Chelsea had lost their previous Premier League match against Newcastle in a limp display that served only to undermine the confidence in the squad. Now Chelsea have dispatched those same opponents 3-0 and can look back on an 11-match unbeaten run in which they have drawn just twice and seen their defence breached only twice. The Baggies, by contrast, have won only once in 15 games in all competitions since that 2-2 draw in West London.

The sacking of former Stamford Bridge favourite Steve Clarke has failed to arrest their slide and the concession of three goals against Crystal Palace on Saturday and four at Aston Villa 10 days earlier -- both fellow relegation strugglers -- hints that they are not the most resolute of sides. On the flip side, however, they have held both Everton and Liverpool to 1-1 draws in their past two matches at The Hawthorns, which signifies a team that can raise its game when the big boys roll into town. Apart from their creditable draw at Chelsea, they have also secured a win at Manchester United and draws with Arsenal and Tottenham. They are perhaps not as fragile as their winless run suggests.

Unfortunately for Chelsea, they will have to do without a player who simply does not allow standards to slip when facing supposedly lesser opposition. John Terry's participation in every minute of every game this season was halted by injury against Newcastle and he will sit out Tuesday night's game, as well. With Gary Cahill playing the best football of his career and David Luiz now appearing to buy into the Mourinho philosophy, the defence should be in capable hands in the club captain's absence. On the plus side, Fernando Torres is back in contention after recovering from a knock to ease the burden on Samuel Eto'o, though he is likely to be saved for Saturday's FA Cup tie with Manchester City.

Whoever lines up for Chelsea will know that they have to be fully focused to achieve the result they are looking for. Relentless winning is an essential trait for any title-winning side, no matter what size horse they might be. With their closest challengers not playing until the Wednesday evening, the team will also know that a victory will move them four points clear and simultaneously increase the pressure on the chasing pack. If the players needed any extra motivation prior to kickoff they now have it, with or without Billy McCulloch's tartan team talk.

Follow Phil Lythell on Twitter @PhilLythell