Captain John Terry deserves a new Chelsea deal
Jose Mourinho continues to downplay Chelsea's Premier League title chances with a series of self-deprecating analogies. He most recently compared the Blues to a "little horse who needs milk and to learn how to jump."

- ESPN FC Podcast

However, recent results suggest that the little horse is taking much closer order in the race for the Premier League trophy, leaving the "jockeys" of the two horses currently leading the field nervously looking over their shoulders.

Neck-and-neck with Manuel Pellegrini's Manchester City after Monday's masterful display at the Etihad, Mourinho has Arsene Wenger and Arsenal firmly in his sights. The Chelsea manager speaks openly about the Blues being a "team in evolution," but in the modern game, all football clubs are in a constant state of development. It may just be the "little horse" stabled at Stamford Bridge is actually a more-than-capable thoroughbred who just needed the correct schooling, love, devotion and, of course, some "milk."

The heart and soul of Mourinho's work in progress is John Terry; quite simply, the Blues' captain is Mr. Chelsea. Disregard the all-too-easy-to-pluck-from-the-air peccadilloes and associated media histrionics and focus instead on Terry the player, and what do you have?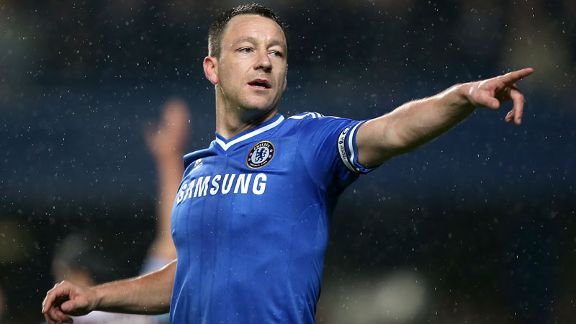 PA PhotosJohn Terry's current contract at Chelsea expires in the summer.
A one-club man who, at 33 years of age, has racked up 605 appearances for the Blues, scoring 57 goals in the process. A man who has been capped by his country 78 times. History is repeating itself, as Chelsea have a reluctance to table a sensible deal to retain Terry's services beyond the end of the campaign -- similarly to Frank Lampard's season with the club last year. Which makes little sense, as he has played every single minute of every single Premier League game for Chelsea this season -- their only outfield player to do so.

A widely overlooked statistic associated, and almost certainly related, to this fact is that Chelsea's 2013-14 league goals-against tally -- which to date stands at 20 -- is the lowest in the league. The captain's commanding influence at the heart of the meanest defence in the league has also led to calls for his restoration to the England national side as he continues to thrive under the Mourinho Mk II regime at Stamford Bridge.

Even Mourinho appears to be in Terry's corner. The Blues' boss has given every indication that he will recommend to the Chelsea board that his captain is offered a new deal while maintaining the club's policy of tabling only one-year extensions to outfield players over age 30. But why wait?

Whether any such contract will resemble Terry's current 165,000 pounds-a-week deal, or indeed extend beyond 12 months, is immaterial -- what matters is that the embarrassing scenario that surrounded Lampard's retention saga is avoided. Unfortunately, though, another round of brinkmanship, played out for all to see, appears to be on the cards -- which suggests to many supporters that those in charge at Chelsea football club remain as blinkered as ever when it comes to affairs of the True Blue heart.

As with Lampard, Terry deserves to be treated with more respect. In Mourinho's equine-esque world of little horses, Terry still jumps higher than the rest, and owner Roman Abramovich should give the defender the security his loyalty and leadership deserves.