Mourinho proves 'special' quality in Man City win
Last week, the phrase in vogue in the football fraternity when referring to Jose Mourinho and the impending Premier League summit meeting was "parking the bus."

Following Chelsea's dismantling of popular wisdom along with Manchester City's hitherto impervious home record, that comment has been supplanted by journalists and pundits across the land with a single word: masterclass.

That so many were taken aback by Mourinho's forward-thinking approach to Monday night's game belies their own ignorance and the propensity for lazy stereotyping. The Special One has been continually tarnished with the notion that he promotes dour, prosaic football that dulls the senses and offends the principles of the beautiful game. Even shelving the obvious argument that there is no definitive way to play and that the sport's diversity of tactics is what makes it so compelling, it highlights the myopia of those who hold that view.

His first Chelsea team was boring only to those who grew tired of their relentless winning habit, while his history–making Inter Milan and Real Madrid teams hardly set out to revive the ultra-direct strategy favoured by Wimbledon's "Crazy Gang."

Perhaps the reason why he is doubted and denigrated by suspicious observers is because he doesn't expound a firm opinion on how football should be played other than that it should be effective and victorious. Far from being a weakness, this stance is one of his many strengths as he has not made himself a slave to a single formation or system. He might have core values such as collective work ethic and a solid defence, though ultimately he will instruct his team in whatever he feels is the best way to conquer a particular opponent on a given day.

This was perfectly exemplified by his team setup against City that seemed to surprise the vast majority of the media pack who were convinced that Mourinho would simply shut up shop and hope to sneak something on the break. That thought was forged by comparison with the tactics he deployed away at Manchester United and Arsenal, although without taking into account the context surrounding those matches.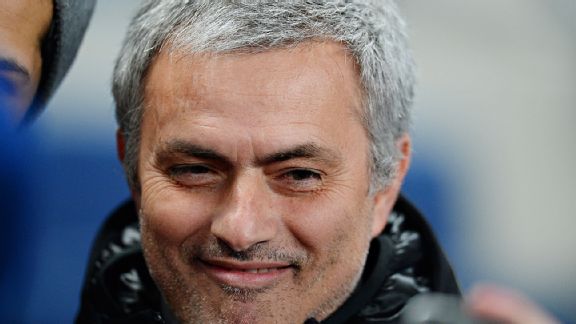 Andrew Yates/Getty ImagesJose Mourinho has plenty to smile about after leading Chelsea to a 1-0 win over Manchester City.
With some new faces and a new manager, Mourinho took Chelsea to Old Trafford last August but was not confident that all his ideas had firm roots among his squad and an understandable safety-first policy was adopted. There was no need to go gung-ho so early in the season with a side that was not yet comfortable in its own skin and for whom defeat could have had a lasting damaging effect. After all, nobody knew quite how bad United would be this season. If they had maybe the Blues would have gone for the jugular.

As for Arsenal, Chelsea had just come off the back of a demoralising 3-2 loss at Stoke City, the latest in a series of defensive calamities. The need to regroup and stand firm at the Emirates Stadium against a side that was scoring freely at the top of the table was obvious and let's not forget that Chelsea still had far more chances to win that contest than the Gunners.

Coming into Monday night's game against City, however, Chelsea had enjoyed a rich vein of form, having been undefeated since that reverse at the Britannia Stadium, conceding against only Liverpool and Manchester United in that 10-game period. Confidence was high with the players effortlessly performing within the framework given to them by Mourinho. For those who have watched Chelsea intently over the past six weeks, the positive approach at the Etihad Stadium was no surprise even if the relative dominance by the Blues did raise a few eyebrows among Chelsea supporters.

One element that was surprising was the selection of David Luiz alongside Nemanja Matic. The arrival of Matic was thought to have spelled the end of the Brazilian's midfield commission yet the combination served to outmuscle City and provide both tenacity and ball-playing ability in both elements of the double-pivot. It was reminiscent of the power supplied when Claude Makelele, Frank Lampard, Michael Essien and Michael Ballack used to roam the centre of the pitch in the previous decade and there is no higher praise than that.

It also highlighted that Mourinho is not a man who is welded to his convictions and is not someone who is unprepared to re-evaluate his initial conceptions.

The manager had not wanted to play Luiz in midfield at any point in this campaign, seeing him as a central defender first and foremost. Having been pressed into changing that view through necessity, Mourinho had hoped to revert back to his initial thinking about the player but something inside him obviously compelled him to play Luiz in tandem with Matic. That conviction proved to be inspired as City's midfield juggernaut was buffeted around, prevented from ever establishing their usual rhythm.

Whether that duo will feature regularly remains to be seen as Ramires' strong running through the middle is an asset that Mourinho values highly. But it does mean that he has another effective option at his disposal, one that is likely to be employed should Chelsea progress to play one of the continent's elite in the Champions League.

The "masterclass" at the Etihad was a reminder to everybody that Mourinho remains the most malleable and tactically astute manager in the game at the moment, more so even than the more celebrated aesthetes of Pep Guardiola and Arsene Wenger. It cannot be doubted that the teams that those two field attempt to play a brand of football that is a joy to watch though they are both wedded to that philosophy irrespective of the match situation.

In Guardiola's case it has usually been enough to sweep aside all before them, though for Arsenal it has not always helped their cause. Mourinho, meanwhile, is attempting to foster an understanding between his players and the patterns of play that he would like to see on the field but without preventing himself from adopting a "horses for courses" approach when the situation demands.

Quite simply, Mourinho is still, and will always be, the Special One and every single Chelsea supporter is delighted that he is proving it once again.

Follow Phil Lythell on Twitter @PhilLythell