Chelsea's title hopes stall after firing blanks vs. West Ham
Chelsea's hopes of winning the Premier League title were dented after a goalless draw at home with West Ham United.

The match against a team mired deep in the battle against relegation was a must-win affair for the Blues yet they were unable to find the breakthrough despite dominating the game from start to finish. Although by far the superior team, Chelsea were never at their best and they often laboured to penetrate a well-drilled Hammers side that turned up intent on protecting their goal and offering nothing at the other end.

That is not meant as a slight against the visitors. There is no rulebook that decrees a team must demonstrate attacking ambition especially one that is sitting in the bottom three and playing away against a side teeming with guile and flair. Sam Allardyce clearly felt that deploying eleven men behind the ball was the best way to extract something from this game and he was ultimately proved right. Chelsea's inability to break them down was perhaps evidence that Jose Mourinho's claim that his side are still a year away from being genuine title contenders was indeed uttered in good faith.

For all the clever interplay in the West Ham half, the Blues often ran out of ideas around the fringes of the penalty area. There was much probing by the likes of Eden Hazard, Willian and Oscar though for all their possession, gilt-edge chances were at a premium thanks to the fierce resistance offered by their opponents.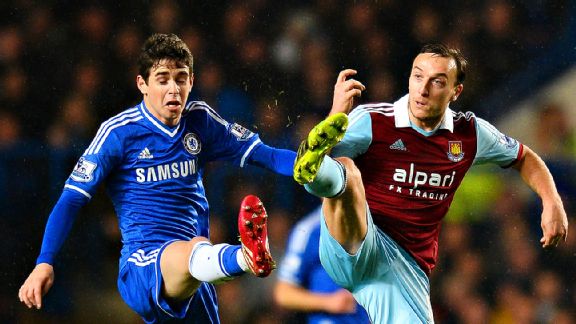 Mike Hewitt/Getty ImagesOscar couldn't find his usual magic against West Ham.
Throughout the 90 minutes, there remained the feeling that once the deadlock was broken the floodgates would open. Had Oscar's dipping first half shot crept under the crossbar, rather than being tipped onto it by Adrian in the West Ham goal, then the complexion of this match would have been very different. As it was, for all their dogged defending by the Hammers it was their goalkeeper that ultimately denied Chelsea the win.

Every time a blue shirt sent an effort towards goal, Adrian managed to get some part of his anatomy in the way to thwart the danger. There was a point blank save from a John Terry header in the first half that he then bettered with a superb reflex save from Samuel Eto'o minutes later. He saved his best until last, however, by somehow keeping out Frank Lampard's low drive deep into stoppage time.

The Spanish stopper's excellence, though, was also augmented by some extremely good fortune. Late in the match after a goalmouth scramble, Adrian decided to try to take the heat out of the game by clutching his side to delay proceedings. Spotting the ruse, referee Neil Swarbrick ushered for him to get up and carry on but without either blowing his whistle or gesturing for a free kick. So when Adrian placed the ball on the floor and Eto'o nipped in to poke it into an empty net, the whole of Stamford Bridge thought that it must be a goal.

Not Swarbrick, however, who suddenly decided that it was a free kick despite offering none of the usual actions associated with the award of one. It was just the latest in a series of bizarre decisions from the official who had previously whistled up inexplicably when Joey O'Brien slipped on the turf without a Chelsea player within three yards of him, prompting bemusement from everyone on the pitch.

But as incompetent as the referee was, the Blues cannot use him as a scapegoat. They had enough chances to win four football matches yet failed to convert a single one. It would be tempting to lay the blame at the lack of a world class striker -- the soundtrack to this season -- though it was the final pass rather than the finishing that undermined them on this occasion.

Chelsea struggled to find the back of the net at Stamford Bridge but Manchester City managed to hit five past Tottenham at White Hart Lane. With Arsenal drawing at Southampton, the balance of power now clearly lies with Manuel Pellegrini's side. The Blues next game is at the Etihad Stadium on Monday and defeat would leave them six points adrift of the Citizens, meaning that a draw is the least that they require if they want to retain a realistic shout in the title race.

With master tactician Jose Mourinho at the helm and Sergio Aguero likely to sit the game out through injury, there is every chance that the Blues can get a point or even all three though it will take a Herculean effort to do so. And a lot more ruthlessness in the final third besides.

Follow Phil Lythell on twitter @PhilLythell