Mourinho the master of his own destiny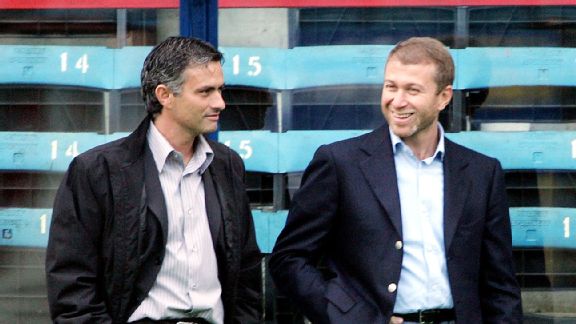 Phil Cole/Getty ImagesJose Mourinho appears to have much more autonomy as Chelsea boss in 2014 than in his first spell with the club back in 2004.
As Jose Mourinho sets about devising a new blueprint for success at Stamford Bridge, it has been interesting to see that so far this season it appears to be "his" masterplan being implemented and not that of Chelsea owner Roman Abramovich and his advisers on the playing side, Director of Football Operations, Mike Forde and Technical Director, Michael Emenalo.

- Lythell: Matic signing solves some problems
- Report: Mourinho: United "not happy" with plight

In the past, it has been a bone of contention for many followers of the London club that those who counsel with Mr Abramovich, principally Chairman Bruce Buck, Chief Executive Officer Ron Gourlay (and Peter Kenyon before him), Director Eugene Tenenbaum along with Forde and Emenalo, do so in a blinkered manner that often shows a complete lack of respect for those who have made and make Chelsea Football Club what it is -- namely the supporters and the players and managers they fete.

In a decade of Abramovich's rule at the Bridge, the Blues have amassed three league titles, four FA Cups, two League Cups, a Champions League and a Europa League -- a phenomenal achievement as notable as the roll call of managers that it has taken to deliver the aforementioned silverware.

Claudio Ranieri, Mourinho (first spell), Avram Grant, Luiz Felipe Scolari, Guus Hiddink, Carlo Ancelotti, Andre Villas-Boas, Roberto Di Matteo and Rafael Benitez all played a part, with varying degrees of success. Nine very different men, but all bonded with one common attribute: none of them had complete authority to shape Chelsea and plan for the future. Players were brought in or instructed to be managed out as the Blues effectively became Abramovich's Fantasy Football Team.

Ranieri was caught up in the maelstrom of Abramovich's arrival and was swept aside. Mourinho, the Special One, delivered the goods but had Andriy Shevchenko foisted on him -- to say nothing of Grant whose lack of coaching pedigree would be woefully exposed shortly after he gleefully took over the managerial reigns. Scolari was a mistake, Hiddink an interim legend and Ancelotti the real deal who brought the Double to Stamford Bridge in his first season, but then had assistant Ray Wilkins maliciously snatched away from him while having to accommodate record 50 million pound "fantasy" signing Fernando Torres.

Next up was "project manager" Villas-Boas with his arrogant open agenda to change the dressing room old guard led by club legends Frank Lampard and John Terry. It was always going to be a tough gig for Villas-Boas, given his youthfulness and lack of experience, and it wasn't long before the players -- to say nothing of the supporters -- grew restless as the "project" began to unravel. When the Portuguese pretender was dismissed, Chelsea supporters heaved a huge sigh of relief as his assistant, True Blue hero Roberto Di Matteo, was given the keys to the coach's office, yet none could have predicted how the season would end.

Sensing one last hurrah before potentially being moved on, the old-school spine of Mourinho's all-conquering team triumphed in the face of adversity winning the FA Cup and the Champions League. That Didier Drogba, with what was his last competitive kick of a ball in the Blue of Chelsea, should score the penalty that secured Abramovich the one trophy he coveted above all others, was irony in itself. The majestic Ivorian, then 34 years old, had been refused an acceptable contract extension and was effectively shown the door after that glorious night in Munich. If there was a last laugh to be had, it would have been Drogba's -- the succession planning, whatever that was, failed, and the Blues have yet to find a capable goal-hungry replacement to lead the line.

Di Matteo was rewarded for galvanising the Stamford Bridge dressing room with a two-year contract but there was always the element of doubt that in Abramovich's mind the Italian was still the "interim" coach he became following the dismissal of Villas-Boas. Rightfully lauded as a hero for his accomplishments as both a player and a manager, the swift dismissal of Di Matteo following a poor run of results, and his replacement being former Liverpool manager Rafael Benitez, a man who had in his time as Anfield boss very publically derided Chelsea Football Club, led to a significant period of supporter protest. It endorsed the commonly held belief, underlined previously by the fiasco surrounding the club's underhanded attempt to buy back the freehold of the land on which Stamford Bridge sits, that Mr Abramovich and his board were ever so slightly out of touch with match-going Blues fans.

It would take a master-stroke to ameliorate the situation. Maybe Marina Granovskaia, Abramovich's trusted adviser who is now a member of Chelsea's plc and executive boards, influenced the decision to re-appoint Mourinho? Maybe there was no other credible alternative. Whatever the case, it transpires that Granovskaia was a key part of the talks that took place in Madrid when Mourinho declared his intention to leave the Bernabeu. Call it a woman's intuition -- but bringing Mourinho back to SW6 was the panacea that Blues supporters sought, and if Granovskaia did have that "special" discussion with Mr Abramovich, then she should be congratulated.

This week, Mourinho has spoken about his love for all things Chelsea and his intention to remain as manager at Stamford Bridge for the foreseeable future. "I'm not here thinking about my next move because I don't want to have a next move," he said emphatically. Such words would suggest that The Special One is indeed the master of his own destiny.

On Wednesday, it has been widely reported that veteran Blues legends Lampard, Terry and Ashley Cole are to be rewarded by Mourinho for their heroic services with new, financially acceptable contracts in what would represent a landmark volte-face for the Abramovich-era Chelsea that has stuck rigidly with a policy of only offering cut-price deals to players over the age of 30. What plans beyond this season the Stamford Bridge boss has for the trio, Cole and Lampard in particular, is a separate debate. But the facts are that at long last Chelsea's team affairs appear to be in the hands of the manager -- and for players, supporters, and Mourinho himself, that can only be a good thing.