Chelsea close gap on Arsenal with win over Crystal Palace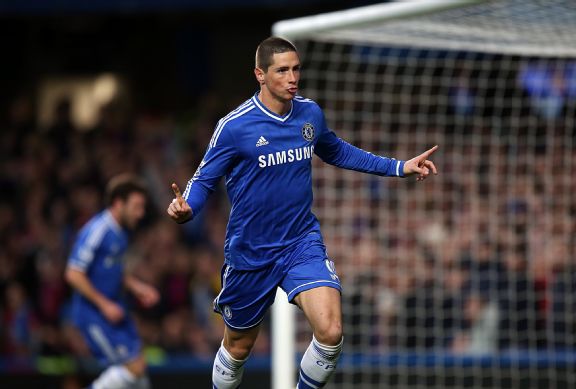 PA PhotosFernando Torres celebrates his goal against Crystal Palace.
Chelsea returned to second place in the Premier League with a hard-fought 2-1 win over Crystal Palace.

It was not the most convincing of performances from Jose Mourinho's men, though with leaders Arsenal slumping to a heavy defeat at Manchester City, it was imperative that the Blues gained all three points from this encounter. They were duly delivered.

It was far from plain sailing, as a combination of Palace's renewed stoicism under Tony Pulis and a lack of precision from the hosts resulted in an enthralling London derby that was in the balance until the final whistle.

What will worry Mourinho is that it should not have been this way. His team twice found itself in the lead and had ample opportunity to put the match beyond the visitor's reach, but too often inaccuracy in attacking positions saw promising moves break down. It didn't help that Chelsea passed up two golden opportunities to wrap up the victory in the final 10 minutes when the ball refused to go into the back of the net. That profligacy ensured that fingernails were being chewed right until the end.

- Delaney: Three Things: Chelsea-Crystal Palace

Although there was plenty of commitment on show and a desire to approach the game in the right way, the patterns of play were often shorn of the requisite composure with much of the second half played at a frenetic pace. That was generally the result of the rapid turnover of possession and a desire to counter into the space behind the Eagles' midfield; that eagerness would have been better served by some calculation as opposed to the blind urgency that saw too many aimless passes made in the final third.

Eden Hazard was his usual busy self, yet little came off for him against a team that had clearly been made well aware of his threat during the week. His penchant for cutting inside the full-back from the flank was diligently covered by the attending defender and left little for the Belgian to work with. He did tee up Ramires for the game's winner, though he was often crowded out by an opposition that was determined not to afford Hazard too much space in which to work his magic.

With Palace consumed by his threat, it left Willian to showcase his talent. The Brazilian has had a stop-start career at Stamford Bridge so far due to the surfeit of attacking midfielders at the club, though he exhibited his worth in this fixture. His intelligent use of the ball created the most coherent moves of the afternoon, and although he rarely delivered the final ball into the danger zone, it was his prompting that manoeuvred his teammates into advanced positions. His work rate was exemplary, and he was always willing to give the more defensive players a helping hand by offering an extra body between them and the opposition.

One of those defensive players was Michael Essien, who was given the chance to make amends for his disastrous 45 minutes against Southampton a fortnight ago. He will be delighted to have contributed to his team's win. The Bison looked shaky in the opening 20 minutes as he struggled to get to the pace of the game, but once he settled in, he was able to impose himself physically and skillfully. Essien grew more effective as the game wore on, and while there was a typically robust tackle that earned him a deserved booking, he used his experience to rein in his challenges and avoid a second yellow card. He is not the player that he used to be, but at least there were signs that he can still be a useful asset during the rest of the season.

Other notable contributions came from Fernando Torres, who got his name on the score sheet and was a nuisance for the Palace defenders throughout, while Cesar Azpilicueta put in another solid performance to give Ashley Cole more to worry about. However, the defence as a whole will once again be a concern for Mourinho. Palace's goal came from the back line being caught lopsided by a switch of play before a lack of awareness allowed Marouane Chamakh to sweep home, despite being surrounded by Blue shirts. In addition, set pieces were an issue once again with two free headers being gifted to the opposition, though thankfully neither found its way past Petr Cech.

There is much food for thought for Mourinho even if, ultimately, the required result was achieved. Chelsea played much better at Stoke City last week but lost. This week, they were far from perfect and won, a trait often ascribed to champions. The erratic nature of their season to date has seen many pundits line up to criticise Chelsea and some performances have certainly warranted scrutiny, yet they remain second in the Premier League. A victory in their next outing against an Arsenal side that looks like it might be starting to wilt and they will be top of the table.

Chelsea's glass is definitely half full.

Follow Phil Lythell on Twitter @PhilLythell.