Chelsea turn tables with second-half fight-back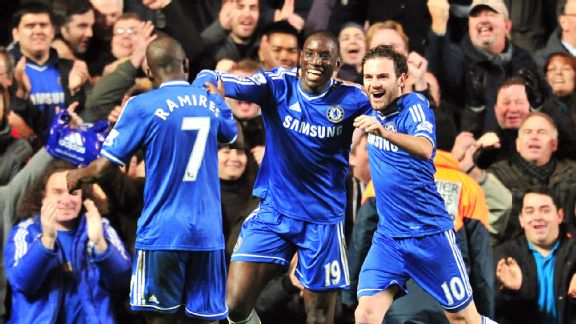 GLYN KIRK/AFP/Getty Images Chelsea's Demba Ba, center, celebrates his goal with Juan Mata, right, and Ramires. Ba's introduction after halftime turned the game for the Blues.
An inspirational second-half display Sunday saw Chelsea overhaul the concession of an early goal to beat Southampton 3-1 at Stamford Bridge.

Having fallen behind to Jay Rodriguez's strike after just 13 seconds, Chelsea found themselves chasing for the first 55 minutes of the contest, with the grumblings from the crowd growing more evident with each passing minute.

In the end, it was a typically decisive move from Jose Mourinho that changed the game, with his introduction of Demba Ba at halftime and an added emphasis on a higher tempo serving to overwhelm a well-drilled Saints team.

-Delaney: Mourinho masterminds comeback

In truth, it could be said Mourinho was just righting the wrongs of his initial team selection. in which the appearance of Michael Essien certainly raised a few eyebrows. Indeed, it was the Ghanaian's misjudged intervention just after kickoff that led to Southampton taking the lead, although fingers could also be pointed at Branislav Ivanovic's failure to anticipate as well as Petr Cech's tardiness in coming off his line.

Even so, it was heartbreaking to watch Essien in those first 45 minutes with nothing going according to how he would have envisaged his performance. There were misplaced passes, slow reactions and even a booking for blatant simulation -- all traits that would never have been exhibited by the Bison in his pomp. Once the best box-to-box midfielder in the world, it was tragic to witness the dying of the light, though any Chelsea supporter with any memory whatsoever will remember Essien as the swashbuckling wall of granite with flair in his boots as opposed to the pale shadow that he cast on Sunday.

Essien was removed at halftime to be replaced by Ba, and the Senegalese's introduction allowed him to combine with Fernando Torres in pressurising the Southampton centre-backs, affording them no room for manoeuvre. Chelsea sought to play their opponents at their own suffocating pressing game and took control as a result, an admirable feat and something of which other teams in the Premier League will have taken note. Ba and Torres were a constant whirl of pace and physique, chasing down the man in possession and then bullying them off it. It gave their teammates an example to follow and soon Ramires and Frank Lampard were singing the same tune in midfield.

The postscript will largely be about a second-half onslaught from a wounded Chelsea side, though in fairness the fight-back had its genesis in the opening 45 minutes. Shell-shocked by conceding so early, the Blues were understandably cautious in the initial exchanges, although confidence slowly returned and the first half ended with Chelsea providing a constant threat to the Saints' goal.

The departure of Oscar to injury had hinted at it being one of those days for the Blues, but Lampard's presence ended up being crucial to the eventual victory. His fuller frame and composure in the eye of the storm was invaluable, and his exquisite selfless pass to Juan Mata in the buildup to John Terry's goal showed just why he is still a highly prized member of the squad.

It would be interesting to know just what Mourinho said to his charges at halftime because some emerged from the tunnel in the second half as totally different players. Ivanovic started this game as he had left off in Basel, indecisive and half-asleep. By the final whistle, he was a man reborn.

Given the runaround initially by Luke Shaw and Adam Lallana, he turned the tables completely by stamping his authority on proceedings and dominating those same opponents. Ramires had been less disappointing early on, but was not his usual effervescent self, although that all changed after some words from his manager. Suddenly the Brazilian was everywhere, always either on the ball or winning it back to launch another attack. His endeavour for Ba's clinching strike was the cherry on the cake.

It would be remiss not to mention Mata's contribution. The crowd favourite has been twiddling his thumbs on the substitutes bench of late yet showed no dip in quality when named in the starting XI. His fabled slight of foot and eye for a pass were both clear to see and has given Mourinho a pleasant headache in terms of choosing his next lineup.

The result might not have stemmed from the perfect team performance, though it was a consequence of the perfect response. The high tempo and the muscularity of the second-half display felt more in line with Chelsea's DNA, and their ability to overhaul a deficit against impressive opposition will do wonders for any sagging confidence levels.

The Blues now sit second in the Premier League, and while nobody in their right mind will start heralding Chelsea as title favourites just yet, the narrative of this game and their reaction to adversity should bode well for the ensuing hectic Christmas period.

Follow Phil Lythell on Twitter @PhilLythell.