Defensive frailties under microscope as mistakes mount for Mourinho
Having entered November on the back of an impressive run of six straight victories in all competitions, Chelsea supporters were well within their rights to crow about the Blues' chances of adding more silverware to the Stamford Bridge trophy cabinet this season.

Now though, in the midst of yet another break in the domestic programme, bullish talk of gathering cups in May has been replaced once more with concerned conversations, this time about the brittleness of Chelsea's defence. Strange, considering that manager Jose Mourinho has historically placed greater emphasis on his back lines than his forward lines.

In his first season as Blues' boss, Mourinho won the 2004-05 Premier League title principally through having the meanest defence in the top flight. Fifteen goals conceded remains an all-time PL record, and current Chelsea custodian Petr Cech played in 35 of the 38 league games during that campaign, allowing just 13 goals. This season, the Czech international has already been beaten 10 times in just 11 games and unfortunately, in the past weekend's 2-2 draw with West Brom, the venerable veteran had a shocker.

- Report: Mou had bust-up with Olsson
- No FA West Brom fallout for Mourinho
- Lythell: Chelsea too predictable

"There was no indication of us not winning," Cech said on his website after the game. "However, shortly after the interval we conceded a cheap goal from a corner. Then we let them go 2-1 up because of my mistake. I lost my footing on the pitch and then I failed to react to the shot properly. It was a cheap goal to concede. One point is better than nothing, but that doesn't change the fact that we should have won and put the advantage of playing at home to good use."

Honest words, but worrying nonetheless. Elsewhere in the PL, Manchester City manager Manuel Pellegrini, whose side have also been leaking shoddy goals, took the recent step of dropping England's No. 1 Joe Hart, and Cech will know that with his deputy Mark Schwarzer more than capable of filling his gloves, he will need to work on his game if he is to retain his place under the bar for the Blues.

In front of Cech, Mourinho has started captain John Terry and Branislav Ivanovic for each of Chelsea's league games. While Terry has been a reborn revelation at centre-back, Ivanovic has been played at both right-back and in as a defensive partner for JT, with mixed results. In Chelsea's first three PL matches (2-0 versus Hull, 2-1 versus Aston Villa and 0-0 versus Manchester United), Mourinho retained a back four consisting of Ashley Cole at left-back, Terry and Gary Cahill in the centre, and Ivanovic at right-back.

There was a solidity about the setup, which at the time was largely ignored as the manager, media and supporters had focused their attentions on Chelsea's attacking options -- or perceived lack of them. In Chelsea's next league game, a 1-0 defeat at Everton, Mourinho dropped Cahill, now established as a first choice England centre-back, to the bench in favour of the entertaining but erratic David Luiz. There were four Toffees attackers goal-side of Luiz when Steven Naismith scored what turned out to be the winner for the home side. One goal, one defeat. The mathematics are simple.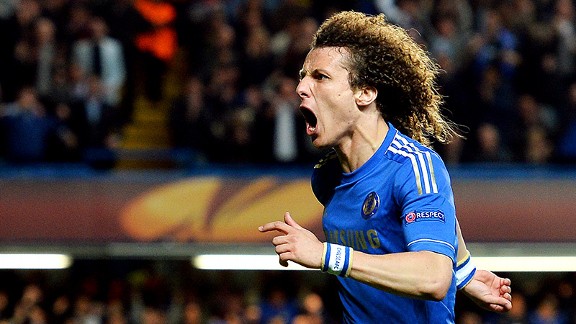 Ben Stansall/AFP/Getty ImagesDavid Luiz's future at Chelsea is in doubt after several sub-par performances that have put him in Jose Mourinho's doghouse.
With Cahill immediately restored at the expense of Luiz, the Blues returned to winning ways with a 2-0 victory over an admittedly toothless Fulham team, but for the visit to White Hart Lane the following weekend, Mourinho interchanged his two central defenders yet again as Chelsea battled to a 1-1 draw with Spurs.

It was a curious situation, and many match-going Blues fans were wondering at that time what Terry made of the situation. Ivanovic? Cahill? Luiz? Who did JT prefer to partner him in the middle at the back?

Chelsea won all three of their Premier League fixtures in October: 3-1 at Norwich and two at home (4-1 versus Cardiff, 2-1 versus Manchester City). Once again, Mourinho juggled Luiz and Cahill, favouring the Brazilian for the match with Cardiff -- when the Blues had to come from behind after a mistake from Luiz allowed Jordon Mutch in to chip the ball over Cech.

Cahill returned for Man City but would find himself a spectator once more for the trip to St James' Park. The abject manner of Chelsea's overall performance in the 2-0 defeat against Newcastle left Mourinho bemoaning that he'd made "11 mistakes" when selecting his team.

The Magpies' first goal came as a result of a shockingly defended set piece, when Yohan Cabaye swung over a free-kick that the woefully unmarked Yoan Gouffran nodded powerfully home past Cech. The second came about when Chelsea's defence were caught too far upfield and Vurnon Anita teed up Loic Remy for United's winner.

Stories subsequently emerged that Luiz had been criticised by his teammates in the dressing room after the game for his lackadaisical on-pitch attitude and, in particular, his pulling out of a challenge with Shola Ameobi; a lack of commitment that had disappointed traveling Chelsea fans and visibly enraged Mourinho.

It came as no surprise when Mourinho rang in the changes for West Brom's visit. That Luiz would be dropped was a given. Cole being benched, despite a poor showing at Newcastle, was a clear sign of how irate the Chelsea manager was. Cole's replacement, Cesar Azpilicueta, playing out of position at left-back, acquitted himself well enough, but Cahill, replacing Luiz once more at centre-back, unfortunately lost his footing not once but twice in the build-up to the Baggies first goal, when Shane Long headed in from close range following a corner.

What is evidently clear is that Mourinho is uncertain about whom to partner with John Terry in central defence, for this season at any rate, given JT's advancing years. He desperately needs the type of telepathic pairing he had in his first tenure as Chelsea manager when Terry and Ricardo Carvalho melded together like fish and chips. Elsewhere at the back, Cole is also giving Mourinho a headache.

Perhaps the biggest problem the Blues' boss faces right now is the fact that this international break is preventing him from finding a solution with the players he has. "There is nothing I can do during these two weeks. Normally you want to work, but I can't work," he complained when quizzed about Chelsea's problems at the back. Despite the "mistakes" mounting up for Mourinho, the Blues remain in contention at the top of the Premier League -- for how much longer will be down to Mourinho ironing out Chelsea's defensive problems and settling on a cohesive back four.

The transfer window opens again in a matter of weeks and few would be surprised if the Chelsea manager doesn't seek a solution from outside his current squad -- and Luiz could be the sacrificial lamb to fund this exercise.