Falcao rumours fit Abramovich's ambition
The last two weeks have seen the rumour mill whirring ever faster regarding the potential future of Atletico Madrid striker Radamel Falcao, with Chelsea being touted as favourites to become his next employers.

The latest burst of headlines has been sparked by an admission from the Spanish club's General Manager Miguel Angel Gil Marin that due to their parlous financial situation, the club would almost certainly be forced to sell their star man should they fail to qualify for the Champions League. Atletico would hope to raise around 50 million pounds from the sale and shouldn't have too much trouble getting that price considering the blistering form the star striker has shown over the past three years.

Falcao rose to prominence at Porto but although he scored 34 goals in his first season in Portugal following his transfer from Argentine giants River Plate, he really caught the attention of European observers under the tutelage of Andre Villas-Boas. The 2010-11 campaign saw the Colombian once again make hay in the Portuguese league but it was his 17 goal haul in Porto's march to the Europe League trophy, including the game-winner in the final, that made headlines. His haul surpassed Jurgen Klinsmann's previous record of 15 in a single European campaign -- esteemed company indeed. Even then there were rumours about a move to Chelsea, though the purchase of Fernando Torres in January 2010 suggested such a switch was nonsense.

Despite his goalscoring feats, I was one of many surprised football fans when Atletico chose to spend a staggering 35 million pounds on the Colombian in a bid to replace Manchester City-bound Sergio Aguero. While it might not have been considered to be as wasteful as Liverpool's extraordinary decision to spend the same amount on Andy Carroll, it still looked like a club throwing money at a situation in a desperate attempt to appease the fans following the departure of a star. How wrong I was. How wrong we all were.

Falcao has blossomed in a more demanding league, repaying his new employers by banging in 24 league goals (36 in all competitions) in his debut season and sitting behind only Lionel Messi and Cristiano Ronaldo in the race for the Pichichi, the award given to La Liga's top scorer. Given the fact that the Barcelona and Real Madrid superstars managed 50 and 46 league goals respectively, he can feel unlucky not to have won the trophy as he probably would have done in any other era.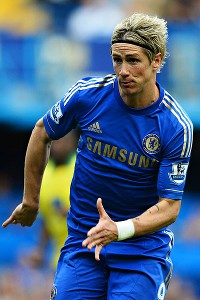 Mike Hewitt/Getty ImagesIt's hard to imagine Chelsea spending big to replace the struggling Fernando Torres, but if the Spaniard continues to labor, Roman Abramovich won't rest on his laurels.

This season he has improved even further, currently equal with Messi and Ronaldo on eight La Liga goals and adding to his season tally on Friday with a brace for Colombia in their World Cup qualifier against Paraguay.

Yet Chelsea fans will know Falcao best for his hat trick that ripped the Blues apart in the UEFA Super Cup this past August. His movement was sublime, his finishing majestic and his understanding with winger Arda Turan telepathic. It was a consummate performance but if you had to cite one criticism from that evening, it was that he didn't score five -- he also managed to strike the woodwork twice.

While the rumours of a move to Stamford Bridge in summer 2011 might have seemed unlikely, news of Chelsea's current reported interest in Falcao doesn't seem quite so far-fetched. Roman Abramovich has always shown an ambition to sign world stars -- especially those who impress against his team -- and the dearth of striking options at the club is well-documented. Factor in Torres' fragile confidence and a move for the most in-form central striker in the world seems a no-brainer.

No doubt that fellow moneybags Paris Saint-Germain and Manchester City would also be keen to attain his signature, but with Zlatan Ibrahimovic and his outsized ego currently ruling the roost at the Parc Des Princes and the Etihad Stadium currently housing Carlos Tevez, Edin Dzeko, Mario Balotelli and Aguero, it is not certain that Falcao would be top dog at either club.

There have been suggestions from some quarters that Chelsea would never again sanction a 50 million purchase on a striker given Torres' travails and the implementation of the Financial Fair Play rules, but the extravagant summer outlay on Eden Hazard and Oscar would seem to disprove that theory. After all, what's the point in having a quiver full of razor sharp arrows without a dependable bow?

Other observers frowning on any potential deal have questioned the wisdom of lavishing such largesse on a player that has little experience of the big time -- another example of flawed logic. For a start, he spent four years in Buenos Aires at River Plate and the pressure of playing for a club of such high-profile in such a passionate football city should not be underestimated. Additionally, one could point to the likes of Aguero and Torres, both of whom joined the Premier League from Atletico Madrid with a hefty transfer fee around their neck only to be an unqualified success (Torres' subsequent move to Chelsea is still being assessed).

The latest rumours have pointed to a possible January transfer but I would be surprised to see a move take place at that point. While Torres' form may have been a little erratic this season, there are certainly shoots of recovery and unless he slips back into his torpor or suffers a bad injury it is hard to see the Blues embarking on an expensive transfer that might upset dressing room harmony in the middle of the season.

Next summer, however, I would be delighted to see him arrive. Having the choice of calling on one, or both, of an in-form Torres and a rampaging Falcao would surely place Chelsea among the favourites for all the big trophies, especially with Oscar and Hazard already having put a year of Premier League experience behind them. It is all just rumours at the moment but his signing would be a tremendous coup and one that a certain Russian owner is more than capable of puling off.

Follow Phil Lythell on Twitter @PhilLythell