Predictable Chelsea need another string in their bow
Chelsea's last-gasp equaliser against West Bromwich Albion on Saturday might have prompted sighs of relief to echo around Stamford Bridge, but they were unable to drown out the brimming frustration felt by all in the stadium as Chelsea laboured for 95 minutes.

While a draw might have been snatched from the ether, there is no question that ultimately it signified two points dropped, though even that was not the most disappointing aspect of the afternoon. More demoralising was that the previous weekend's defeat was not the aberration the majority of supporters believed that it had been; a bump in an otherwise smooth and gentle road.

Instead, the match against the Baggies was merely a continuation of the lacklustre display at St James' Park six days previously as Chelsea waited for opportunities to present themselves rather than seeking to carve some out for themselves.

Rather than take six points from two winnable games, the Blues emerged with just one. Not a tally becoming of a team with genuine title ambitions.

-Mou unhappy with Stamford Bridge atmosphere
-Mourinho expects Cole to regain form
-WBA keeper bemoans penalty decision

There seems to be a worrying attitude developing in which the players wait for the opposition to make a mistake, ready to pounce at such a moment, without grasping the notion that perhaps they could force the mistake themselves.

The problem seems to stem from an over-reliance on the counterattack. With a raft of crafty and rapid attacking midfielders, the squad is clearly balanced in favour of lightning forward bursts launched upon the turnover of possession.

That is an admirable approach and can work spectacularly well as seen in both the matches against Schalke, in the Capital One Cup tie at Arsenal and at Norwich. When it works, it is clinical and ruthlessly efficient, but it relies on the opposition being adventurous and forward-thinking themselves.

As seen in the past two Premier League matches, if a team decides to sit off Chelsea, allow them the ball and force them to probe from nearer the penalty box with 10 men between them and the goal, the Blues are much easier to contain. With little space in which to operate, pace becomes less of a threat and forces Chelsea to combine sharp movement with crisp passes that thread the eye of the needle in order to be successful.

Unfortunately, that alternative has not come to fruition. Another option would be to take the aerial route, though that depends on having a true target man in the centre. Fernando Torres is doing his best to emulate Didier Drogba and is making a far better fit of it this season, but it is unlikely that he will ever get near the dominance of his Ivorian predecessor. Samuel Eto'o is surprisingly stoic for a player more renowned for using his speed to play off the shoulder of defenders, yet lacks the stature to impose himself in that regard. Which leaves Demba Ba as the only real physical striker, though his lack of finesse in his all-around game precludes him from being the answer to the problem.

With Jose Mourinho back at the club it is inevitable, if a little unfair, to make comparisons between his former and current Chelsea teams. Although the manager himself has rightly sought to play down expectations and stressed the differing states of the club upon his two arrivals, what cannot be dismissed is that the traits of his two Blues sides are virtually polar opposites.

Where the new team relies on pace and intricacy, the old one fell back on power and physical strength. Where the new team struggles against a side that is well organised and defensive in shape, the old team knew how to win in any circumstances, be it an open attacking game or a battering, bruising encounter against a wall of granite.

Obviously there is an understandable desire to play in the most aesthetically pleasing way possible, though it needs to be successful for it to have any value -- just look at Arsenal over the last eight years. And just like the Gunners, of old at least, Chelsea have now adopted a possession game that while easy on the eye is toothless against a well-drilled defence.

There is too much emphasis on passing and not enough on actually shooting, an act which is still the primary way of scoring goals even if strikers appear to be slowly going out of fashion.

Chelsea cannot re-create the past, as much due to the fact that the game and its tactics have moved on since then, but also because Mourinho does not have a Claude Makelele or a Drogba at his disposal. What he does have, however, is an Eden Hazard and an Andre Schurrle, two potential avenues to introducing a more direct approach to Chelsea's play.

It is surely no coincidence that in the Blues' past two disappointing outings in the league, the one person who posed the most questions of the opposition was Hazard. Unlike the majority of the squad, the Belgian loves to commit defenders and is exceptional at weaving past them, which in turn either opens space up for himself or forces the opposition to double-up on him, creating gaps for a teammate to exploit.

Similarly, Schurrle is not shy about taking his man on and has a particular penchant for going around the outside of the full-back, a throwback to glory days of wing play in the 1950s and 1960s.

The suggestion isn't that Chelsea should suddenly turn into Stanley Matthews' Blackpool team, but rather that a marriage of direct football and creative guile can be deployed to make Chelsea less predictable than they currently are. The two wide men have played in tandem this season, though a tweak in the midfield formation would also be required as another source of Chelsea's travails has stemmed from the fact that too often the attacking midfielders pop up in the same areas, creating congestion in certain parts of the pitch and leaving the team narrow and unbalanced.

The 4-2-3-1 that has become Chelsea's familiar setup over the past couple of years is as disabling as it is enabling. It allows a quartet of attackers to flood forward, though that can create a bottleneck, especially if they constantly drift in from wide positions. Equally, it utilises two holding midfielders when they are not always required against defence-minded opposition such as Newcastle or West Brom, for example.

In its place, against less-threatening opponents, something resembling a 4-1-4-1 would arguably suit Chelsea better. It would not need to be deployed in the same way as Pep Guardiola's Bayern Munich, who use the system to seamlessly switch into a 3-4-3, with the nominal holding player Philipp Lahm dropping into a back three, with the full-backs supplementing the midfield and the wingers becoming inside forwards -- though, of course, that could be an option.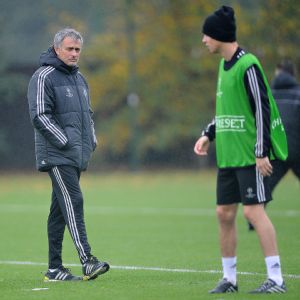 Charlie Crowhurst/Getty ImagesShould Jose Mourinho deploy Oscar differently?
Instead, it could be simple but effective. John Obi Mikel stations himself permanently in front of the back four -- the place where he was born to play -- allowing the Brazilian duo of Ramires and a slightly deeper-lying Oscar to bustle away in front of him. This would give license to Ramires to engage in his tireless box-to-box forays while allowing Oscar to create from an area with a little more space in an effort to recapture his fantastic early-season form which has started to fade while the leaves turn brown.

Outside them, Hazard and Schurrle would take up their positions on the flanks in a more orthodox, less free-form role with a solitary striker feeding off them.

The tweak would hardly be hardly radical, but it might give the side greater balance and provide patterns of play that are more manageable and less imaginary. Of course, the eagle-eyed among you will notice that there is no room for Frank Lampard, though with his recent displays falling below his exceptionally high standard, the Chelsea legend might benefit from a spell on the sidelines.

It is a long season and there will still be plenty of games for him to extend his scoring record, though for now his efforts have not stood out and it is as good a time as any to see what Oscar can provide in a more traditional midfield role.

In the bigger games against the more dangerous sides, the usual 4-2-3-1 would still be the system to fall back on, not least as it has already proved effective in attack in those matches this season (against Manchester City and Bayern, for example) but also for the broader defensive shield it provides.

But it is no good beating the big fish and falling victim to the small fry if an effective title challenge is to be mounted, which means changes need to be made if they are to be swatted aside in the manner of Mourinho's first magnificent Chelsea team.

Follow Phil Lythell on Twitter @PhilLythell