Eto'o shows how a player can appease Mourinho
With the superstitious among the Chelsea fraternity consulting record books for results from calamitous Novembers past following the Blues' abject defeat against Newcastle United last Saturday, the sighs of relief when Samuel Eto'o doubled his goal tally against Schalke 04 at Stamford Bridge Wednesday night were as palpable as the cheers.

Having racked up six consecutive wins in October, Jose Mourinho's men had been expected to continue the run of good form at St James' Park but they lost in dispiriting circumstances and the Chelsea manager had been swift to condemn the performance of his team citing that he'd made '11 mistakes" when selecting his starting line-up to face the Magpies.

Earlier in the season, Chelsea had followed up a disappointing away PL defeat to Everton with a woeful loss at home to Basel in the Champions League and so -- factoring into the mix the Blues propensity to perform poorly in November -- it was understandable why there was an air of trepidation among the Stamford Bridge faithful as they took to their seats for the match with Schalke.

-Schalke goalkeeper questioned about error
-Mou explains Hazard omission

Having survived a nervy spell of early pressure as the German side, roared on by their impressively vocal traveling fans, tried their best to find a way through Chelsea's defence.

Blues supporters relaxed somewhat when Samuel Eto'o opened the scoring for the London club. Although there was an element of good fortune to the goal, a comical gift from Schalke keeper Timo Hildebrand, it was the wily striker's quick-thinking and predators instinct that saw him ripple the Schalke net.

Sometimes you need a little luck. Against Newcastle, John Terry could have twice given his side a first-half lead, but it wasn't to be. Had he done so, the Magpies could quite easily have capitulated and Mourinho's "11 mistakes" could have been lauded as heroic titans. Such are the vagaries of the game; this is the glorious unpredictability that makes football so interesting.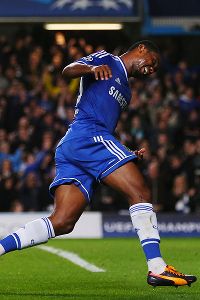 Clive Rose/Getty ImagesSamuel Eto'o had a good night at Stamford Bridge Wednesday.
Eto'o's first goal against Schalke galvanised Chelsea and the veteran Cameroon international in particular. As the game kicked off, despite boasting a career record in club football of 292 goals in 585 matches, the merits of Eto'o's acquisition continued to be questioned and audibly criticised in certain quarters of the ground in the early stages Wednesday night. The nature of goal 293 did nothing much to silence his detractors.

Goal 294, however, did that job for him. It was an absolute peach of a strike, with the prolific 32-year-old marksman locking onto a sweet pass from Willian, loading the ball onto his trigger right foot and rifling it past Hildebrand to give Chelsea a 2-0 lead.

When substituted in the 77th minute, Eto'o left to a standing ovation. This is why, having been thwarted in his attempts to bring Wayne Rooney to Stamford Bridge, Mourinho signed the man who had served so him well at Inter Milan.

Samuel Eto'o scores goals. He will always score goals, and Chelsea, more than anything, need a striker who can find the net week-in-week-out. Having lost the services to injury of Blues' No. 9 Fernando Torres, Mourinho will have taken great comfort not only from Eto'o's man-of-the-match display, but also from the fact that Demba Ba, the man he sent on for Eto'o, rounded off an excellent morale-boosting victory for the Blues by scoring the third and final goal.

"My favourite players are the players who win matches for me, not the ones who lose matches for me and Samuel worked with me in the best season of my career," Mourinho gushed when praising the Blues No. 29 Wednesday. "We won everything (Serie A, Coppa Italia and the Champions League at Inter in 2009-10). So he's in a good position."

A couple of powerful sentences indeed from the Chelsea manager. Defeat against Newcastle had been a bitter pill for the Special One to swallow. Those he deemed culpable for the loss, most notably David Luiz, Juan Mata and Eden Hazard were dropped for Schalke, and those called up, most notably Willian, Andre Schurrle and Eto'o, put in a stellar shifts and will now be on Mourinho's favourites list, with Eto'o perhaps at the top.

"He was, for two years, playing without big motivations," concluded the Blues boss, referring to the Cameroonian's sojourn in Russia with Anzhi. "When you play without big motivations, you train without big motivations, and you lose condition, sharpness and even appetite."

West Bromwich Albion, managed by former Chelsea defensive stalwart and Mourinho managerial disciple Steve Clarke, arrive at Stamford Bridge on Saturday knowing that they are more than capable of upsetting the odds against the bigger teams as Manchester United found to their cost when the Baggies pulled off a shock 2-1 win at Old Trafford in September.

West Brom's last game on the road was however a different story altogether -- a Luis Suarez-inspired Liverpool routed Clarke's men 4-1 at Anfield.

With free-scoring Manchester City hot on Chelsea's heels, Mourinho will be looking for a big result against West Brom, and his team selection for the game is likely to reflect this requirement. Willian, Schurrle and Eto'o worked well together against Schalke and the Blues boss won't hesitate to retain their services against the Baggies if he believes they have an appetite for destruction.

Time will tell, but it could be a long afternoon for Clarke in the opposition dugout. By 5 p.m. he might be hankering after days gone by when he would have been in the home dressing room celebrating another resounding victory.