John Terry - Chelsea's unlikely renaissance man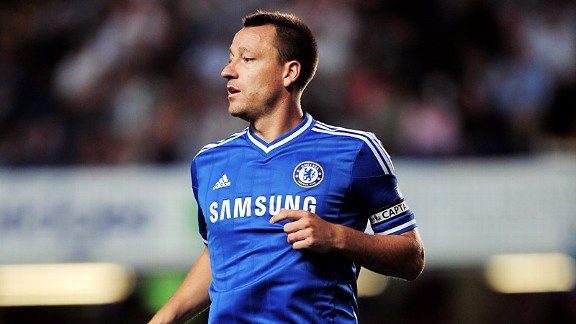 Jamie McDonald/Getty ImagesChelsea's John Terry has had a rousing return to form this season.
With just a fifth of the 2013-14 Premier League season negotiated, it is still far too early to make any sweeping predictions as to where the title might end up. In the meantime, however, the stars of the campaign are starting to emerge for each club.

At Chelsea, the first couple of months have yielded a positive start with just two defeats in all competitions -- not counting the penalty heartache against Bayern Munich in the UEFA Super Cup, a result that is officially recorded as a 2-2 draw -- and it has largely been the product of gathering momentum.

A greater understanding of new manager Jose Mourinho's demands and ethos married to the shift to a more attacking mindset has seen the Blues lay the foundations for what could be a successful climax. But amid the collective improvement a few individuals have shone particularly brightly.

- Terry thanks Mou for Blues' resurgence
- Mourinho fined by FA
- Torres: Basel loss was wake-up call

Oscar has been trusted as the focal point of the team's attacking ambitions and he has revelled in the greater responsibility, grabbing the limelight and casting Juan Mata into the shade by netting five goals for his club as well as two for Brazil. Eden Hazard has shrugged off his early-season malaise to return to the coruscating form that he exhibited so regularly last season. The duo are forming a formidable double act that could propel Chelsea to glory especially if Fernando Torres can keep hold of their coat-tails and continue his fine form.

Perhaps more significant, though, has been the return to prominence of John Terry. The skipper is once again a regular commanding presence at the heart of the defence, a permanent fixture who underpins the whole of the team. The series of imposing performances that he has put in this season should not come as a surprise given the extremely high standards he has set for himself in a stellar footballing career.

But in the context of how he was viewed by many football observers last season -- and particularly his manager at the time -- Terry's renaissance has started to raise a few eyebrows.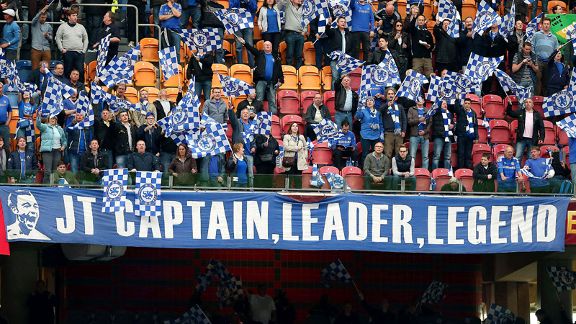 Rex Features/AP Images
One of the enduring qualities of the fabled "Captain, Leader, Legend" of Stamford Bridge has been his ability to thrive in adversity, even if the situation has often been of his own making. The more staunch the criticism, the better he plays. However, last year he found it impossible to answer those who were writing him off as a has-been due to the fact that he was starved of game time.

Injury did not help his cause, though Rafael Benitez never saw the need to select Terry for three consecutive Premier League matches and opted to leave him out of almost all of the major tests that his team faced, preferring David Luiz, Gary Cahill and Branislav Ivanovic.

The contrast to this campaign could not be greater. In Mourinho, Terry now has a manager who trusts and believes in him, and the feeling is mutual. As a consequence, Terry has played every one of Chelsea's eight Premier League games, sitting out just the home defeat to Basel, the League Cup win at Swindon and the showpiece against Bayern Munich. Those omissions have come through Mourinho's desire to look after one of his greatest assets rather than as a product of constant rotation or petty power plays, accusations that could be leveled at his predecessor.

Before this campaign kicked off, it always looked like being a pivotal season for the centre-back, with it starting well into the final 12 months of his lucrative contract. With his influence at the club apparently dwindling and his powers seemingly on the wane, popular wisdom held that he would not be offered new terms at the place where he has spent his entire career. Add to that the raft of bad publicity that has courted Terry over the past few years and Roman Abramovich's reported disdain for the impact it has had on his club and the 32-year-old's future at Stamford Bridge looked in serious jeopardy.

While fellow veterans Ashley Cole and Frank Lampard were given new deals last year, Terry could have been forgiven for looking upon his team-mates' good fortune with a degree of chagrin. Now, with him outperforming those two and all in the same contractual boat at the end of the season, it is Terry who is leading the race for a contract extension.

The first rumblings of a possible England comeback are also starting to be heard by media pundits and football fans without an axe to grind. With memories of Terry's exceptional displays at Euro 2012 still relatively fresh in the memory and a World Cup looming at the end of this season, his performances for his club are once again commanding attention.

Given that he is keeping England regular Cahill out of the Chelsea team and that international team-mate Phil Jagielka lacks experience at the very top level of the game, it is obvious why such observations are being made.

Terry, however, remains a highly divisive figure in the game and his possible selection could cause unnecessary trouble for a team that has finally found its feet. Not ideal preparation for a major tournament. In any case, there is a fairly large chance that the former England captain would reject any advances, having retired from the international arena due to his conflict with the FA. That would serve to heap huge embarrassment on top of the friction that such an approach would inevitably cause, and the risk is likely to be deemed as far too great.

No, while Terry is still by far the best central defender his country has at its disposal, it is best for all concerned that he continues to prove his excellence at Chelsea without any external distraction. England's loss can be Chelsea's gain, and there is every chance that the season can end with what has become one of the most familiar sights of the last 10 years -- John Terry lifting a trophy.

Follow Phil Lythell on Twitter @PhilLythell