Chelsea's Groundhog Day quest for prolific striker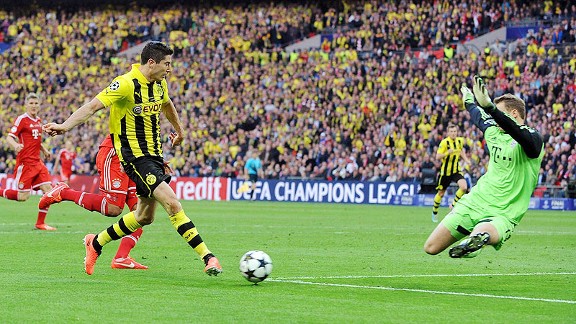 Tim Groothuis/Witters Sport/USA TODAY SportsRobert Lewandowski is the only player that really fits the bill for Chelsea.
There's nothing like an international break to set the gears of the transfer rumour mill in motion, and there's no other club like Chelsea to make them spin a little faster. The two-week Premier League lay off has provided one-and-all with an opportunity to assess the Blues progress this season to date, highlight the deficiencies in Jose Mourinho's squad, and address them by scouting across the world for suitable high-profile replacements.

Mourinho's team, as witnessed in the recent games against Steaua Bucharest and Norwich City, is not goal-shy, but Chelsea's out-and-out strikers continue to struggle -- particularly in the league. A quick look at the current list of Premier League top scorers highlights the extent of the problem and how unique it is to the Stamford Bridge club.

Daniel Sturridge, Liverpool, six; Loic Remy, Newcastle, five; Sergio Aguero, Manchester City, four; Christian Benteke, Aston Villa, four; Oliver Giroud, Arsenal four and a certain Chelsea loanee by the name of Romelu Lukaku plying his trade at Everton this term, four. City also have Alvaro Negredo on three goals with Edin Dzeko on two whilst Manchester United can thank Wayne Rooney for three goals and Robin van Persie and Danny Welbeck for a brace each.

Whilst it's no use crying over the split milk that is Romelu Lukaku, the fact that his striking competition at Chelsea, Samuel Eto'o, Fernando Torres and Demba Ba have failed to ripple the net in the Premier League will mean that tears of frustration will continue to be shed -- particularly given the likelihood that the Belgian international will score 20 plus goals for Everton this season.

Whatever Mourinho might have intimated when returning to Stamford Bridge about a four-year-plan, the fact of the matter is that his employer Roman Abramovich will have demanded success this season, and with the munificent Russian's thirst for European glory momentarily satiated that can mean only one thing -- winning the Premier League. Can Chelsea win the league without a striker rattling in at least 15 goals? Anything is possible, particularly given the erratic form thus far of their main title contenders. In his first term at Stamford Bridge, Mourinho steered Chelsea to back-to-back title wins in 2005 and 2006 with club legend Frank Lampard top-scoring (13 and 16 goals) in both campaigns.

Since then however, the story has been very different:

• 2010 – champions Chelsea – Didier Drogba 29 goals.
• 2011 – champions Man United – Dimitar Berbatov 20 goals.
• 2012 – champions Manchester City – Sergio Aguero 23 goals.

Interestingly enough, Aguero wasn't the leading marksman in the league that season, it was Arsenal's Robin van Persie. Subsequently signed by Manchester United, Van Persie top scored last term, his 26 goals instrumental in the Red Devils winning the title.

Following his acquisition of Chelsea just over a decade ago, Abramovich has always been an enthusiastic participant in the transfer market with strikers forever high on his shopping list. Sixteen forwards have been signed by Abramovich for an eye-watering combined transfer value of £197.6 million. Eleven have been subsequently sold or released to recoup a measly £19.8 million. The list makes for interesting and entertaining reading.

• 2003: Adrian Mutu: £15.8 million. 27 league appearances, two league goals. Left free transfer 2005. Hernan Crespo: £16.8 million. 49 league appearances, 20 league goals. Left free transfer 2006.

• 2004: Mateja Kezman: £5 million. 25 league appearances, four league goals. Sold £5.3 million 2005. Didier Drogba: £24 million. 226 league appearances, 100 league goals. Left free transfer 2012.

• 2006: Salomon Kalou: £8 million. 156 league appearances, 36 league goals. Left free transfer 2012. Andriy Schevchenko: £30 million. 48 league appearances, nine league goals. Left free transfer 2009.

• 2007: Claudio Pizzaro. Free transfer. 21 league appearances, two league goals. Left free transfer 2008. Fabio Borini: Undisclosed fee. Four league appearances, zero league goals. Left 2011.

• 2008: Nicolas Anelka. £15 million.125 league appearances, 38 league goals. Left free transfer 2012. Franco Di Santo. £3 million. Eight league appearances, zero league goals. Sold £2.5 million 2010

• 2009: Daniel Sturridge. £3.5 million. 63 league appearances, 13 league goals. Sold £12 million 2013.

• 2011: Fernando Torres. £50 million. 87 league appearances, 15 league goals. Romelu Lukaku. £18 million.10 league appearances, zero league goals.

• 2012: Patrick Bamford £1.5 million zero league appearances, zero league goals.

• 2013: Demba Ba. £7 million.16 league appearances, two league goals. Samuel Eto'o. Undisclosed. Three league appearances, zero league goals.

The list underlines several facts which we know to be true about Abramovich, Chelsea, and Blues strikers in general. 1) Abramovich is not afraid to spend money. 2) Failure to score goals will not be tolerated at Chelsea. 3) Scoring goals elsewhere is no guarantee of success at Stamford Bridge.

Returning to the rumour mill; Chelsea are currently being linked with three prolific strikers: Burak Yilmaz of Galatasaray, who scored 24 league goals in 30 league appearances last season and two in five this term; Robert Lewandowski of Borussia Dortmund, who has scored 60 league goals in 104 league games including six in seven this term; Jackson Martinez of Porto who has scored 26 league goals in 30 league games last season, two in two this term.

All three boast phenomenal goal-scoring records -- but as the list proves, often that counts for nothing. All three players are being tracked by other clubs, most notably Lewandowski, a long term target of Bayern Munich. Of the three, only Lewandowski is playing in a genuinely competitive league. He has the right physical attributes and temperament to be a Premier League star and at 25 years of age the Poland international is a couple of years younger than Yilmaz and Martinez.

Supporters of Bayern Munich will argue that their club's signing of Lewandowski is a 'done deal', but the player stated this week that nothing has been agreed and in any case Chelsea's recent 11th hour White Hart Lane hijacking of Willian proved that talk and medicals count for nought -- ink on the paper is what matters.

During the summer, Abramovich and Chelsea were thwarted in their attempts to sign long-admired Atletico Madrid ace Radamel Falcao and then Napoli's Edinson Cavani. In eyebrow-raising deals, respectively newly-monied Monaco and PSG stepped up to the plate luring both players to France and Ligue 1. With Mourinho once more at the Stamford Bridge helm, attention turned to Old Trafford and Wayne Rooney, only for disappointment to strike yet again.

This time Abramovich will be ready. Be it Lewandowski, Martinez or Yilmaz he won't take no for an answer. There's an old adage which says if you throw enough mud at the wall then some of it will stick. The same can be said of the Russian oligarch and his strikers.

Despite Blues supporters protesting that he is on loan at Everton, Chelsea's search for the next Didier Drogba will continue the same as it always does -- the same as it did when the legendary Drog was in his Stamford Bridge heyday. Thirteen trophies in ten years waters down the arguments of those who question Abramovich's methods. This is how he rolls. Players and managers in and out, in and out.

Sometimes it's not nice, sometimes it's not pretty -- but it's a given that the money on offer more than compensates for any feeling of being hard done by ... just ask any of the strikers on that list -- well apart from Adrian Mutu, but that's another story!