The season to date: This much we know (Part two)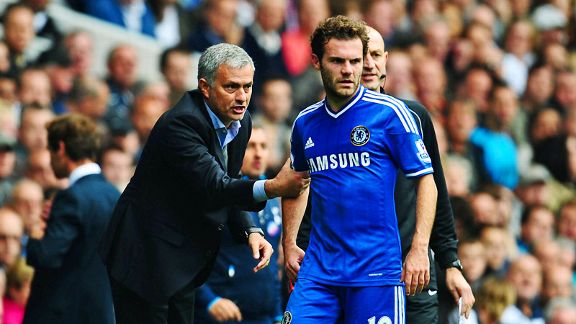 Rex Features/AP ImagesJuan Mata should get a run out in the Capital One Cup.
The latest unwelcome break in the Premier League programme provides Blues supporters with an opportunity to reflect on the opening weeks of the season, to compare and contrast Chelsea's fortunes with those of rival clubs and to re-evaluate the euphoric aspirations that were associated with the return of Jose Mourinho.

In this second part of a two-part article, I review key events and the Special One's progress as he sets out to fashion the Blues to play football his way.

Given Mourinho's "my way or the highway" football philosophy -- which had been evident in the opening weeks of the season and had led most notably to the regular exclusion of Blues Player of the Year Juan Mata from Chelsea's starting XIs as Premier League action returned following the early September international break -- the media focused its attention on the Special One and his team as they squared up to face Everton at Goodison Park. This was never going to be an easy game for Chelsea, who once more, this time with new boy Samuel Eto'o leading the line, failed to find the net despite creating ample opportunities. Mourinho selected Mata ahead of Oscar, but switched the players prior to the hour mark by which time it was clear that the visitors were going to struggle to level Steven Naismith's opener scored on the stroke of halftime.

- Lythell: Lukaku form pressuring Mourinho, Torres
- Worrall: Season to date: Part One

Four days later, Chelsea were being touted as a club in crisis following an abject 2-1 home defeat to Basel in the Champions League. Mourinho was typically dismissive when grilled on his team's poor form. "Crisis of what? Syria? Ah, Chelsea. No, for me, no problems, no crisis. For me, it's two bad results."

Despite Chelsea making their worst start to a season in a decade, Mourinho had been quick to defend his four-year plan. "The situation is pure," he said. "I don't like the way Chelsea were playing in the last couple of years. The club doesn't like it. We want to change. We have the players with the profile to change. We want to play a different style."

A style of play that would not be dictated by Mata.

"I want to build with Oscar as my No 10. I want the other two players, on the wings, to adapt to that reality and learn how to do things they were not ready to do before."

There. He'd said it publically. Everything was in the open now and no one was therefore surprised to see Mata out of Mourinho's squad for the pedestrian 2-0 victory over Fulham. Underlining his credentials as Chelsea's main man, Oscar had opened the scoring with John Obi Mikel startling Blues supporters by finding the net for the first time in almost seven years as a Premier League regular at the Bridge. Eto'o had started up front with Fernando Torres replacing him midway through the second half, but neither looked convincing. Underlining the belief that Mourinho had made an error of judgment in sending Romelu Lukaku out on loan to Everton, the youngster, on as a second-half sub, scored the winner for the Toffees in a 3-2 win at West Ham. Elsewhere, Liverpool were stunned at Anfield by Southampton and in the Manchester derby, City destroyed United. As the crisis bandwagon headed north, the Premier League leadership came south with Arsenal topping the table following a 3-1 victory over Stoke City.

The welcome diversion of the Capital One Cup gave Blues supporters the opportunity to see how Mata and the rest of Mourinho's "scholars" learning to play the "special" way were progressing as Chelsea travelled to lowly Swindon Town for a Third Round tie.

"I hope he tells me on the pitch, 'You are wrong, I'm the best and I have to play every game,'" said Mourinho of Mata's selection. The Spaniard duly rose to the challenge; he and compatriot Torres being the standout players as Chelsea ambled to a 2-0 victory. The game was as notable for Torres' scoring as it was for the anonymous debut of £32 million midfielder Willian and the poor showing of Kevin De Bruyne.

Next up: Tottenham Hotspur. A traditional must-win game for Blues fans and a must-not-lose game for Mourinho, whose opposite number at White Hart Lane, Andre Villas-Boas, was keen to prove more than a point against his former mentor and the club that fired him. Restored to Chelsea's attack, Torres thrived in what was a full-blooded, cut and thrust (and scratch) lunchtime London derby.

Having gone behind in the first half, Mourinho introduced Mata at the start of the second half, and suddenly Chelsea were an altogether different proposition with a revitalized Mata on hand to deliver the free-kick from which John Terry leveled the game. Had Torres not been sent off for a debatable second yellow card offence, Chelsea could have gone on to win the game, but in the end a draw was a fair result.

Grabbing the headlines later in the day once more were both Manchester clubs. City's 3-2 defeat at Aston Villa, while newsworthy given the fact that Manuel Pellegrini's team had twice failed to defend a lead, was kicked off the back page by neighbours United's 2-1 humbling by West Brom at Old Trafford. The statisticians were out in force. Apparently, this was United's worst start for 24 years, and Red Devils' manager David Moyes, the anointed "Chosen One," was in a spot of bother.

While Mourinho was able to relax a little more with events in Manchester dimming the media spotlight on Stamford Bridge, one man single-handedly meted out a reminder to the Special One that hell hath no fury like a young Belgium international scorned. Lukaku battered Newcastle United into submission with two goals and an assist as Everton maintained their unbeaten start to the season. Chelsea supporters watching the live televised game were quick off the mark on social media sites praising the youngster with a good number chiding Mourinho about Lukaku's performance.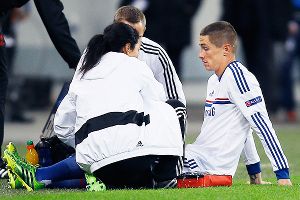 AP Photo/Vadim GhirdaThe howls from fans about letting Romelu Lukaku go out on loan grew even louder after Fernando Torres went down in a Champions League win at Steaua Bucharest.
The merits and demerits of loaning out Lukaku were questioned further when Torres was injured in Chelsea's next game, the 4-0 Champions League rout of Steaua Bucharest. "It's one thing to play for Everton, and another to play for Chelsea," quipped Mourinho, defending his decision. It takes a lot for the Special One to admit he might have made a gaffe, maybe at 20 goals but not at three, meanwhile Blues supporters consoled themselves with the fact that Lukaku was of course still a Chelsea player -- his time will come. With Mata back in the first team fold, the media had turned their attention to the absent Kevin De Bruyne in the pre-match press conference in Bucharest invoking the wrath of Mourinho in the process.

"You are for three weeks speaking about Mata, and now it's De Bruyne," the Portuguese blustered irately. "You have this tendency to only ask about the guys that are not selected." It was a fair observation on the part of the Chelsea manager who highlighted his meritocratic principles precisely.

"I try to be honest with Juan and say that he's going to play Tuesday, because of what he did in training and because of what he did in the matches he played. With Kevin, it's the same. He's not selected because I didn't like the match he played against Swindon and I didn't like the way he was training." Mourinho departed the presser in a huff, and Blues supporters smiled. The Special One was definitely back.

Chelsea's last game before this latest international break, a 3-1 victory over Norwich City at Carrow Road, was significant. Not because it was the Blues first away league win of the season. Not because of the score-line. Not because it was another three points in the bag. It was significant because Mourinho introduced a new tactical weapon to his "special" armoury -- his nose! Never before in the history of association football has a manager been able to use his sense of smell to make the right tactical decisions to ensure victory.

Oscar had coolly fired the visitors into an early lead, which Demba Ba should have doubled, but Norwich battled back to equalize at which point Mourinho swiftly opted for a change of personnel and tactics. Eto'o came on for Ba, Eden Hazard for the injured Ashley Cole and Willian for Mata. Chelsea changed their shape, pressed forward and won the game with late goals from Hazard and Willian.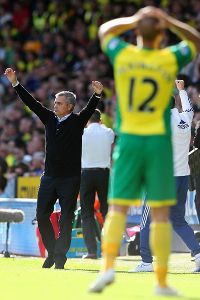 Julian Finney/Getty ImagesMourinho made all the right moves in Chelsea's first away win of the season at Norwich.
"During the game, I am not nervous," said Mourinho, all smiles after the victory. "I have feelings. I smell things, and when that easy goal [from Ba] was missed, I had a smell that they would score a goal. That is why I had Eden warming up at 1-0 because I smelled that. We could have won or lost it at 1-1 because we, at that moment, we didn't want a point."

By virtue of Spurs' calamitous 3-0 home defeat to West Ham, Chelsea's victory over Norwich lifted the Blues up to third place in the Premier League table just two points off leaders Arsenal. "The players go on international duty and it's important we're near the top, where we need to be," said Mourinho, reflecting on his team's current position.

Excepting the visit to Stamford Bridge of Manchester City on the 27th, Chelsea have a favourable run of league fixtures right up to the Christmas schedule when Arsenal and Liverpool will provide serious opposition. By then, Mourinho's players will be well-versed in how he wants the game played, and the Special One himself will have further fettled his blueprint for success.

Back in 2004, in his first season as manager, Mourinho guided Chelsea to the top of the league in November and kept them there. Things may be different now, but with inconsistency stalking Chelsea's title rivals, Mourinho's ability to iron out the deficiencies in his team's style of play and uncannily sniff out victories could prove decisive.