Lukaku form putting pressure on Mourinho, Torres
Romelu Lukaku. Since the transfer window closed at the beginning of September the young Belgian has been the most popular subject of discussion of all the topics surrounding Chelsea.

With each passing week and Premier League fixture, the spotlight is cast once again on the striker and diffused upon his parent club as the player continues to reap the plaudits for pivotal contributions on loan at Everton. As Lukaku regularly finds the back of the net, the rivals he left behind at Stamford Bridge have struggled to trouble the scoresheet, leaving pundits and fans alike to question the decision to allow him to spend the season away from the club that spent 18 million pounds to bring him from Anderlecht just over two years ago.

The puzzled expressions and nonplussed opinions are obvious considering the numbers. Indelibly etched as fact, Lukaku has netted four times in just three matches for the Toffees, whereas Chelsea's incumbent trio of Fernando Torres, Samuel Eto'o and Demba Ba have yet to get off the mark in the Premier League.

-Darke: Mou's bold decisions starting to pay off
-Martinez: Lukaku becoming a 'proper man'
-Buck questions FFP rules

Based on that seemingly damning evidence, it appears insanity must have gripped Jose Mourinho, Michael Emenalo and Co. when they deemed the youngster surplus to requirements. That equation, however, is far too simplistic.

Of course, Chelsea have lacked goals from their target men this season and Lukaku has shown a composure and a ruthlessness to be hugely admired. However, goals are not a striker's only currency, and in a system in which a team plays with just one up front it goes without saying that the decisive moments must come from all over the pitch if the team is to succeed.

Selfless running, the ability to bring attacking midfielders into play, the propensity to take up wide positions to unsettle the defence and willingness to take up the physical challenge of the attendant centre back's close attentions -- all these are key attributes of the role, especially in a framework constructed by Mourinho.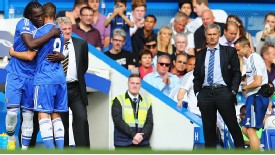 GettyImagesChelsea striker Romelu Lukaku comes on to replace Fernando Torres against Hull, as Jose Mourinho looks on.
Torres might not have scored in the league, but he converted a wonderfully instinctive volley against the European Champions Bayern Munich and doubled his season's total in the League Cup against Swindon. Yet it is what he has contributed away from his own personal glory that have caught the eye and once again raised hopes amongst the undecided about whether he will ever be the striker who Chelsea fans hoped he would be.

Too often, Torres has shone against lesser opposition which is why his performance at the County Ground can be discounted, though his hard work in the Super Cup and rampant display at Tottenham have highlighted just what he is capable of offering the team.

The penny seems to have dropped under Mourinho's guidance and suddenly his decision-making and -- dare I say it -- his first touch have both improved beyond belief. Sure, he could be hitting the back of the net more often, though that should only be a matter of time if he can maintain his current level of confidence.

Eto'o still looks off the pace, but Ba's efforts at Norwich were highly commendable. Physically imposing and with a turn of pace, he was a menace all afternoon. Prepared to mix it with the central defenders and eager to run the channels, his diligence opened the door for Oscar and Juan Mata to threaten in more dangerous areas. It was just a shame that his shooting radar was not properly calibrated as a goal would have made all the difference to his profile in the eyes of both his manager and the fans.

As Lukaku pointed out this week, the decision for him to go on loan was his, though it would not have been ratified had the Special One seen him as a fundamental component of his team for this season. He must have reasoned that if that was the case it would be far better for him to be playing regularly for a famous club like Everton rather than twiddling his thumbs on the substitutes' bench at Chelsea. The question is, what prompted Mourinho to arrive at this decision?

It cannot be denied that Lukaku has an unerring eye for goal. It is the hallmark of all great strikers and a gift players are born with rather than one borne out of coaching and hard work. His pace and determination is the key to him getting into position to receive the ball with the goal at his mercy and his knack of shrugging off defenders is an equally vital trait.

What the 20-year-old still has to learn is the more prosaic part of the game -- the selfless running of the channels, the drawing of markers and all the other less-glamorous aspects of the job. To be fair to him, he is fond of a tussle with a defender and does a good job of receiving the ball with his back to goal. However, his Achilles heel at present his touch is not yet cultured enough for the subtle intricacies of Champions League football and the type of game Mourinho wants his team to play.

In Lukaku's favour is he is a quick learner, something that can be seen in the change in his play from the cumbersome, rigid performances of his early days in a blue shirt to the player who has made a habit of making nets bulge in Premier League grounds around the country.

One of his first appearances for Chelsea came against Liverpool in the League Cup and it was memorable for all the wrong reasons. Now, his mere presence on the field is enough to set alarm bells ringing in the opposition's mind.

He is still a work in progress though, and to heap the pressure of leading Chelsea's pursuit of silverware on several fronts onto the shoulders of a man only just out of his teens would have had its obvious risks. With the team itself also trying to forge a new identity, perhaps the opportunity was there to throw caution to the wind and incorporate him into the new-look side. Mourinho clearly though otherwise.

To look at it in a more functional way, the Chelsea boss is in a win-win situation even if that viewpoint might not be instantly distinguishable. For instance, should Lukaku fail to impress at Goodison Park -- which already looks extremely unlikely -- then nobody will waste too much time wondering what might have been.

Should he succeed, then either he returns to Chelsea an even more polished and potent a striker or the Blues have a saleable asset that would command a lucrative transfer fee. Whatever transpires, the Blues will know a whole lot more about their young player at the end of the season.

Lukaku is the future of Chelsea, but he must continue to develop and Roberto Martinez's side is the perfect place for him to do just that. With any luck, he can keep scoring for Everton this season while Chelsea simultaneously march towards more silverware.

Given the glimmers of hope offered by Torres and Ba -- and they are no more than glimmers at present -- Mourinho's decision to put faith in experience over youth as far as his strikers are concerned could well be proved to be the correct one, though ultimately only time will tell.

But until that moment arrives and if Lukaku maintains his prolific form, you can be sure that television commentators across the country and the Twitterati around the world will continue to bang the drum in favour of the Belgian.

Follow Phil Lythell on Twitter @PhilLythell