The season to date: This much we know (Part I)
The latest unwelcome break in the Premier League programme provides Blues supporters with an opportunity to reflect on the opening weeks of the season, compare and contrast Chelsea's fortunes with those of rival clubs and re-evaluate the euphoric aspirations that were associated with the return of Jose Mourinho.

In this first part of a two-part series, I'll review key events and the Special One's progress as he sets out to fashion the Blues to play football his way.

In the weeks leading to the big kickoff, much was made of the fact that three of the big four clubs, Manchester United, Manchester City and Chelsea had new managers and the other, Arsenal, still had their old manager despite having won nothing for eight years.

- FA chief baffled by lack of Torres punishment
- Barcelona interested in Courtois?
- Lukaku eager to show Mou what he's missing

The merits and demerits of Messrs. Moyes, Pellegrini, Mourinho and Wenger were debated at length. Votes were cast and the general consensus was that Stamford Bridge, with the returning Special One at Chelsea's helm, would be the destination of the 2013-14 Premier League trophy.

In what has been an absorbing and unpredictable campaign thus far, opinion on the title chances of all four clubs has changed on an almost weekly basis -- as has the name of the club at the top of the league. On the opening weekend, Arsenal, with Arsene Wenger yet to spend a penny in the transfer market, were well-beaten at the Emirates by Aston Villa.

Those who thought the Gunners would struggle to secure a top-four finish smugly chirped "I told you so," while supporters of Tottenham Hotspur and Liverpool, believing their teams had a genuine chance of taking advantage of any weakness, rubbed their hands in glee. Both Manchester clubs enjoyed emphatic wins, each scoring four goals, with United's impressive 4-1 away victory over Swansea briefly silencing the critics of new Red Devils manager David Moyes; they believed he wasn't fit to lace the boots of his illustrious predecessor, Sir Alex Ferguson.

There had been no place in Moyes' starting 11 for Wayne Rooney, Mourinho's only remaining transfer target according to --, er, well, Mourinho, whose Blues huffed and puffed to a 2-0 win over newly promoted Hull City.

Many Blues supporters were disappointed the Special One had elected to start with Fernando Torres up front instead of the widely admired Romelu Lukaku.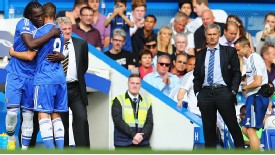 GettyImagesChelsea striker Romelu Lukaku comes on to replace Fernando Torres against Hull, as Jose Mourinho looks on.
The young Belgian international, whose prolific loan spell with West Bromwich Albion last term yielded 17 goals, had convinced many that he was ready to become the new Didier Drogba, something which Torres and the Blues' only other recognized striker, Demba Ba, had failed to accomplish. Lukaku came on for the last 15 minutes against Hull, but had to make do with a place on the bench yet again during Chelsea's next game against Aston Villa, when Mourinho started Ba instead of Torres.

The Blues, who beat Villa 2-1 in a scrappy, rearranged midweek game at the Bridge, looked toothless upfront until Lukaku replaced Ba in the 65th minute with the score level. Despite failing to find the net, the youngster's physical presence had given the visitors' defence more problems than they had faced previously, and it was hoped Lukaku would get the Mourinho nod in Chelsea's next game away, at reigning champions Manchester United. Manchester City would then find themselves surprisingly beaten 3-2 by newly promoted Cardiff City in the "shock" result of the second round of Premier League games.

Having already made two unsuccessful bids to sign Rooney, Chelsea and Mourinho had stolen the headlines heading into the weekend by hijacking Tottenham Hotspur's bid to sign Brazilian playmaker, Willian. Even for a man of Roman Abramovich's staggering wealth, £32 million was an awful lot to spend on another squad player.

Surely Mourinho hadn't -- as was touted by disgruntled Spurs fans -- whisked Willian from under the nose of his former protege, Lillywhites manager Andre Villas-Boas, simply to spite him? Blues supporters didn't care. This was why Mourinho was special to them. Putting one over on the team they love to loathe -- you couldn't make it up.

Billed as The Chosen One versus The Special One, the Bank Holiday Monday night showdown with United, which ended in a 0-0 stalemate, provided three key learning opportunities for Blues supporters.

1. Lukaku, who scored a second-half hat trick against United in his final loan game at West Brom, clearly didn't figure too prominently in Mourinho's plans for this season. At Old Trafford, Lukaku was an unused substitute. Joining him on the bench for an hour was Torres, with the Special One curiously sending out a starting 11 without an out-and-out striker – a clear "Dear Mr. Abramovich, please buy me a world-class forward" plea if ever there was one.

The subsequent low-key signing of prolific (but now 32-year-old) Cameroon international striker Samuel Eto'o raised further doubts about Mourinho's faith in his current options.

2. Mr. Abramovich would not be buying Rooney for Mr. Mourinho. Rooney started for United against Chelsea, was the game's stand-out player, and also, according to Moyes, not for sale to Chelsea at any price -- which didn't stop traveling Blues supporters from humourously chanting, "We'll see you next week" every time Rooney touched the ball.

3. There was something untoward going on behind the scenes that related to fan favourite, Juan Mata. An unused substitute at Old Trafford, rumours were circulating that Mata didn't fit into the Mourinho template, that given Chelsea's wealth of talent in midfield -- principally Oscar, Eden Hazard, Kevin De Bruyne and now Willian -- he was surplus to requirements. If a serious offer came in before the transfer window closed, he would be sold.

Mata's future at Stamford Bridge became shrouded in more doubt as Mourinho took his team to Prague's Eden Arena for the showpiece Super Cup matchup with Bayern Munich. Neglected throughout a game that the Blues would lose in a penalty shootout following extra time, Mata cut a forlorn figure on the Chelsea bench and supporters feared they may have seen the last of the club's reigning player of the year.

When quizzed by the media about Mata's future -- and also David Luiz, who had yet to feature in the Premier League -- Mourinho maintained, as he had all summer, that neither player would be leaving Stamford Bridge. Nevertheless, Blues fans kept up an anxious vigil as the clock ticked down to the end of the transfer window.

The two significant results of a gameless weekend for the Blues saw Liverpool beat Manchester United 1-0 at Anfield, and Arsenal beat north London rivals Spurs by the same scoreline at the Emirates. Liverpool, with three straight 1-0 victories, replaced Chelsea at the top of the table and Reds supporters dared to dream that finally this might be the season that captain Steven Gerrard secured a Premier League winners medal.

Former Chelsea player Daniel Sturridge had scored the winner in each of Liverpool's games, but there was no feeling of spilled milk among the True Blue brethren and certainly no crying over what might have been. Sturridge was a misfit at Chelsea, so good luck to him now.

Transfer deadline day saw Arsenal finally make a marquee signing with the north London club paying Real Madrid 42.5 million pounds for German international Mesut Ozil. Judging by various social media posts, Gunners fans were convinced that Ozil would be the catalyst whom wily, old alchemist Wenger needed for his formula to work again. Chelsea supporters were unconvinced, but most had other things to fret about -- principally the loan deal that saw Romelu Lukaku depart to Everton, the fans' disappointment etched into the majority of comments on the matter.

With the transfer window closing and the first international break of the season arriving, football supporters up and down the land had plenty to discuss. And Chelsea fans, while maybe questioning what was going on behind the scenes at Stamford Bridge, were under no illusion that at least this time it was Jose Mourinho who was calling the shots.

Part Two this weekend; follow Mark on Twitter @gate17marco