Mourinho faced with Mata-Oscar conundrum
As if anybody needed reminding of his enduring class, Juan Mata exhibited just why he is so highly regarded by Chelsea supporters and English football observers in general Tuesday against Steaua Bucharest. But as gratifying as it was to see the Blues double player of the year excelling in the Champions League, one would also like to give a penny for Oscar's thoughts.

The Brazilian has arguably been Chelsea's most impressive performer so far this season, relishing the added responsibility afforded to him by manager Jose Mourinho at the fulcrum of the team's attacking ambition. Three goals already speak of his greater involvement in team affairs while his prompting in advanced positions has created openings for others to score.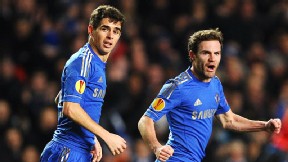 Laurence Griffiths/Getty ImagesWould keeping Oscar, left, and Juan Mata on the pitch together mean displacing a Chelsea legend?
Yet his deployment has meant that Mata has found himself surplus to requirements, a situation that has had all and sundry scratching their heads at the omission of the Spaniard. The feeling has been completely understandable from one perspective though a little short-sighted considering Oscar's rise to prominence and now that Mata has regained the spotlight for his actions on the pitch rather than for gaining splinters from the substitutes bench there is a concern that their fortunes will now be reversed.

Although Fernando Torres might have been the outstanding player in the match against Tottenham and grabbed all the subsequent headlines following his tangle with Jan Vertonghen, it was Mata who provided the catalyst that turned Chelsea's lacklustre opening 45 minutes into an effervescent second half. In Romania, Andre Schurrle deservedly reaped much praise, though again it was the Spaniard who really made the team tick.

Meanwhile, Oscar was nominally positioned in a wider role on Tuesday and suffered as a result. His display after the break was much-improved against a demoralised team already trailing by two goals, though he began the match with very few of his exploits benefitting his team-mates.

It appears that while one shines, the other fades. Whether the two can play in tandem and both achieve their maximum level on a consistent basis will be one of the major tests of Mourinho's management especially given the seemingly limitless amount of ability each possess.

The obvious issue is that they both like to occupy the same space, namely in the hole behind the lone striker. The position is almost a free role -- even if the manager's exhortations for that player to contribute defensively are well-documented -- and it is a role that allows the incumbent to express himself fully.

Much is made of the competition for places among Chelsea's creative collective though Eden Hazard, Schurrle, Kevin De Bruyne and Willian can be effective in more than one position. Mata and Oscar, on the other hand, are clearly at their very best when stationed centrally.

Given their exceptional ability and tremendous vision, it is always a shame to see either of them forced to take up positions on the flank. Neither are natural wide men even if both are capable, and there is the possibility of their progression being stymied by such an approach.

Oscar paid his dues last season in his debut year at Stamford Bridge and did an admirable job even if he only outshone his team-mates on a handful of occasions. He grasped the opportunity to play farther infield with both hands at the start of this campaign and it would be difficult to criticise him were he to become unsettled by being replaced by Mata on a permanent basis.

Equally, Mata has been the club's most important player since his arrival in August 2011 and will be somewhat bemused by his sudden loss of status. It is a credit to his professionalism that he has not sought refuge in the press or exhibited any petulance during this difficult period for him and he has ultimately re-proven his worth in the last two matches.

There is no rule that decrees that both players must be on the field and Mourinho could point to the fact that it is the success of the club as a whole that is of paramount importance rather than the egos of its constituent parts. However, the maxim persists that a happy squad is a successful squad, and it helps if two of its most productive players are kept engaged and enthused.

As has been mentioned on these pages before and in several other Chelsea-centric blogs, there does appear to be a solution, one that reared its head on a few occasions last term. Oscar's effectiveness might be quelled on the wing, but it could be argued that it is enhanced when playing in a deeper role. When he has previously taken up one of the central midfield berths he has shown himself to have astute positional sense and a keenness for the more physical side of the game.

Most important, it does not detract from his creative ability; in fact, the position allows him to see the pitch through a wider scope and would provide Chelsea with the deep-lying playmaker so beloved of football hipsters everywhere.

It might seem simplistic that this problem can be solved in one stroke, though surely it is worth a try given the form shown by the two this season. Should the experiment work, then both Mata and Oscar can cast their magical influence to their mutual benefit, though that scenario does come with a rather controversial caveat -- it would probably mean that a certain Frank Lampard might have to be left out to accommodate them both.

There is no thornier issue amongst Chelsea fans than the possible omission of the club's record scorer and its best-ever player, and for Mourinho it might be a case of jumping out of the frying pan and into the fire. It would definitely be a quandary, though the Portuguese has shown with his treatment of Mata that he is not afraid of making tough and unpopular decisions if he feels it will further the club's ambitions.

Dropping such a revered figure as Lampard, however, would be particularly brave, though his relationship with the English veteran could help smooth over any differences and would hopefully not create the reprisals that faced him at Real Madrid after his banishment of Iker Casillas. There is also the reality that Lampard is once again out of contract next summer when he will turn 36, and even the great man with the most professional attitude of any current footballer cannot go on forever.

A successor needs to be found and while some hopes are being pinned on Marco van Ginkel, the most natural current fit at present appears to be Oscar.

It would not be an easy call for the loyal if pragmatic Mourinho to make but then he does get paid handsomely to take such decisions and he is, after all, the Special One.

Follow Phil Lythell on Twitter @PhilLythell