Schurrle set to shine as Chelsea's attacking options narrow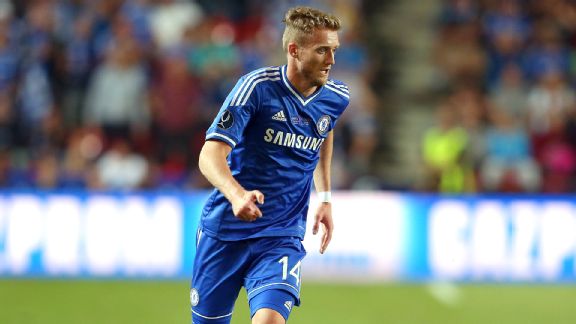 Alexander Hassenstein/Getty ImagesAndre Schurrle has appeared in eight matches this season for Chelsea.
Perhaps the most gratifying feature of Chelsea's comfortable win over Champions League Group E whipping boys Steaua Bucharest was the impressive performance of £18 million summer signing Andre Schurrle.

Having been on the Blues' wish list for a couple of years, the versatile 22-year-old winger-cum-forward finally arrived at Stamford Bridge in June following a protracted transfer negotiation with Bayer Leverkusen for whom the German international had scored 23 goals in 83 appearances in his two seasons with the Bundesliga club.

- Lythell: Schurrle, Mata ensure Chelsea reign in Romania
- Report: Steaua Bucharest 0-4 Chelsea
- Marcotti: Torres situation shows need for more refs

Part of DFB team boss Joachim Low's youth revolution, Schurrle -- with 25 caps and seven goals to his name -- is clearly an outstanding talent, but his performances for Chelsea before Tuesday's match with Steaua had been patchy at best, a legacy perhaps of Blues manager Jose Mourinho's tactical experimentations and endeavours to bed down a favoured starting XI.

Schurrle made his debut as a substitute for the Blues against Hull City on the opening day of the Premier League season. Coming on midway through the second half for Kevin De Bruyne, the young German had little opportunity to impress the home crowd, who by full time were affectionately referring to him as "Shirley."

It was more of the same in the midweek match with Aston Villa that followed. This time it was Juan Mata who made way for Schurrle, part of a double substitution that also saw Romelu Lukaku replace Demba Ba. In what was a very physical contest, the athletic Schurrle looked very assured on the ball, and Chelsea looked a more potent threat against Villa's tough-tackling defenders.

Despite winning both these games, the Blues had been toothless up front, with Mourinho juggling Fernando Torres, Ba and Lukaku in the centre-forward position to little avail. Having made no secret of his desire to bring Manchester United striker Wayne Rooney to Stamford Bridge, Mourinho -- in what appeared to be a clear vote of no confidence in his strikers -- drew attention to "his" problem in the Blues' next game, which just happened to be away at United. In a move that amused the media and bemused Chelsea's travelling support, the Special One opted to take on the reigning Premier League champions without a centre-forward, handing Schurrle his full debut and a license to roam up front. In a dour match dominated by both sides' defences, Schurrle saw little of the ball, and on the hour mark Mourinho sent on Torres for De Bruyne, electing to move the German out to the right and playing the Spaniard through the middle. The game with United ended in a 0-0 draw, and a clearly frustrated Mourinho went back to his chalkboard.

Schurrle retained his place in the starting line-up for the Blues' next match, the glorified Super Cup "friendly" with Bayern Munich, again playing on the right of Torres. This time the combination paid dividends, with Schurrle providing the assist for Torres to open the scoring for Chelsea with a true striker's goal -- Mourinho, though, remained unconvinced about the Spaniard.

Thwarted in his endeavours to sign Rooney, as the transfer window closed, the Special One brought in Samuel Eto'o and allowed Lukaku to go out on loan to Everton, Chelsea's next opponents in the Premier League. The game, which Chelsea lost 1-0, proved to be the start of a mini-hiatus for Mourinho and the Blues. After a further defeat at home to Basel in the Champions League, a frenzied, crisis-toting media swooped on Stamford Bridge keen to pursue Mourinho about his decision to drop Mata while labouring the statistic about this being Chelsea's worst start to a campaign in a decade.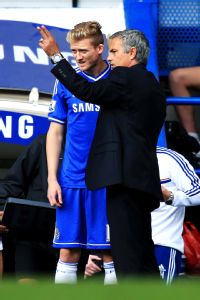 Richard Heathcote/Getty ImagesIf Tuesday night's win over Steaua was any indication, the Special One will be leaning on Schurrle to unlock defenses this season.
Having featured for a somewhat ineffective hour against Everton, Schurrle found himself out of the picture and away from the blame in the Basel debacle. Returning for the pedestrian victory over Fulham, the German was again deployed on the right -- a source of frustration for supporters pining for Mata, and perhaps also for the player himself. In his last season with Leverkusen, playing on his favoured left, Schurrle had scored 14 goals and contributed nine assists -- on the right for Chelsea he looked out of sorts. Another case perhaps, as with Mata, of the Special One trying to knock a square peg into a round hole.

Schurrle was on the bench for the Capital One Cup victory at Swindon, which saw Mata and De Bruyne recalled to the side and £32 million signing Willian given a chance to impress, and Schurrle was a substitute at White Hart Lane for the Premier League game with Spurs that followed. Coming on for Eden Hazard in the 69th minute of the 1-1 draw, Schurrle was deployed on the left of Mata and Oscar, and Chelsea, with Torres up front, eased through the gears, with their poise and balance returned. Had it not been for the sending off of Torres, the Blues could have gone on to beat Spurs ... finally, though, be it Hazard or Schurrle on the left, it looked like Mourinho -- taking into account De Bruyne and Willian's ongoing lack of form -- was closing in on his optimum front four.

With Hazard still suffering the effects of the ankle knock sustained at Spurs, Mourinho started Schurrle on the left in Tuesday night's "must-win" Champions League match with Steaua. The German was the standout performer as the Blues ran riot, winning 4-0 in Bucharest. Gaining confidence with every passing minute, Schurrle ran Steaua right-back Daniel Georgievski ragged, setting up Chelsea's first and third goals, both scored by Ramires, with buccaneering runs down the left flank. Inferior opponents though Steaua Bucharest undoubtedly were, this was an important victory for Chelsea, for Mourinho and for Schurrle. In his post-match interview, Mourinho was swift to praise Schurrle: "People understand the quality Andre has, getting balls in space and to his feet to attack the defender," he gushed, adding, "The kid was very strong."

Having tinkered obsessively with his line-ups and tactics in a manner not seen since the wonderful Claudio Ranieri, it seems that Mourinho has finally found the right set of keys to unlock a defence ... and if last night's showing is anything to go by, Andre Schurrle is definitely going to be a part of that bunch.