Terrific Torres shines against Tottenham
Chelsea's 1-1 draw with Tottenham on Saturday had all the ingredients of a pulsating London derby. Momentum shifts, controversy, goals, swift counterattacks and plenty of cards were all on show as the master took on the apprentice at White Hart Lane.

It was also very much the epitome of that most durable of football cliches: a game of two halves. The first 45 minutes undoubtedly belonged to Spurs as they sauntered past a pedestrian Chelsea team whose players appeared to be wearing hexagonal boots, such was the imprecision in their passing. The home side's lead was deserved and could have been extended, though the response from the visitors after the break was outstanding and could well have earned them three points had Jan Vertonghen's attempts to win an Oscar not been mistaken for a genuine injury by referee Mike Dean.

- Mourinho sets Champions League target
- Mou praises Mata
- Worrall: Mata proves a point
Fitch: AVB had no answer to Mata

The extreme changes in fortune for each team polarised the game and Chelsea's contribution in particular. There was as much to be happy about as to be concerned with, though ultimately the glass should be considered half-full.

By far the most encouraging aspect of the match -- and this blog is fully aware that it has written this in vain many times before -- was the performance of Fernando Torres. His thoroughly unwarranted dismissal might be grabbing all the headlines, though it would be a shame if it overshadowed his excellence on the field.

There were glimpses of his former greatness, glimpses that have been as rare as yeti sightings since the Spaniard joined from Liverpool, though these were unmistakable.

There were those trademark surging runs that took him past opposition players and put defenders off-balance. There was a visceral burning desire and an almost arrogantly puffed-out chest, traits that have been conspicuous by their absence in the past couple of years.

Torres' decision-making -- something that so often undermines his previous good work -- was also impeccable, as he chose the right time to carry the ball while also knowing precisely when to play in another teammate, and who that player should be. Here was a striker who was more than the sum of his parts and one who led the line with a similar authority, if not quite the physicality, as a certain departed Ivorian legend.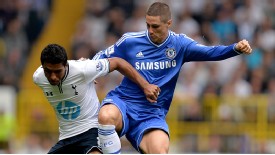 GettyImagesFernando Torres battles for the ball.
As well as testing Hugo Lloris in the Spurs' goal, the Spaniard created clear chances for both Oscar and Andre Schurrle, though neither were able to convert. Juan Mata stuck his away but unfortunately drifted offside. Torres was also an aerial threat all afternoon and gave Vertonghen and Michael Dawson a torrid time, a situation that they could only deal with through a shameless act of cheating.

Another huge positive was the way in which Jose Mourinho was able to affect the game at halftime. The Portuguese has never been shy about making a change and is not afraid of ruffling feathers, as we have seen in the past, and it seems he still has the old magic.

The simple introduction of Juan Mata for the overrun John Obi Mikel while shifting Ramires centrally changed the course of the game, though there was also a clear instruction for the team as a whole to move the ball quicker and for a far-higher tempo to be pursued all over the pitch.

Although some seek to portray Mourinho as a vindictive manager, he is also a pragmatist and will not simply cut his nose off to spite his face. Bringing on Mata might have been the obvious move, though he also sacrificed his preferred choice of playing Oscar in the No. 10 role, choosing instead to position his substitute there.

The tweak had an alchemical effect with the energetic Torres no longer isolated up front and with Chelsea now zipping the ball around the opposition with pace and purpose.

The counterargument, of course, is why did Chelsea not start in such a manner? The Blues were so passive in the first half and so dominant in the second that it resembled -- whisper it -- the performances of Rafael Benitez's team last season.

Selecting Ramires as a defensive winger was one of the former manager's favourite tactics against strong opposition, a conservative approach that made sense on paper, although it had only sporadic success. With Tottenham fielding just one genuine wide player -- Andros Townsend, deployed on the flank opposite Ramires -- the selection appeared to pay too much respect to a side now devoid of Gareth Bale's extraordinary talents.

Another concern slowly mounting is Ashley Cole's form. The usually flawless left-back has been unsteady of late and his performance at White Hart Lane was his third substandard display in a fortnight. Off the pace at Everton, he was then given the runaround by Mohamed Salah in the shocking home Champions League defeat to FC Basel.

On Saturday, he struggled to cope with Townsend's weaving runs and often found his fellow England international occupying the space behind him. Cole sharpened defensively after the break, though he was still guilty of giving the ball away cheaply and when committed in an offensive position. Such is the 32-year-old's undoubted quality and tremendous service that it would be disrespectful to regard his current form as anything more than a blip, though tongues will begin to wag should these errors become more regular.

Chelsea have now negotiated three tough away matches at Old Trafford, Goodison Park and now the Lane. They might not have gleaned quite as many points as they might have wished, but it is still three difficult tests that no longer loom on the fixture list. Despite the underwhelming nature of their first-half display, the upturn in fortunes in the latter part of the game bodes well for the future. With trips to Steaua Bucharest on Tuesday and Norwich City next Sunday coming up, it is to be hoped they can carry that free-flowing positivity with them into those matches.

Follow Phil Lythell on Twitter @PhilLythell