Chelsea's will-to-win derby philosophy key to beating Spurs
Billed as the sorcerer versus the apprentice, Jose Mourinho takes his Chelsea side to White Hart Lane on Saturday to face Andre Villas-Boas' Tottenham Hotspur in what promises to be an enthralling Premier League encounter.

It will be the first time that the two Portuguese coaches have pitted their managerial wits against each other and their first close encounter since Villas-Boas resigned from Mourinho's backroom team at Inter Milan. The Spurs manager, in his second season at the Lane, will be keen to step out of the shadow of the man he previously worked for at Porto, Chelsea and Inter.

- Report: AVB backs Mata to bounce back
- Delaney: The Mata problem

Villas-Boas' path to London N17 and Mourinho's return journey to Stamford Bridge, dramatic as they may be, have been documented to such an extent that there is a danger of the fixture being perceived as a personal duel between the two men, with sections of the media raking through the embers of the past looking for angles to headline a story. Fortunately, thus far, none have been found, so the key talking points in the buildup to the game have been focused on football and the historic rivalry that exists between Chelsea and Spurs.

Despite being shorn of the services of talisman Gareth Bale, Villas-Boas swiftly reinvested the money received from the Bale sale to Real Madrid by bringing in a bevy of expensive foreign talent including Paulinho, Roberto Soldado, Erik Lamela and Christian Eriksen. Villas-Boas' new-look Spurs have jelled well, starting the season in a rich vein of form by winning four of their opening five Premier League games and scoring freely in European and domestic cup games.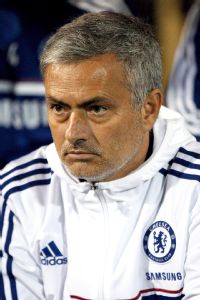 Ben Hoskins/Getty ImagesThe Special One faces former assistant Andre Villas-Boas in what will be another highly charged London derby.
By contrast, Chelsea have been less convincing, with questions being asked of Mourinho's team selection policy and tactics following surprise defeats away to Everton in the league and at home to Basel in the Champions League. Mourinho, too, has invested in new talent with Marco van Ginkel, Andre Schurrle and, in somewhat bizarre circumstances, Willian among those arriving at Stamford Bridge in the summer.

The £32 million acquisition of Willian, whisked away by the Special One from under Villas-Boas' nose after the Brazilian had completed a medical at White Hart Lane, vexed Spurs fans as much as it amused Blues supporters, who immediately created an anti-Tottenham chant featuring their new hero before he had even kicked a ball for Chelsea. Having played a somewhat unimpressive 90 minutes in the Blues' midweek League Cup victory at Swindon, Willian is unlikely to feature in Mourinho's starting XI at White Hart Lane, but that isn't going to stop visiting fans from taunting their Lilywhite counterparts about his decision to sign for the Special One.

Spurs versus Chelsea has always been a spicy fixture, particularly for the match-going Blues fraternity. While Tottenham supporters will always list their North London neighbour Arsenal as public enemy No. 1, when asked, Chelsea fans are swift to single out Spurs as the team they love to hate the most. This aversion has its roots in three key matches that took place when Tottenham Hotspur were still regarded as one of the big four clubs in the English game, the others being Arsenal, Liverpool and Manchester United.

On May 20, 1967, Tottenham beat Chelsea 2-1 in the FA Cup Final at Wembley. On April 19, 1975, Tottenham beat Chelsea 2-0 at White Hart Lane in a match that both sides desperately needed to win to keep hope alive of avoiding relegation from the old First Division. On March 6, 1982, Tottenham beat Chelsea 3-2 at Stamford Bridge in an FA Cup quarterfinal tie.

The Blues' ire at the '67 cup final defeat is self-explanatory. Flesh out the detail behind the other two games and it's easy to see why the north London club became anathema to Chelsea supporters. Having lost 2-0 at the Lane in April 1975, the Blues would draw their final two games of the season and go down. Spurs, with one more point to their name, avoided the drop. In the '82 FA Cup competition, holders Spurs came from behind to beat Chelsea and the Lilywhites went on to retain the trophy.

The reversal of fortune in the modern era has been quite remarkable with Chelsea's dominance of Tottenham in the league, embracing a 32-game unbeaten run that included a spectacular 6-1 thrashing at the Lane. Despite this turnaround, Blues fans have remained as motivated as ever to see their team do well against Spurs, a hand-me-down tradition of sorts that seems to have percolated from the old Shed terrace, through the dressing room and into the very fabric of the football club.

Simply speaking, everyone connected with Chelsea knows that victory over Tottenham Hotspur is paramount, a philosophy that former Spurs manager Harry Redknapp put his finger on when talking to the press as he prepared to take his team to Stamford Bridge for a league game in March 2012.

"If I said to Benoit [Assou-Ekotto] we have not won at Chelsea for 20 years, he wouldn't have a clue. He probably doesn't even know we are playing Chelsea tomorrow until we tell him later on," Redknapp told reporters, bemoaning the fact that the historic rivalries between English clubs was lost on most foreign players. "He won't look at the fixtures. He will turn up and say, 'What time is the coach tomorrow, gaffer?' And that is it. He will be here, but he won't be sure if we were going to Arsenal or Chelsea."

The game in question ended in a 0-0 draw. A month later, Redknapp's worst fears were realized when his Spurs side was humbled 5-1 by Chelsea in an FA Cup semifinal at Wembley.

Maybe Redknapp should have taken a closer look at himself. As a former West Ham player, and an Englishman, Redknapp clearly appreciated the culture of derby games yet was unable to convey this to his team. Despite being Italian, Blues interim boss Roberto Di Matteo knew all about the importance of winning at Wembley and beating Spurs, having done both as a Chelsea player, and the spine of his team that day, Petr Cech, Ashley Cole, John Terry, Frank Lampard and Didier Drogba, knew it as well. Redknapp, who had started the season as the overwhelming favourite to become the next England manager, ended it unemployed, sacked by Spurs for failing to deliver Champions League football to the Lane. Di Matteo would enhance his status as a Blues legend, steering Chelsea to European and domestic cup glory.

Fast-forward to this season and it is interesting to note that Villas-Boas' Spurs have been defeated just once, in the one game their supporters hate to lose above all others, the north London derby with Arsenal. The Gunners prevailed 1-0 at the Emirates with many Lilywhites fans complaining bitterly that Spurs players lacked the extra commitment that comes with understanding the significance of the fixture.

On Saturday, Villas-Boas and his team have the opportunity to ease the pain for Spurs supporters by beating Chelsea, but the blunt facts of the matter are that Mourinho's men will have the edge psychologically. No quarter will be given by the Boys in Blue in their quest for victory, and in a tight physical game, this may tip the scales in Chelsea's favour.

Passion, desire and maybe a little magic can win the day for the Blues. While spellbinding sorcerer Mourinho will take great pleasure from proving his mastery of former apprentice Villas-Boas, he, along with his players, will derive more satisfaction from the knowledge that Chelsea supporters will be ecstatic in victory, and that is what being part of a football club is all about.