Chelsea new boys can make mark against Everton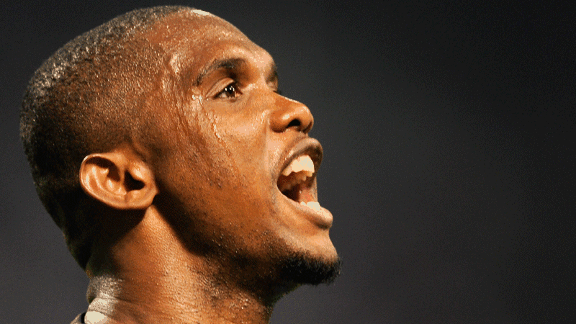 GettyImagesSamuel Eto'o could feature against Everton.
After the torpor of the international break - at least if you support any of the home nations - it's back to business in the Premier League. The top tier's domestic programme begins again and Chelsea will be presented with a stringent test on Saturday evening.

Chelsea travel to Merseyside to take on Everton, a fixture that has not always been the easiest for the Blues to navigate. Last season saw the Londoners return south with all three points thanks to a brace from Frank Lampard though, in the closely fought contest, the spoils could easily have gone the other way. There are two new managers at the helm this time round following the departures of Rafael Benitez and David Moyes, but it is the intensity generated by the Goodison Park crowd and the high tempo football they demand that will give Jose Mourinho's men a stern examination.

Four points and 13 places might currently separate the two clubs in the Premier League table but the season is still in its nascent stage and such disparity can be deceptive. There is no doubt that Chelsea have got off to a decent start in their campaign, with the only points dropped so far being against Manchester United at Old Trafford, and following that impressive, if turgid, display they will be approaching the match against Everton with a certain buoyancy. Their confidence will be further enhanced when looking at the Toffee's initial results with a win yet to be registered and only two goals scored in their opening three games. However, the feeling persists that this is a false perception seeing as manager Roberto Martinez is still learning to acclimatise to his new surroundings, and while victories have been scarce, there has been enough in their performances to suggest an upturn in fortunes is around the corner.

Everton might have lost Marouane Fellaini to Manchester United after the champions presented them with an offer too good to refuse, though they have invested wisely in the summer to bolster their squad significantly. The muscular Belgian might have departed but in James McCarthy they have recruited an excellent young player who has the capability to dictate games and blossom at a bigger club. Gareth Barry will provide some know-how while 19-year-old Ross Barkley has already won his first England cap on the back of his bright start to the season, with his comparisons to Wayne Rooney going beyond merely their similar roots and are instead directed towards their energetic, physical styles of play.

Nevertheless, Chelsea will begin the match as favourites and rightfully so. There are a few question marks over the fitness of Eden Hazard after he picked up a knock training with his national team, but the surfeit of attacking players at Mourinho's disposal should render his possible absence moot. £32 million man Willian will be hoping to make his first appearance for the club and will be an able replacement for Hazard, though after his excellent display against Bayern Munich, Andre Schurrle will surely be hoping to get the nod from his manager.

Whatever the exact combination of the advanced playmakers turns out to be on Saturday, it is inevitable that Oscar will once again be given the starring role. The Brazilian has flourished in his favoured central position and has rewarded his boss with some purring displays. If there is any criticism about the 22-year-old's performances so far it has been the tendency for his influence to wane as the game progresses, with his first half contributions far outweighing those after half-time. On some occasions it has been the state of the game that has thwarted his intentions and in others, it has been a tactical switch by opponents, though in each instance Oscar has been unable to impose himself in the latter stages. It is a small blemish on an otherwise encouraging few matches, though it is one he will want to eradicate given the competition for places and the looming presence of the hitherto unused Juan Mata.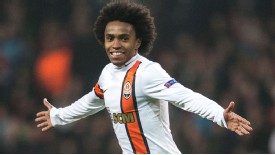 GettyImagesWillian has signed a five-year contract at Chelsea.
With Oscar set to pull the strings once again, the main beneficiary could be another of Chelsea's new signings - Samuel Eto'o. The arrival of the former Barcelona striker might not have caused the seismic shockwaves that the capture of Wayne Rooney might have done but in the Cameroonian, Chelsea have secured an experienced and deadly striker with whom Mourinho has a proven and trusted relationship. At 32, Eto'o might not be force of old but he is expected to show far sharper movement and sureness of foot than either Fernando Torres or Demba Ba and, should he feature at Goodison Park, will pose a problem for Everton's centre backs Phil Jagielka and Sylvain Distin.

One Chelsea player that will certainly not play any part in the match is Everton's deadline day loan signing Romelu Lukaku who is ineligible to play against his parent club. The visitors can be thankful that they have been spared the physical battering the Belgian would provide, though perhaps the player himself will be glad not to play given his comments earlier in the week. Lukaku sparked a furious reaction from some Chelsea fans on social media after he indicated his hope that the Toffees would prevail at the weekend. While the vitriol directed at him by certain sections is entirely unsurprising, it has to be remembered that this is a 20-year-old man keen to impress his new club and that he has almost certainly asked deliberately leading questions by the journalist in question in order to elicit this exact response.

It might have been a naïve thing to say but hopefully it will not precipitate any antipathy from the Chelsea faithful in the future. The youngster has an extremely promising future ahead of him if given the right opportunities and it would be a crying shame if one unguarded comment prevented him from realising his potential at Stamford Bridge.

Back to matters on the pitch and the tactical brains of Mourinho and Martinez promise to serve up an intriguing clash. It will be particularly interesting to see if the Everton boss continues with his natural instincts and risks pushing his full backs forward despite the wealth of attacking options at Chelsea's disposal. Here's hoping he throws caution to the wind and opens up the field for Oscar and co on the counter attack to earn Chelsea another memorable victory at Goodison Park.

Follow Phil Lythell on Twitter @PhilLythell