Lukaku loan leaves Chelsea fans scratching their heads
Chelsea are no strangers to transfer deadline day. They have been keen participants on this most overhyped of football phenomena on many an occasion, happy to do business under the glare of 24-hour rolling sports news channels and with the pressure mounting to get the paperwork completed satisfactorily as the clock ticks down to the point of no return.

The £73 million double capture of Fernando Torres and David Luiz was completed as the winter window of the 2010/11 season entered injury time, while Ashley Cole's 2006 switch from Arsenal took place after the final whistle thanks to some rare common sense from the authorities. Those transfers were largely positive affairs, even if Torres has yet to live up to his exorbitant transfer fee. But the tables were turned this time last year when both Michael Essien and Raul Meireles were inexplicably allowed to slip out of Stamford Bridge without ample replacements in defensive midfield residing in the squad.

- Worrall: So far, so good
- Delaney: Premier League transfer grades

Fast-forward to this year and the feeling persists that history has repeated itself with the last-minute loan arrangement struck with Everton for Romelu Lukaku to move to Goodison Park for the season. It represents the second successive campaign in which the Blues have permitted another Premier League team to assume the services of their Belgian striker; a situation that has dismayed large swathes of the club's support who were eager to see the youngster prove himself in their shirt rather than one of their rivals.

Having returned to the club following his successful spell at West Bromwich Albion, it was hoped that, having proven his Premier League credentials with 17 goals for the Baggies, he would be given the opportunity to lead the line for his parent club. A productive preseason yielded five goals for the striker and hinted at a prominent place in Jose Mourinho's plans for the coming campaign, though his only contributions have been a 15-minute cameo against Hull City Tigers, 25 minutes against Aston Villa and yet another substitute appearance in the Super Cup in which he missed the crucial penalty that saw the trophy placed in Bayern Munich's hands.

There is no question that that particular aberration had any part to play in his eventual temporary departure, though there is also no doubt the player had very little time to prove himself to his new manager. Although he might not have set the pitch alight in any of his brief passages of game time, he did show an urgency and a yearning to strike at goal that has been lacking from Chelsea's other strikers.

Against Villa, he displayed the wherewithal and confidence to receive the ball with his back to goal a few yards outside the area and spin onto his unflavoured right foot before firing just outside the post. The poise, strength and determination in that one piece of play is arguably more than Torres has shown in his three starts combined. Yes, the Spaniard scored an excellent goal against Bayern, though it was instinctive and reactionary; when given time to dwell on his options, he rarely shows such incision.

Lukaku himself has revealed that a chat with Mourinho preceded the decision to move to Merseyside, and while he is keeping the content of that conversation under wraps, it is safe to assume he did not receive the guarantees of first-team football that he was looking for. With the World Cup looming large at the end of this campaign and places in the national squad up for grabs, he clearly felt that regular football was key to any potential involvement in Brazil. The pressure has been increased through compatriot Christian Benteke finding the net on an almost weekly basis, so the need to keep pace with him and be prominent in the thoughts of Belgium coach Marc Wilmots must have been at the forefront of his mind.

The signing of a Mourinho favourite in the shape of Samuel Eto'o will also have played a role with the opportunities for playing time restricted further, and it remains to be seen whether the decision to bring in the Cameroonian at Lukaku's expense will be proved right. There is no doubting Eto'o's credentials -- three Champions League winners medals with goals in two finals is all the currency he needs -- and he provides a different threat to that provided by either Torres, Lukaku or Demba Ba. He is tailor-made for the type of game plan that Mourinho deployed against both Manchester United and Bayern Munich, though that is not necessarily the best fit for every eventuality.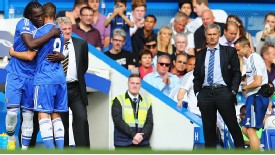 GettyImagesRomelu Lukaku may have been able to oust Fernando Torres if given the chance.
Lukaku has a decent touch, but there is no escaping the fact that he is a menacing physical presence allied to an impressive turn of foot -- a combination that generally leaves centre-backs quaking in their boots. By stripping themselves of the more direct option, Chelsea are effectively committed to prioritising the aesthetic over the practical. That might be great for the purists though perhaps not for the points column. One only has to look at Arsenal or even Chelsea from last season to see that a team without any muscular attacking prowess is unlikely to trouble those at the sharp end of the table.

With the Blues retaining a diminutive midfield, there is a distinct lack of power in the team. Instead, finesse together with clinical counter-attacking football is now the order of the day. That is all well and good, but it is no accident that the successful teams of the past few years have featured the likes of Yaya Toure, Didier Drogba and Wayne Rooney amongst their number; individuals capable of driving teams forward by their very presence on the pitch. Lukaku might not be as accomplished as those three players but he certainly has the ability to frighten opponents and punch holes in defences.

Although Chelsea might be the poorer without him, it is certainly a good move for the man himself. At Everton, Lukaku will play under the progressive football management of Roberto Martinez and will take the field for a club of real stature, with all due respect to West Brom. The demands will be greater than they were at The Hawthorns, and it is an excellent place for him to continue his development in English football. It is just a shame that he will not be doing it in the blue of Chelsea.

It will be no surprise to see Lukaku banging the goals in for the Toffees, though every time the net bulges it will be yet another bittersweet reminder of what might have been for Chelsea this season.

Follow Phil Lythell on Twitter @PhilLythell