So far so good for Mourinho's 'second coming'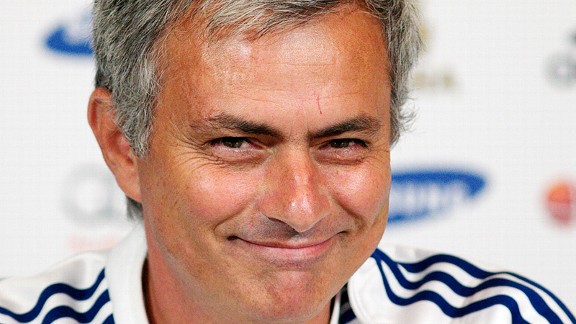 AllsportMourinho_Jose 130829 [576x324] - Copy
With the 2013/14 English Premier League campaign just three games old, and the season thus far living up to its much hyped billing of potentially being the most intriguing in years, supporters, fans, and keen students of the most enthralling competition in football now face an irritating two-week hiatus as international sides resume their travails for World Cup qualification.

Typically, for those of a Chelsea persuasion, these 'breaks' are anxious affairs which involve genuflecting and making the sign of the cross in front of the television in the hope that a higher order will ensure that Blues players' on duty for their countries come through the qualifiers they are engaged in unscathed.

- Bayern hit back in Mourinho row

The fortnight also brings with it the opportunity to review and debate Chelsea's progress to date under Jose Mourinho and look for pointers to the way ahead. The Special One is three months into his 'second coming' tenure as Blues gaffer and, as expected, the Portuguese maestro has eased comfortably into the job, ruffling far fewer feathers than expected as he pragmatically gets to grips with the task of plundering more silverware for the London club.

Bringing the Premier League trophy back to SW6 is Mourinho's priority number one and in order to achieve this objective week-in-week out consistency of performance is required. For the past decade, Chelsea has benefitted from having a strong dressing room populated with charismatic personalities and leader's that has seen the team flourish in spite of frequent changes at managerial level. In cup competitions the Blues have regularly overcome adversity to triumph against the odds. John Terry, Frank Lampard, Ashley Cole, Petr Cech and the departed Didier Drogba instilling the confidence and belief in those around them that impossible really is nothing.

Winning the Premier League may be a different kettle of fish altogether, but that self-same siege mentality that comes from a unified dressing room applies and for Mourinho this involves meshing experience with youthful vim and vigour. Plus the experience of playing and winning for Chelsea and of understanding the meaning, importance and privilege of pulling on the Blue shirt. There is no quick fix. You can spend millions and millions of pounds on players, but you can't buy team spirit. Moneybags Manchester City were recently undone by a gung-ho Cardiff City side who wanted it more and knew how much victory meant to their fans. On Sunday, Tottenham Hotspur's expensively assembled team played like strangers against Arsenal and tamely lost the one game their supporters desire to win above all others.

Having undertaken a thorough review of the squad at his disposal, Mourinho retained the services of John Terry as captain and gave assurances that Blues record goalscorer Frank Lampard would remain in the first team picture. Both men have played every single minute of Chelsea's opening Premier League fixtures and impressed in doing so. Against Manchester United, Terry was exceptional and Lampard continues to roll back the years playing deeper in midfield, yet still capable of getting forward and scoring exceptional goals. Mourinho has said he will use Terry and Lampard with a degree of economy, indeed David Luiz came in for JT for the Super Cup showpiece game with Bayern Munich, but it's already clear that they are a part of the Special One's Premier League strategy.

Every Mourinho game plan involves being resolute in defence and whilst this may seem incongruous with Chelsea owner Roman Abramovich's desire for free-flowing attacking football, the signs are that it is the manager's blueprint for success which is being employed. The indefatigable resilience of the Blues backline was a key feature of the games against Aston Villa and Manchester United. Cesar Azpilicueta and Luiz have their merits and are great players, but there is a level-headed solidity to the quartet of Cole, Branislav Ivanovic, Terry and Gary Cahill with Petr Cech behind them that doesn't raise questions regarding physicality, temperament or lapses in concentration.

Holding the midfield battleground is essential and it is also an interesting area for Mourinho-watchers. The Special One loves a man who tackles back. Oscar, gifted in the coveted No.10 role, hustles and harries and wins the ball. Much was made of Chelsea's dramatic signing of Willian -- with critics suggesting that he was a luxury purchase made simply to deprive a rival club of his services. Fact is, Willian is Mourinho through-and-through, a tigerish box-to-box midfielder who will dig in and fight for the cause. Jose has initially opted to use Frank Lampard and Ramires to patrol the central midfield with Mikel John Obi and Michael Essien providing sturdy alternatives and the rest of the team groomed to help out as required.

The glittering and some-might-say bewildering array of creative midfield talent available to Mourinho remains a source of wonderment and the pre-season questions about whom the Special One might favour are slowly-but-surely being answered. Oscar is the pivot, Chelsea's No.11, is actually Chelsea's No.10 and to put it simply he is THE man. Alongside Oscar, Eden Hazard looks to have cemented a berth in Jose's priority first 11 after which things are more fluid. Juan Mata, Marco van Ginkel, Kevin De Bruyne and Andre Schurrle have all featured, and now Mourinho has Willian to add to the mix -- one or two may be disappointed with a shortage of game time but all will have the opportunity to shine in the four competitions Chelsea are currently competing in.

Up front, Jose has experimented with all the options available to him. Having been thwarted in his endeavours to sign Wayne Rooney, Mourinho has brought in his old Inter Milan stager Samuel Eto'o -- a sure sign that Fernando Torres, Demba Ba and Romelu Lukaku remain un-fancied. Further evidence, if required, came against Manchester United when the Special One started the game without a recognized centre forward -- was that a cry for (cheque-book) help? Fernando Torres was sent on for the last 30 minutes, but to no avail. On Friday night, Torres scored a peach of a goal in the Super Cup 'final' against Bayern, but one swallow does not constitute a summer and with a few hours still to go before the transfer window closes it will be interesting to see how much emphasis Chelsea place on bringing another big-name striker to Stamford Bridge.

Whatever the case may be, it is evident that Mourinho has already instilled in this current Chelsea squad the type of positivity and 'you'll never beat us' mentality which has served him so well in his career to date. Unsurprisingly then, Chelsea remain unbeaten in the league and Blues supporters are in a far more relaxed frame of mind than fans of title rivals City, United, Arsenal and Spurs all of whom, even at this early stage of the season, have tasted the bitter pill of defeat. A long hard winter lies ahead, but Chelsea and their special manager look in very good shape -- so far so good.