Lampard provides winning start for Chelsea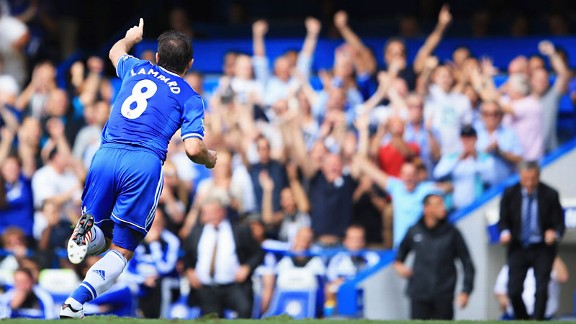 Richard Heathcote/Getty ImagesFrank Lampard celebrates his goal, the 204th of his Chelsea career.
The first match of Jose Mourinho's second spell in charge of Chelsea began exactly as one would expect -- with a win.

In truth, Sunday's 2-0 victory over Hull City at Stamford Bridge was not the most consummate of displays, but it thrilled in certain periods while being conservative in others. Cynics might say that it was classic Mourinho: establishing an early advantage in order to see out the game with the minimum of fuss. But that would be unfair to both Chelsea and Hull, with both sides impressing at different stages throughout the contest.

- Mourinho returns with a win
- Horncastle: Mourinho back in his natural habitat
- Chelsea prepare final bid for Rooney

The Blues started with real intensity and a definitive sense of purpose. The intricate play between Oscar, Eden Hazard and Kevin De Bruyne caught the Hull defence in a blur of movement with sharp passing that threatened to cut the newly promoted side to ribbons. Although Chelsea have looked impressive in preseason, it is always impossible to gauge if the promise can be translated into results when the real competition begins. Any doubts were assuaged within a minute of kickoff.

Allan McGregor in the visitors' goal was called into action on numerous occasions in the opening quarter as Chelsea's neat triangles and incisive movement found gaps between opposing defenders with remarkable regularity. It was only a combination of excellent goalkeeping and mistimed shots that prevented the hosts being four or five goals up in the first 20 minutes, with Frank Lampard and Hazard both denied by the Scottish stopper.

It might be a new season, but you always know what to expect from Lampard. Chelsea's record scorer was at it again, launching an unstoppable free kick past McGregor to double the lead after Oscar's smartly taken opener. It made amends for his sixth-minute penalty miss, which was pushed away and gave the visitors a brief respite until the goal was eventually breached.

Lampard could conceivably have scored four with McGregor pulling off two superb stops to keep the scoreline down. For now, Lampard's Chelsea goal tally is 204.

It was also a new season for Fernando Torres. But while Lampard maintained his excellent status quo, the Spaniard merely served up the same false dawn Chelsea fans have come to expect. He did well to draw the foul that earned the spot kick, but as ever, too many encouraging moments were soon spoiled by an errant touch or a simple misdirected pass.

Given the opportunity to start the new campaign ahead of Romelu Lukaku, Torres failed to impose himself. The door must be open for the young Belgian to stake a claim to a regular spot in the lineup.

Andre Schurrle looked bright when introduced as a substitute, with a lovely drag-back leaving an opposing defender on the turf and alerting the Stamford Bridge crowd to his talents. Marco van Ginkel made an appearance, and while it was brief, he looked bright and energetic with a desire to join the attack. Reminiscent of a certain England veteran, perhaps?

In general, though, there is not too much to get carried away with quite yet. There was a dip in individual performances as the second half wore on, symptomatic of the general lacklustre approach from the whole team. The fizz and energy of the first half slowly dissipated, though credit must be given to Hull for stemming the tide. Having looked like a rabbit in headlights for the opening 45 minutes, Steve Bruce's team regrouped at halftime, packed the midfield and finally began to play some football. They were never in danger of scoring, but they stopped the relentless charge toward their goal and successfully negated the vast majority of Chelsea's attacking forays.

Chelsea are still a work in progress, not surprising for a side with a distinctly youthful feel to it. There will be whirlwind displays married to disjointed ones -- though with a manager such as Mourinho, there is confidence that the kinks will be ironed out sooner rather than later.

It could also be argued that it was helpful for Chelsea to be reminded of their mortality through a spirited second-half display from Hull. A 5-0 thumping against lowly opposition would not have taught anybody anything yet would have fueled premature talk of a title-winning squad.

Instead, 2-0 will do just fine. Dampened expectation can allow Mourinho time to work his magic, and that magic usually turns into trophies.