Mourinho aiming to turn Chelsea's dreams into reality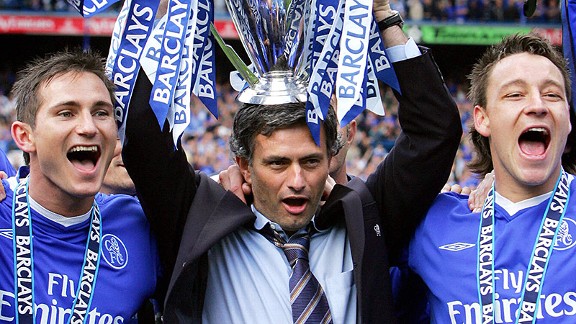 Adrian Dennis/AFP/Getty ImagesChelsea supporters are envisioning a repeat of this 2005 scene come May - Jose Mourinho lifting the Premier League trophy flanked by Frank Lampard and John Terry.
As the dawn of a new season pokes its nose over the horizon, it is impossible to escape the heady optimism that floods the mind of the football supporter. Dreams of glory are fresh and unsullied as premonitions of lifting the Premier League title, the European Cup and domestic silverware next May all present themselves as genuine possibilities.

The slate has been wiped clean, leaving a bright, gleaming road ahead. At Chelsea, this positivity has been enhanced still further by the return of Jose Mourinho. The euphoria is unsurprising when reflecting on his relationship with the club -- and no other manager in world football comes with a virtual guarantee of success, even if the man himself has been at pains to play down expectations while shifting the spotlight onto others.

-Video: Chelsea season preview
-Schurrle 'won't flop like Marin'

His appointment has galvanised a support that -- although virtually unanimous in its antipathy towards predecessor Rafael Benitez -- often found itself fractured last season, split over the best way to back the team while still voicing its disdain for the unpalatable status quo.

Mourinho's mere presence coupled with Benitez's departure has seen those wounds heal and following an encouraging preseason, the feel-good factor -- a notable absentee in 2012-13 -- has once again descended upon Stamford Bridge. The heartfelt roar that will accompany the Special One's re-introduction to the crowd before Sunday's season opener against Hull City will stand in stark contrast to the one afforded to the previous boss when he emerged into the West London bear pit last November.


With everything pointing in the right direction, it would be easy to get carried away with Melchester Rovers-style fantasies catalysed by memories of Mourinho's first trophy-laden spell in charge. While nobody is immune to these thoughts -- if you were, what would be the point of following a football team in the first place? -- it always helps to think about what the realistic prospects are for the coming season.

The word "realistic" is often made synonymous with "pessimistic," though that should not always be the case, and it certainly isn't as far as Chelsea's forthcoming campaign is concerned. For instance, given the change in the technical staff and the integration of some exciting young players, it would be rather surprising if Chelsea did not play a significant part in the race for the Premier League title. Equally, however, that does not necessarily mean that they will win it.

At this very moment Manchester City appear to be the club best equipped to be top dogs in May with their recruitment of proven yet hungry players such as Fernandinho, Jesus Navas and Stevan Jovetic supplemented by the arrival of Alvaro Negredo, a striker who lacks the finesse of his fellow new arrivals but still is suited to the style of play prevalent on these shores.

That City have a new manager in Manuel Pellegrini should not be seen as an area of weakness, though perhaps in the early exchanges the Chilean might suffer from a degree of unfamiliarity with the English game and it could be something Mourinho can exploit. But there remains a nagging feeling that without a striker who guarantees a regular and sizable goal return, Chelsea might just be found wanting across an entire season against a team that can also add the likes of Sergio Aguero and Edin Dzeko to their list of forwards.


Reigning champions Manchester United obviously will be another major contender, though it remains to be seen whether David Moyes is up to the challenge of maintaining Sir Alex Ferguson's relentless march to glory. With no major additions to the squad (as yet), United look as vulnerable as they have ever been and should they lose the services of Wayne Rooney -- whether through a transfer or insubordination -- then they certainly will be weaker than last season, a campaign when consistency rather than excellence won them the title.

As for the others, despite Arsenal chief executive Ivan Gazidis talking big about making a significant splash in the transfer market, the Gunners look their usual limp selves and are unlikely to be troubling the summit of the Premier League too often with the odd flirtation being consolidated into a fourth-place finish. Tottenham's ambitions lie simply in qualifying for the top table of European football.

Although the Premier League is a more viable target due to all of the manager upheaval, Mourinho will be determined that the team enjoy a good run in the Champions League, not least after disparaging the club's Europa League triumph last season. The first objective will be to make it through the group stages, and then -- as was beautifully demonstrated the season before last -- anything can happen.

Having said that, it would be something of a surprise were Chelsea to replicate that night in Munich, with the team currently lacking a battle-hardened and dependable front man. The main goal will be for the team as a unit and the younger individuals within it to gain valuable experience so a more-concerted effort of becoming European champions for a second time can be made the following year.

Domestic cup competitions are often sniffed at by other teams, but not at Chelsea, which is why there is no reason to believe that another trophy will not be winging its way to Stamford Bridge in the coming months. The FA Cup has become an almost permanent resident in West London, with the Blues claiming four wins in seven seasons, while Mourinho has great memories of the Capital One Cup, having won it twice in his previous incarnation as Chelsea manager.

These tournaments will be used to blood younger players and those on the fringes of the squad will also feature. But the contests also will be taken seriously, with the Portuguese insistent on instilling a winning culture among his charges.

There is much to look forward to and, realistically, a second-place finish allied to a quarterfinal spot in the Champions League and some domestic silverware would be perfectly acceptable. It would lay the foundations for a challenge on all fronts in 2014-15, though perhaps those fantasies should be shelved for this time next year.

For now, Chelsea fans can continue to dream of a fifth league championship and a second European Cup. It's happened before, it can happen again.

Follow Phil on Twitter @PhilLythell