Lampard still central to Chelsea's evolution
After Saturday's comeback against AS Roma, Chelsea's preseason has concluded and the new season beckons.

Frank Lampard will be starting his 13th season as a Blue and he will once again be hoping to play a major part in a successful campaign. The 35-year-old veteran has not enjoyed the smoothest summer, with a niggling injury to his Achilles keeping him on the sidelines and preventing him from building up his fitness. Thankfully, the injury has subsided and his participation in the past two matches against Real Madrid and Roma has shown once again how valuable he is.

Against the Spanish giants, Lampard provided an attacking thrust from deep and was a permanent menace to Iker Casillas' goal, peppering him with long-range shots. He maintained his dead-eye aim against the Italians, scoring the equaliser with a trademark strike from outside the penalty area, though equally impressive was his ability to add drive and purpose to what had been a lacklustre performance prior to his introduction at the start of the second half.

This coming campaign, Lampard's role will continue to evolve from the all-action attacking footballer to the deep-lying playmaker with the impeccably timed bursts forward. His conversion has been in progress for two seasons. Although he has fought it at times, there has been a growing acceptance he is not quite as young as he used to be and that his main qualities now lie in his ability to read the game, his defence-splitting passes and his vast reservoir of experience.

In his prime, he would be the fulcrum of the side, dictating the play and either scoring or creating the goals. Now, Lampard has become aware of the shifting dynamic of the team and the difference in system. He has never been an authentic No. 10 despite being able to pull the strings as effectively as anybody out there. Nor has he ever been a wide player and has had to adapt accordingly with 4-3-3 giving way to 4-2-3-1 under the past three managers.

With Juan Mata, Oscar and Eden Hazard now flitting about in advanced positions and dazzling opposition defences, Lampard is happy to leave the fancy stuff to them and provide an old head sitting behind to offset their youthful exuberance.


Lampard has welcomed the responsibility that comes with being not only the team's most celebrated player but also one of the most senior. As such, he has realised that the best interests of the team means that he cannot be guaranteed a starting berth.

Andre Villas-Boas' bungled attempts to ease him out of the side did not sit well with the midfielder, though both Roberto Di Matteo and Rafael Benitez were able to rotate the veteran while maintaining his enthusiasm and harnessing his uncanny knack to deliver when it really mattered.

It will be much the same under Jose Mourinho's stewardship, with the Portuguese already stating that despite his prior deeds, Lampard must earn his place in the team and even then he will be rested to guard against fatigue. Thanks to Lampard's maturity and the immense mutual respect between the player and manager, there are no concerns that there will be any dissent from the England international should he find himself out of the side from time to time.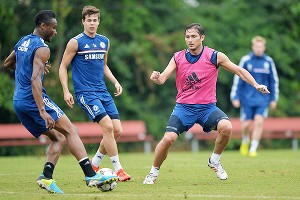 AP Photo/Darren Walsh/Chelsea Frank Lampard, right, can further cement his Chelsea legacy by mentoring Marco van Ginkel, center, during the next few seasons.
This season, there will be an extra facet to Lampard's role as elder statesman and that will be to act as a mentor to Marco van Ginkel. The young Dutchman arrived with many in his homeland comparing him to Chelsea's greatest player and there have been glimpses of that similarity throughout preseason. With a decent tackle, an excellent pass and a penchant for getting forward and shooting at goal, the characteristics appear to be there for him to emulate the man 15 years his senior.

The Englishman has always been a team player and a role model to the younger professionals, though now he has a specific talent to help nurture and one that has the potential to step into his shoes. Should van Ginkel turn his promise into performances and a prosperous Chelsea career, then perhaps Lampard's greatest legacy could be the example he sets for the 20-year-old over and above his 203 goals and an overflowing trophy cabinet.

For now, though, Lampard is still very much part of Chelsea's present and as one of Mourinho's most trusted lieutenants in the squad, you can be certain that he will have a big say in the team's fortunes yet again. And there will be more goals -- that, Lampard can guarantee.

Follow Phil Lythell on Twitter @PhilLythell