Oscar - the coming of age of Chelsea's true No.10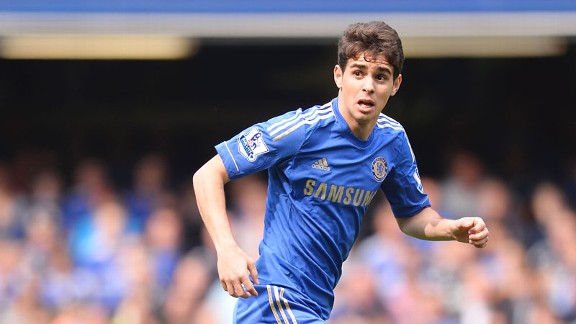 AllsportOscar should really come to the fore this season.
It's a little over a year since the exotically-named Oscar dos Santos Emboaba Junior signed for Chelsea. Flying into Stamford Bridge somewhat under the radar, despite yet another Abramovich-wallet-sapping price tag, the fresh-faced Brazilian wonderkid was paraded before the media brandishing a Chelsea shirt with Oscar 11 printed on the reverse. No.11 -- wasn't that Didier Drogba's shirt? The recently departed Ivorian had won the Champions League for the Blues with what turned out to be his last competitive kick of a ball for the club. Chelsea's new No. 11 certainly had a lot to live up to.

Blues supporters, spoiled in recent years by a bevy of big-money signings, momentarily took notice of Oscar's prodigious pedigree and the fact that at the tender age of 20 he already had established himself in the Brazil national team, but at the outset of last season, with his game time limited by a protective Roberto Di Matteo, all eyes were drawn to the bewitching ball play of another expensive acquisition, Eden Hazard. Boyish-faced, slight in stature, Oscar simply didn't look man enough to cope with the physicality of the English game, the hatchet tackles, the heavy winter pitches; the Junior part of his Scrabble-points-busting name seemed more and more appropriate every time I saw him.

- Ake pens new Chelsea deal

Appearances, as we all know, can be deceptive. And in the case of Oscar, the sleight of hand, or foot to be more precise, was truly remarkable. Finally given his full Chelsea debut in a Champions League tie against Juventus at Stamford Bridge, Oscar bagged a brace in a captivating man-of-the-match performance marred only by the fact that the Blues sloppily surrendered the two-goal lead he had given them. If there was an element of luck to Oscar's first goal, a 25-yard strike that took a wicked deflection off Leonardo Bonucci to beat Juve goalie Gianluigi Buffon, there was nothing but sublime class about his second. A peach of a goal that could only truly be appreciated by those in the stadium who, like me, drew their breaths in anticipation as the youngster, with his back to the goal, deftly controlled a smart Ashley Cole pass, swivelled round balletically and volleyed the ball beyond the flailing arms of Buffon and into the top right-hand corner of the net. Priceless! Oscar, Chelsea's new No. 11, had finally arrived.

As it transpired, through no fault of his own, the Brazilian would endure a turbulent first season at the Bridge. Favoured by the soon-to-be-sacked Di Matteo, and slotting in well with Juan Mata and Hazard in a hyper-creative midfield, Oscar was used more sparingly at the outset of the unpopular interim management term of Rafael Benitez. Benitez, widely derided by the crowd on more than one occasion for his perceived inability to grasp the value of Oscar, finally realised the error of his ways in the season run-in with the youngster given a raft of 90-minute opportunities to flourish, and in the end he completed the campaign with an impressive 64 appearances, 12 goals, 13 assists and a big gold Europa League winners medal round his neck.

The arrival of Jose Mourinho and his much-trumpeted 4-2-3-1 system must have been music to young Oscar's delicate ears. Despite countryman Neymar wearing the 10 shirt, it is Oscar who has been played extensively in the classic No. 10 role for Brazil, and he will aspire to do the same for Chelsea. For his part, Mourinho has been astutely tinkering with his options in preseason. "No. 10: [Kevin] De Bruyne likes it, Oscar likes it, Mata likes it, Eden Hazard likes it. The 4-2-3-1 is a natural system for all these players to play," remarked the Special One recently, though subsequently declaring that he fancied Mata cutting in from the right and Hazard's wizardry on the left.

De Bruyne has been a revelation in preseason and, given Mourinho's comments, would appear to be Oscar's main competition for the coveted No. 10 role when the Portuguese chooses to set his team up according to his fancy. Both men are capable of spraying defence-splitting passes, both are capable of unleashing unstoppable screamers, both have guile and craft -- what's not to like?

Interestingly, for a flair player, Oscar is a grafter, tackling back without hesitation and shoring up the midfield in the same effective manner as the much-maligned John Obi Mikel. Last season, only Ramires and Cesar Azpilicueta made more successful tackles than Oscar -- an unheralded indication of the lad's all-round ability and a possible mitigating factor in his favour with Mourinho looking to those players who can swiftly adapt when he craftily opts to switch systems during a match.

With Brazil hosting the World Cup next summer, and Oscar dos Santos Emboaba Junior set fair to sparkle for the Samba Boys, 2013-14 could be a massive season for the little man with the big name, who always plays the game how it should be played: with a smile on his face. Mourinho expects Chelsea to compete in 60-plus games in the coming campaign and I believe Oscar will be right there in the thick of the action, from beginning to end, covered in glory, boy to man.