Di Matteo Bravery brings Chelsea joy at Arsenal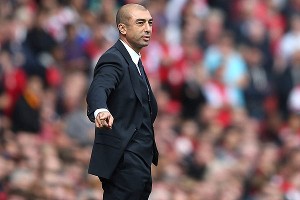 GettyImages / Richard Heathcote/Getty ImagesRoberto Di Matteo made the gutsy call to leave Frank Lampard on the bench – and it paid off.
I have to be honest, I didn't see that coming. Of course it was possible, but a scoring draw was what I realistically hoped would happen and I might even just – just – have accepted a narrow defeat at Emirates Stadium if the performance had been at a high level. But a 2-1 win at Arsenal was not expected.

That is not to say that it wasn't merited, or that it is a huge surprise – Chelsea did win the Champions League by eliminating Barcelona and Bayern Munich, after all – but with the Gunners in such good shape and the Blues having struggled in their past two Premier League matches, the form book indicated that a home win was the most likely result.

The credit has to go to Roberto Di Matteo. His decision to leave Frank Lampard out of a game of this magnitude was very brave, yet it reaped dividends. In my mind, Lampard is the greatest player ever to don the blue shirt – others will differ from that opinion and that is fine, there are many worthy candidates – and in previous years it would have been inconceivable for him to sit this one out, as he was not even introduced from the bench. But the decision made sense.

The combination of Ramires and Mikel had dovetailed beautifully against Stoke last weekend and it would have been folly to change that partnership when travelling away from home against much classier opposition. Ramires offers less guile than Lampard but his industry is second to none. His harrying of the opposition and his relentless surging runs with the ball at his feet offer insurance on the one hand and incision on the other. It also takes some of the burden off Mikel who otherwise is designated to put out all the fires on his own. The extra freedom allowed the Nigerian to have his most composed game of the season.

Some might be tempted to start writing Lampard's obituary in light of this match, but the 188-goal man has spent a career proving his critics wrong and I fully expect him do continue to do so once more.

The solid base of Ramires and Mikel allowed Di Matteo to once again field the mouth-watering trio of Oscar, Juan Mata and Eden Hazard; the initial impression being that Chelsea would attempt to take Arsenal on at their own game. The reality was slightly different in that while the Blues showed a desire to paint pretty patterns, they were equally content to soak up pressure and then counter with purpose.

Hazard and Oscar slipped tackles with delightful control and their movement allowed Fernando Torres to find space between the centre backs. Arsenal struggled with Hazard in particular, and the Belgian drew a raft of fouls in the opening exchanges. The second half then saw Mata come into his own. His deftness of touch and eye for a pass proved a constant threat even beyond his inch-perfect cross for Fernando Torres' opener and the delicious free kick that eluded the entire Arsenal defence to ultimately decide the contest.

There were many eyebrows raised at Chelsea's recruitment of so many attacking midfielders in the summer and especially the £9 million capture of Victor Moses. The win at Arsenal vindicated the philosophy. Oscar, Mata and Hazard pulled Arsenal's back four in several different directions and when it became necessary to pin the full backs into the corners while protecting the lead in the closing minutes, Moses proved to be the ideal man to do the job.

Finally, a word on Torres. His reliance on confidence remains a frustration, but the way his chest puffed out after hitting the back of the net was fantastic to see. As someone who has questioned his commitment in recent games, I was delighted to have that criticism rammed down my throat as he chased down every ball and closed down every defender, affecting the play throughout the 90 minutes.

An excellent all-round performance and proof that the new Chelsea can take on the big boys and beat them. And in their own backyard as well. Dare we start to dream?