Is lightning about to strike twice at Chelsea?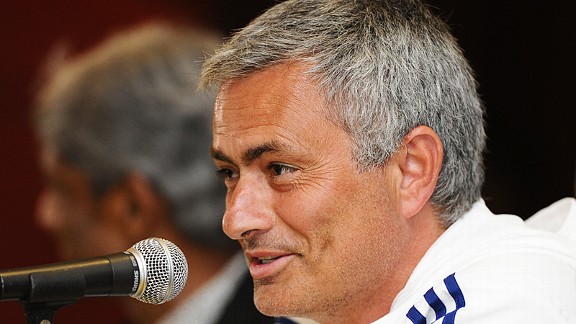 AllsportJose Mourinho is all smiles now that he is back at Chelsea.
Jose Mourinho's return to Chelsea has accounted for more column inches of opinion, broadcast media debate and general banter than any other football topic this summer, and with the big kick-off to the new Premier League season looming large on the horizon, the level of interest is set to intensify further.

The key question on everyone's lips: Can Jose reprise his earlier successes at Stamford Bridge? Will lightning strike twice?


Within the higher echelons of the English game, the portents don't appear too encouraging for Mourinho. Sir Matt Busby (Manchester United), Kenny Dalglish (Liverpool) and Kevin Keegan (Newcastle) tarnished their legends with unsuccessful second stints as manager of the bracketed clubs -- indeed a few wily barroom observers have noted that Sir Alex Ferguson could soon be added to this list if David Moyes fails to get to grips with the United job this season.

Outside England, however, there are a couple of pristine examples of what is possible when a manager, club and supporters are reunified. In Germany, Ottmar Hitzfield, having won four Bundesliga Championships, two Cups, three League Cups, the Champions League and Intercontinental Cup in his first spell as Bayern Munich's coach, which spanned six seasons from 1998 to 2004, returned midway through the 2006-07 campaign, stayed for a further season and won the domestic Treble. In Italy, Marcello Lippi guided Juventus to three Serie A titles, two Cups, three Super Cups, one Champions League, one European Super Cup and one Intercontinental Cup between 1994 and 1999 before leaving for Inter Milan. After a brief and unsuccessful period as coach of the Nerazzurri, Lippi returned to Turin in 2001 and masterminded two more Scudetti and a brace of Super Cups for the Old Lady before taking over as coach of the Italian national team in 2004 and steering the Azzurri to World Cup glory in 2006.

Mourinho will pay little attention to these good and bad omens; his phenomenal track record of success speaks for itself. Seven league titles won: two in Portugal, two in England, two in Italy and one in Spain. Twenty trophies won as a manager, including the Champions League with Porto and Inter Milan, and the UEFA Cup with Porto. In his first sojourn in SW6, which lasted a little more than three seasons, Jose secured a remarkable 124 wins for the Blues and his Premier League record of 85 victories in 120 games (a 71 percent win rate) is second to none. The Special One delivered back-to-back titles, one FA Cup and two League Cups for Chelsea's munificent owner, Roman Abramovich, but did so against an increasingly nebulous background of subterfuge and intrigue. With his powerbase eroded by the still-to-this-day curious appointment of Avram Grant as director of football, and his failure to deliver the one trophy that Abramovich coveted above all else, Mourinho, bristling with indignation, left Stamford Bridge under a stormy cloud.

That was then. This is now.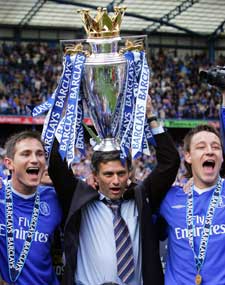 GettyImagesJose Mourinho won back-to-back Premier League titles in his first stint.
The Jose Mourinho who has returned to England and Chelsea via Italy and Spain now has the makings of a wise old sage. Fifty years old, soberly attired, softly spoken, the media-dubbed Special One has metamorphosed into the Happy One.

"Now we are back together and we are getting together at a great moment for us both, so I think we are ready to marry again and be happy and successful," mused a relaxed Mourinho in his televised first interview in early June.

In the past couple of months, if Chelsea's very public preseason is anything to go by, the Blues camp does indeed look remarkably happy and, whilst it is a fool's errand to place too much emphasis on the results of friendly matches, what is clear is that the Blues look blisteringly well-equipped to hit the ground running.

Mourinho's squad looks focused, fit and ready for the challenges that lie ahead. The Portuguese stated recently that rotation will be an essential part of his strategy. "Where can I fit all the players in?" he'd asked after the recent Guinness International Champions Cup victory over AC Milan. "I hope to play 60 matches, so where I maybe won't use different teams, we will use rotation of players, that's for sure."

Having stated that no one will be leaving the club, what a bevy of talent Mourinho has to rotate. Under the bar and in defence, the permutations look rock-solid, and this has been borne out by the fact that Chelsea have conceded next to nothing thus far in a punishing preseason schedule. The dazzling array of talent in midfield has been embellished by the addition of Marco van Ginkel, the integration of Kevin de Bruyne, and the versatility of Andre Schurrle. Up front, Romelu Lukaku is chomping at the bit, Demba Ba can do a job and Fernando Torres, whilst still flattering to deceive, is a very capable striker on his day. Then there is the potential arrival of Wayne Rooney to be factored into the equation. That would make for an Einstein's theory of relativity type of formula -- one that could leave Premier League mathematicians (and managers) scratching their heads as Mourinho's Chelsea rewrite the record books yet again.

It is fair to say that during his first term at Stamford Bridge, Mourinho once fitted the often-used Churchillian description of being "a riddle wrapped in a mystery inside an enigma." But not anymore. Mourinho has been around the block and is now back in his favourite office with a transparent mandate and a crystal-clear mantra. Don't be deceived by Jose's platitudes, The Happy One is still The Special One, and he is wasting no time fashioning Chelsea into a potent force. Mourinho brings with him both the X factor and the success factor that are today lacking in his rivals, and with a bejeweled squad to work with and develop, who knows what will be possible? The Premier League title for sure.

Mourinho's current Chelsea contract is good for four years. Four glorious years that will see the Blues sweep all before them. And then maybe, as with that wily, old Italian fox, Marcello Lippi, Mourinho will chance his arm as an international coach, with the same result as Lippi's in mind. The 2018 World Cup finals will take place in Russia. Imagine Mourinho as England manager. Imagine England winning the World Cup. Sometimes in football, the truth is stranger than fiction.