Chelsea's balancing act bodes well for Mourinho
Chelsea's 2012-13 campaign will live long in the memory for both the right and wrong reasons. Putting aside the acrimony that surrounded Rafael Benitez's tenure, the positive elements largely came from a changing emphasis toward attacking football that aimed to utilise the outrageous talents of Eden Hazard, Juan Mata and Oscar.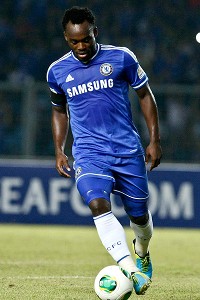 Ulet Ifansasti/Getty ImagesThe addition of Michael Essien and others to Chelsea adds balance to the squad that was lacking last season.
Although exhilarating to watch on occasion, it did not always bear fruit as the team and squad rarely looked in perfect equilibrium personnel-wise. When the trio were fielded together, the Blues retained a clear advantage going forward, though that was often more than counteracted when possession was lost; the fluidity of their interchanging positions often left the team lacking a coherent defensive shape when the ball was turned over.

Benitez sought to solve the problem by rarely playing all three in tandem and opting to play Ramires or Victor Moses in one of the wide positions, but that simultaneously blunted the attacking options. The talent was clearly available, although neither Roberto Di Matteo nor Benitez was entirely sure how best to deploy it without compromising the team's defensive values.

-Blues will adapt for Torres
-Delaney: Mourinho's intent to attack
-Exclusive Mourinho video
On Chelsea | Bale | Legacy

Just as culpable -- perhaps even more so -- was the club's curious transfer policy last summer when a surfeit of attack-minded players were purchased without addressing the deficiencies at the base of midfield, the paucity of striking options or a worrying lack of goalkeeping depth. The style was there though the substance was not, and the imbalance led to a topsy-turvy campaign.

With the new season starting Aug. 18 at home against Hull, the prospects look much better for Chelsea, and not just because Jose Mourinho has exercised his rightful claim to the Stamford Bridge throne. Although only three new players have been signed, all of a sudden the squad has a measured feel to it with options covered in almost every aspect.

The arrivals of Andre Schurrle, Marco van Ginkel and Mark Schwarzer have been complemented by the return to the fold of several loan signings, nearly all of whom have come back with their reputations enhanced.

In defensive midfield, Michael Essien feels almost like a new signing. Looking at his displays so far in preseason, the 'Bison' has immediately added a steel missing in that part of the squad, and he appears to have lost none of his trademark strength and determination. The year at Real Madrid might have seen him shunted around the pitch as he filled in for various roles, but it also gave him a chance to build on his fitness and sharpness after a few injury-hit campaigns. Whether Essien will recover all of his former formidable faculties remains to be seen, but for the moment he is certainly starting to resemble his old rampaging self.

Competing with the Ghanaian for game time, whether the system is a 4-3-3 or a 4-2-3-1, will be John Obi Mikel, Ramires, Frank Lampard, possibly Oscar and, most excitingly, Van Ginkel. The young Dutchman has eased himself gently into life at Chelsea with quietly assured performances in Asia and in the most recent friendly Thursday in Indianapolis against Inter Milan. The 20-year-old has shown he has an astute eye for a pass combined with the ability to execute it. There has also been some real tenacity in the tackle, which is particularly encouraging given the traditional virtues associated with the English game.

Such are the competitive options in midfield that highly promising Nathaniel Chalobah and cultured Josh McEachran will join Nathan Ake in being loaned out for another campaign. Mourinho has already spoken highly of Chalobah, and, should the youngster kick on again from his breakthrough season with Watford, he is destined to become a permanent member of Chelsea's first-team squad in 12 months' time. Similarly, McEachran and Ake will be aiming to emulate their team-mate's progress.

Farther forward, the introduction of Schurrle and the integration of Kevin De Bruyne have added even more fantasy to a flair-filled front line. In particular, De Bruyne's pre-season outings prior to injury caught the eye, as he popped up across the width of the pitch in all manner of positions.

His ability to create and his sharp passing will be key assets in a high-tempo approach, and he looks perfectly able to fill in for or play alongside the wizardry of Mata and Hazard. Schurrle gives the team a more direct approach, with the German not afraid to take on defenders with the ball at his feet. Moses is a similar but more rugged option, and his excellent work in setting up Oscar's goal against Inter will not have gone unnoticed by Mourinho. Chelsea might once again be overloaded in attacking midfield, though each of those players provides a different solution to the equation.

With Schwarzer finally providing the club with respectable back-up for Petr Cech, it is only up front that any doubts really remain. Romelu Lukaku has grabbed the bull by the horns in pre-season, and, if he can replicate that form when the real campaign gets started, then Chelsea will be well set. It is a gamble, though -- and one Mourinho is not likely to take -- if he wants to be in the running for the major trophies, hence his interest in Wayne Rooney.

But that looks like being the final piece of the jigsaw. For a squad that looked in need of some significant surgery in key areas, a few subtle alterations appear to be making a big difference. There is no way of knowing whether an encouraging summer camp will evolve into a title challenge, though Chelsea already look far better equipped than at the start of last season.

Follow Phil Lythell on Twitter @PhilLythell