Learning from Chelsea's pre-season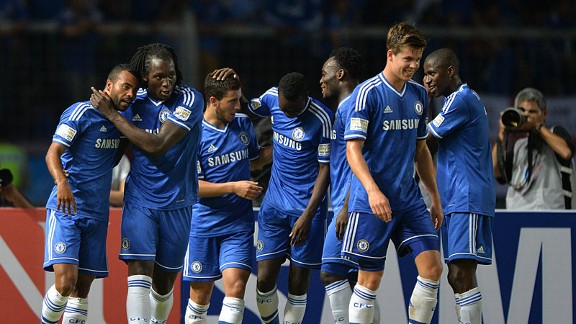 APRomelu Lukaku again made an impression for Chelsea in pre-season.
As Chelsea embark on the second leg of what had initially looked like a punishing pre-season tour, Jose Mourinho appears to be in a relaxed frame of mind, a man clearly at ease with the sterner challenges that will lie ahead both on and off the pitch than those he has faced so far since he returned to manage the Blues.

With the travails of his troubled time at Real Madrid now completely behind him, a revitalized Mourinho has been positively bubbling with enthusiasm, rapidly reacquainting himself with familiar and not so familiar faces – all of them smiling, seemingly happy that the Special One is back in town... the old guard seeking one last hurrah, the youth looking to impress and to be given the chance to break through.

Jose's key learning's from the Asia tour where, despite the poor quality of opposition and the hard uneven pitches, the players went out and enjoyed their football can be summarized as follows.

With the exception of Frank Lampard, niggled by a sore achilles tendon, the Blues old guard are fit, bristling with confidence and ready for duty. Under the bar, Petr Cech remains his customary assured self and in Mark Schwarzer, Mourinho has acquired a world-class deputy.

In defence, Chelsea captain John Terry, who struggled for fitness and form last season, didn't miss a minute of training, played a part in each friendly and scored a goal to boot. Terry remains the leader of the pack, the man who will put his life on the line and his body in the way for the True Blue cause, and he will be ahead in the pecking order as Jose assimilates and assesses his first-choice central defensive pairing options.

Similarly, Ashley Cole remains peerless and is a shoo-in for the coming season - and with Champion of Europe Ryan Bertrand rejecting overtures from Liverpool in order to pursue his long term goal of replacing Cole, Blues fans can rest easy that the left-back spot is adequately covered. The return of Michael Essien has been a stealthy revelation. The Bison's evident fitness, steadfast performances and telepathic relationship with Mourinho have catapulted the Ghanaian into the reckoning and it will be interesting to see how the defensive midfield position maps itself out with another of Jose's old boys, with the much maligned John Obi Mikel returning for pre-season duty despite reports linking him with a move to Turkey.

Along with Nigeria's Mikel, joining Mourinho's squad in the USA will be the Spanish trio of Cesar Azpilicueta, Juan Mata and Fernando Torres and Brazilian duo David Luiz and Oscar, all of whom contested the Confederations Cup. Their absence has given opportunities for other players to impress and stake their claims for selection.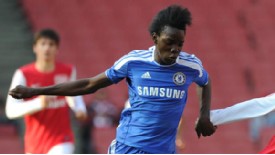 GettyImagesBertrand Traore has made the most of his chance under Mourinho.


Most impressive of all has been the hustling, bustling performances of Belgian striker Romelu Lukaku who has continued the rich vein of form he found whilst on loan last season at West Brom. In Asia, Lukaku scored four goals in three games in which he was given 45 minutes per match. As well as finding the net, the 20-year-old created a hat full of chances, striking fear into opposition defences.

By contrast, fellow forward Demba Ba has looked quite pedestrian. Chelsea's next opponents, Italian giants Inter Milan, will be more resolute at the back and provide a better measure of Lukaku's ability, and with Torres now available, it will be interesting to compare and contrast the two players' form and gauge Mourinho's assessment which has been forthright and honest so far.

Alongside Lukaku, Chelsea's young Belgian contingent have been in scintillating form. Eden Hazard is a truly gifted, world-class player whose first touch and ability on the ball are mesmeric. Mourinho knows exactly what he has here – genius. Whether playing 4-2-3-1 or a goal plundering 4-3-3, Hazard, still only 22 years old, will be an integral part of Jose's game plan.

The same tender age as Hazard, Kevin De Bruyne has also excelled, reveling in the opportunity afforded to him, demonstrating flair, creativity and a keen eye for goal. De Bruyne's breathtaking half-volleyed strike in the 4-1 romp against a Malaysia XI is the pick of Chelsea's 13 pre-season goals thus far and despite hurting himself in the process of scoring, the youngster will be looking for further opportunities especially given his hopes of nailing down a regular place in the exciting Belgium national side who are viewed by the betting fraternity as one of the true dark horses for next year's World Cup. Before pre-season, De Bruyne may have been earmarked as loan fodder, but many are now thinking he's ready for Chelsea. Mourinho will decide soon enough.

Yet another 22-year-old, former Bayer Leverkusen forward Andre Schurrle - at £18.7 million an expensive and interesting recent addition to Jose's squad - is another player who has impressed, his buccaneering runs down the left in the first two friendlies a demonstration of the Germany international's capabilities. But it will be Schurrle's versatility which will be important to Jose as he fashions his squad for the rigours of the coming season.

Slightly cheaper and slightly younger, 20-year-old Dutch midfielder Marco van Ginkel also has the makings of a future star, but being another international who wants regular first team football to gain leverage for consideration in Holland manager Louis van Gaal's World Cup plans, it may yet be, as with De Bruyne last season, that a loan deal is struck which sees van Ginkel given a platform to further develop his talent and keep his international aspirations alive.

Elsewhere in the Blues squad, established stars Ramires and Branislav Ivanovic have set their respective stalls out and both will battle feverishly for first team places as will Gary Cahill, though it looks increasingly like Cahill will be disappointed if, as widely expected, Mourinho deploys David Luiz as a centre-back and partners him with John Terry. Jose will also have been greatly encouraged by the prowess of Nathaniel Chalobah and the promise of Bertrand Traore – their time will surely come.

In conclusion, the simple message is 'so far so good'. Jose Mourinho has swiftly re-estabished that special brand of kinship that a happy Jose brings to the party, and with flair, guile, panache and an enviable blend of youth and experience at his disposal, the signs are that the ball is well and truly rolling at Chelsea - and with the big kick-off now just 3 weeks away, Blues supporters have every reason to feel confident about their team's chances.