Michael Essien - the Bison is back in business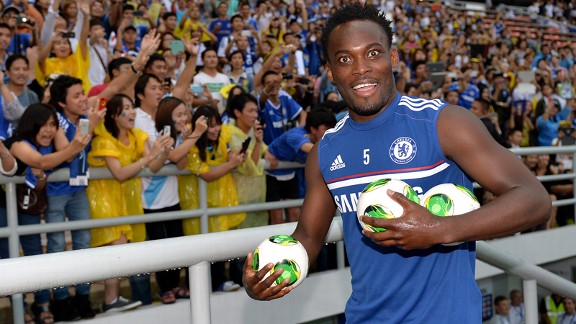 APMichael Essien is getting back to his best on Chelsea's preseason tour.
As Chelsea's preseason evolves, Blues supporters and the media are keenly looking for pointers as to how Jose Mourinho plans to distil his squad into a preferred starting line-up. Over the course of the coming campaign, rotation will of course play a major part in team selection, and with four trophies to compete for, and Jose committed to winning them all, it will be interesting to see how things map out as the build-up continues to what promises to be one of the most intriguing Premier League skirmishes in recent memory.

The Special One has already made it clear that Wayne Rooney is his only remaining transfer target, and with the striker's preferred modus operandi being the classic number nine role, this has created lively debate as to how the Blues' bevy of outstanding midfield talents will be employed to provide Rooney with the ammunition required to obliterate opposition defences. Of course the debate remains an academic one until Manchester United agree to sell - and then to sell to Chelsea.

- Jose: Man City are title favourites

Historically, emotive transfers involving Chelsea have a habit of dragging on, with the high-profile signing of Fernando Torres being a prime example. The Spaniard finally got his record-breaking move away from Anfield during the January 2011 window despite the Blues having pursued him doggedly for what seemed like an eternity. Having missed the opportunity of getting any kind of preseason under his belt with his new team-mates, Torres struggled dreadfully to adapt and was clearly hamstrung by the weight of expectation that came with his hefty £50 million price tag.

While the will-he-sign-won't-he-sign Rooney shenanigans continue, Romelu Lukaku has impressed. Picking up where he left off last season, the young Belgian international has found the net in each of his 45-minute Far East run-outs and, equally importantly, has created chances for his team-mates somewhat overshadowing the endeavours of the more experienced Demba Ba in the process. Elsewhere up front, Torres is yet to return to the fold following his exertions in the Confederations Cup though he is certain to feature in Mourinho's plans given United's quasi-catatonic stance over Rooney.

In the midst of all the noise being generated by the Rooney transfer saga, and potential fallout from it, one player has been unassumingly impressing on the preseason tour and assuredly playing his way into contention to be considered for a first-team place. Step forward, Michael Essien. The Bison has returned - and better than that, the Ghanaian, having been nagged by serious injuries for a couple of seasons prior to Jose taking him on loan to the Bernabeu last term, looks back to his imperious best.

Essien is the very essence of Mourinho's "because of the way he plays" selection philosophy and he is an out-and-out winner. At 30, the Bison's salad days could be argued by some to be behind him, though a quick analysis of how many winners' medals Frank Lampard has amassed since bypassing that age swiftly waters down any ageist case against him. With his fitness regained and those fearless box-to-box capabilities once more to the fore, Essien has the capacity and experience to form a vital cog in the engine Mourinho is designing to win the Premier League in his first season back at Stamford Bridge.

First time around, in August 2005, Michael Essien arrived in SW6 as the Blues' then-record signing, the £24.4 million fee paid to Lyon for his services marginally eclipsing the previous summer's outlay for Didier Drogba. Essien swiftly adapted to Mourinho's title-winning blueprint and it was clear that the two men were on the same wavelength as Chelsea's all-new number five went onto play a commanding role in the Blues' retention of the Premier League crown.

Second time around, the Bison's return from loan had gone virtually unnoticed; unnoticed, that is, until he pulled a Chelsea shirt on again and began to play; unnoticed until both Mourinho and Essien complemented each other about their father/son relationship; unnoticed until Jose declared that Michael would provide maturity and balance in an increasingly youthful squad.

For his part, when extolling the virtues of his relationship with Mourinho, Essien recently declared: "We understand each other very well. He's the Special One. He knows how to talk to his players and get the best out of them and it's always easy to work with him if you understand him. I understand him. I know what he wants and I always deliver." Powerful words from the broad-shouldered Ghanaian, and the feeling is clearly mutual.

But what could this mean for Chelsea's title aspirations?

As a kid growing up watching football in the 70s, I always remember the outspoken Brian Clough taking John McGovern with him wherever he went - and winning titles. In the 80s, Ronnie Whelan silently but triumphantly served a succession of Liverpool managers, and in the 90s and 00s Sir Alex Ferguson had Paul Scholes pulling the strings in United's silverware-plundering midfield ... and then came Chelsea's very own Lampard.

If Mourinho were to be successful in securing another Premier League crown next season - in the final analysis, when all is said and done and the Special One answers the question "How did you do it?" the answer he provides may well include a glowing reference to Michael Essien. The Bison is back in business.