David Moyes, are you listening?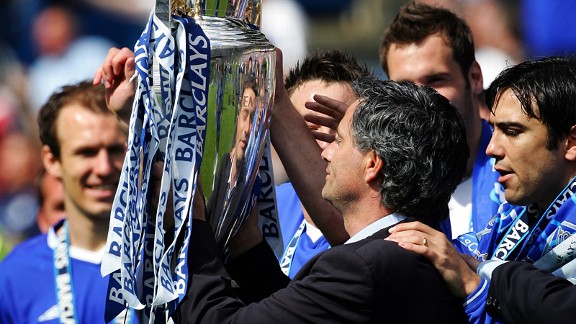 GettyImagesReturning Chelsea manager Jose Mourinho is expected to hold aloft Premier League trophy once again at the end of the season.
"David Moyes are you listening? Can you keep our trophy glistening? We'll be back in May, to take it away, walking in a Jose wonderland!" The chant, a remix of the Stretford End original that once asked the same of Jose Mourinho while advocating a walk in a Fergie wonderland is yet to be sung by match-going Chelsea supporters eagerly counting down the days to the start of the new campaign and the return of the Special One ... but it will be soon.

While many terrace anthems are sung more in hope than conviction, few would argue that with Mourinho back in full effect the Blues have a significant opportunity to wrest the Premier League title back from Manchester, to say nothing of adding to the burgeoning collection of knockout silverware gleaming in Mr. Abramovich's ever-expanding trophy cabinet. A decade of Roman's rule at Stamford Bridge has seen Chelsea transformed from a competitive side capable of springing the odd surprise into a global powerhouse and the statistics, as we all know, speak for themselves.

Abramovich's shy, retiring facade masks a man motivated by accomplishment and driven by a fear of failure, and his ability to attain success by bringing the cream of footballing talent to West London while callously bludgeoning his way through managers is now begrudgingly accepted as a viable alternative to the dynastic model employed by the likes of Manchester United, Arsenal and, back-in-the-day, Liverpool.

How much of the Red Devils' unrivalled success in the Premier League era was attributable to the Fergie factor? We are about to find out. David Moyes was a safe, unassuming appointment by the Old Trafford officials, but does the dour Scot really have the minerals to go toe-to-toe with the Machiavellian master Mourinho, the wise old sage Arsene Wenger, the vastly experienced, highly rated Manuel Pellegrini and the young pretenders Andre Villas-Boas and Brendan Rodgers?


While United supporters may be cautiously optimistic about their chances with Moyes at the helm, their Chelsea counterparts are bristling with enthusiasm for the so-called "second coming" of Mourinho and it's easy to see why. With preseason training already underway, Jose has settled comfortably back into the Stamford Bridge hot seat. In fact, with his trusted lieutenants Frank Lampard and John Terry still marshaling the dressing room, it's as if he has never been away and it's clear that this was part of the "better-the-devil-you-know" blueprint he presented to Roman Abramovich and his advisers.

Mourinho may well be an adversarial maverick who courts controversy wherever he goes, but he is a winner and, more important, he gathered an impressive array of silverware in his first stint with Chelsea. A swift CV comparison with his rivals' endorses the belief that the Blues will dominate the domestic game next season.

Prior to his arrival at Old Trafford, Moyes was in charge of Everton for 11 years and won nothing. Arsenal continue to persist with Wenger, who despite his earlier pedigree with the club has delivered nothing but excuses for the past eight years. Manuel Pellegrini, newly installed at Manchester City, a club seemingly following the Chelsea template, has won zip a dee doo dah of any consequence since his arrival in Europe almost a decade ago. Andre Villas-Boas may have walked the walk with Porto, but in England, kindly forgetting his Stamford Bridge debacle, he has still to prove his worth to Spurs and finally, well-funded Liverpool manager Brendan Rodgers has achieved nada coaching at the highest level ... with his first season in charge at Anfield, at best, being politely described as mediocre.

Success breeds confidence. Players want to work with the best coaches and win trophies. Why did Robin van Persie leave Arsenal for United? Because Fergie was a winner ... and van Persie wanted a piece of that action. Given van Persie's ambition, had he waited a season -- would he have signed for Moyes? Do me a favour. Pellegrini? Unlikely. Mourinho? Show me the money!

By the time the Blues kick off their 2013-14 campaign against Hull City, they will have covered 23,465 miles playing a raft of friendlies against teams ranging in ability from cannon-fodder scratch sides such as Thailand's Singha All Stars to more familiar foes such as Inter Milan. With the exception of a dramatic transfer window tweak (has Wayne Rooney really sprung his hamstring?), Mourinho will have his preferred team in mind and Steve Bruce's terrified Tigers can expect to find themselves on the receiving end of a brutal mauling.

Elsewhere, and in stark contrast to Mourinho's world, Moyes, Villas-Boas and Rodgers are having their preseason disrupted by rumour and supposition surrounding the future of key players, Wenger is wishing he had key players, and Pellegrini is already sweating with the heavy weight of expectation that he is going to transform City's style of play overnight.

Mourinho's key task at the moment is determining how to accommodate the wealth of talent at his disposal into an 11-man starting lineup and whether to play 4-2-3-1 or 4-3-3 -- a fabulous problem to have. Some players are going to be disappointed, but that's Chelsea for you. Mourinho has been there, seen it and done it all before, which is why bookmakers slashed the price on the Blues' title odds when he was appointed, and have continued to trim them as the buildup to the new season continues.

It's fair to say that there's no such thing as a sure bet, but right now the stars seem to be aligning very favourably for Chelsea, and those who have the courage of their convictions to wager their hard-earned cash today on Jose's men triumphing next May could be significantly rewarded.