Glory will help Chelsea comply with Financial Fair Play
The spectre of Financial Fair Play has been debated for a couple of years with many observers having wondered whether Europe's big clubs will give it anything more than lip service as they strive to succeed on all fronts at any cost.

Judging by recent behaviour though, the reality of the restrictions appears to have been taken seriously by clubs in the major leagues with all but Monaco and PSG willing to bargain for a good deal in the transfer market rather than enter into a summer bidding war. The new regulations are forcing clubs to be more prudent in all aspects of their financial activity and every avenue is being explored.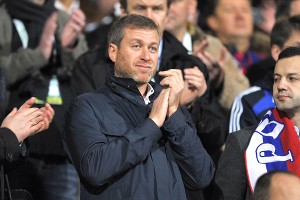 HRVOJE POLAN/AFP/Getty ImagesChelsea can always count on Roman Abramovich's deep pockets, but it also needs trophies and sponsors to comply with FFP.
One word that has entered the football lexicon in recent times has been amortisation, which roughly means spreading the cost of something -- and its depreciation -- over a period of time. This accounting tool is the reason why there has been an explosion in long-term contracts such as the five-year deal given to Fernando Torres upon signing for Chelsea in 2011 or the six-year contract with the option of two more years that West Ham have recently signed with Andy Carroll. In the case of Torres, it allows the club to spread the £50m transfer fee across five different financial years rather than just one so as to alleviate the initial impact of the transfer on the club's accounts.

As helpful as amortisation is in the quest to meet FFP rules, the problem with it is that if you continue to spend with abandon, you will merely accumulate more and more outgoing transfer fees spread over the same time span, nullifying the initial benefit. Therefore it is vital that clubs find other revenue streams or cut their cloth accordingly.

On the surface Chelsea's transfer dealings so far this summer appear to suggest that the latter option is their preferred path, with a focus on acquiring young talent for acceptable prices. Andre Schurrle was not exactly cheap at £18m, but the fee didn't make anybody's eyes water either, while the £8m spent on Marco van Ginkel could end up being the bargain of the century should he live up to expectations. Obviously, the transfer policy is also being dictated by a desire to see a more youthful Chelsea team built for success and longevity, though it is notable that Chelsea have not been lured into competing with Monaco or PSG for the signatures of either Falcao or Edinson Cavani, both of whom have been genuine targets for the Blues.

But that is not to say that Chelsea will not pay a substantial sum should the right player become available with resources available from areas other than Roman Abramovich's back pocket. The Blues are currently the fifth-ranked football club in the world in terms of annual revenue with only traditional powerhouses Real Madrid, Barcelona, Manchester United and Bayern Munich sitting above them. Clearly things are going well behind the scenes at Chelsea, though with FFP now a reality the need to expand their commercial income means that they cannot afford to rest on their laurels.

The £300m 10-year kit deal that was struck with adidas last month will be a sizable contributor to Chelsea's prosperity. But although that sounds like an enormous sum that can underpin future success, it must also be noted that the club will be unable to negotiate another kit deal in the next decade and is locked into this partnership barring the execution of exit clauses that are largely hidden from the wider public. New deals and partnerships need to be sealed constantly if transfers and wages are to be accommodated.

Access to money does not necessarily guarantee prosperity in football, as Leeds United will attest. Many sponsorship deals, though not all, are constructed in such a way that receiving the full amount is contingent on success on the pitch. The more successful a club is, the more that sponsors want to be affiliated with it, yet the reverse is also true. Huge commercial revenue is still attainable only via glory.

In that sense, Manchester United have led the way as far as English clubs are concerned. Their efficiency both on the field of play and in the boardroom has dovetailed beautifully, leaving them with an extraordinary array of commercial deals that have helped place them in second position in Forbes' list of richest football clubs. As well as the usual shirt sponsors and betting partners, United's portfolio has diversified to such an extent that they have an official savoury snack partner (Mr Potato), an official office equipment partner (Epson) and even an official paint partner (Kansai).

Chelsea are not doing too badly in terms of random tie-ups -- Russian giant Gazprom is the club's official global energy partner, almost as loose a connection to football as United's paint deal -- but they are very much in the shadows of the Red Devils in their commercial profile. It is no accident. Like it or not, United have been the dominant force in the Premier League -- the most popular league in the world if not always the best -- since its inception and therefore big companies are attracted to them like moths to a flame.

All this means that the best way in which to comply with Financial Fair Play is to win trophies and then win them again and again. Success in the global spotlight results in ever-increasing revenue, though ironically it also means that the lure to take financial risks in the search of that success will still remain.

So ultimately, compliance with the new regulations boils down to seeing great footballers win the big football matches, which is one of the reasons why we all watch the game in the first place. Money might play a greater role in the sport than it once did, but none of it exists without a bit of glory.

Follow Phil Lythell on Twitter @PhilLythell