Abramovich and Mourinho aim to prove a leopard can change its spots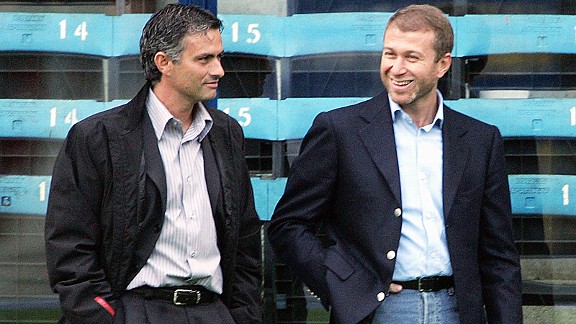 GettyImagesTogether again: Jose Mourinho and Roman Abramovich back in 2004
As the anticipation increases around Chelsea after the appointment of their latest - albeit familiar - manager, the anticipated excitement on the pitch is more than matched by the potential intrigue away from it.

Internal political manoeuvres and schism-inducing power struggles have been some of the hallmarks of Roman Abramovich's eventful decade in control of the club, and despite protestations to the contrary there is no certainty that the situation will be markedly different upon Jose Mourinho's return to the club.

- Mourinho conscious of FFP
- Mourinho pleased to work with Emenalo

Outside elements have often elected to paint Chelsea as a dysfunctional club, riven by hidden agendas and backroom diplomacy, and there is plenty of evidence to support that viewpoint. The cold war that eventually saw the Portuguese part company with the club in 2007 and the allegations of 'player power' that reportedly performed decisive roles in the removal of both Luiz Felipe Scolari and Andre Villas-Boas from their positions support that stance. The unlikely ascent to prominence of previously unheralded, shadowy figures such as Avram Grant and Michael Emenalo bolsters it further still.

But amid the chaos there have been periods of relative tranquillity. Mourinho's first year in charge certainly had its fair share of controversy, not least the furore surrounding referee Anders Frisk, though it passed quite peacefully behind the scenes until the initial cracks between the manager and the board began to manifest themselves during the summer that followed the end of the season. Guus Hiddink's spell in charge was brief but harmonious, while Carlo Ancelotti's gentlemanly conduct ensured that there was no rocking of the boat in his two years at Stamford Bridge, even if it couldn't stave off his quite ludicrous and unwarranted sacking.

With ten years of football club ownership under Abramovich's belt and Mourinho having accepted a job back at a place where he was certainly purged of his power if not officially fired, there would appear to be a desire for all parties (including the supporters) to let bygones be bygones and move forward in unison. But as honourable as those intentions are, few people will be betting the house on this game of happy families lasting indefinitely.

Propaganda is not the sole preserve of suspicious governments but is also a tool employed extensively by football clubs and their employees. Whenever there has been an interview with a member of the Chelsea board or a manager over the internal machinations of the club, the message has generally been clouded in either disinformation or non-information, even when the truth has been blindingly obvious.

Mourinho has been at pains to present a united front in all his media briefings since his return to West London and it would be easy to label it all as being 'on-message', however, there is no reason to disregard his statements. Sure, there have been a few that have conflicted with received wisdom such as his assertion that there was no breakdown in his relationship with the owner before their previous parting of ways, but there is no real foundation upon which to dismiss his key messages of maturity, stability and progress.

Mourinho's demeanour has lacked any kind of confrontational edge, and his reasoned responses to enquiries have hinted that his second spell in charge of the Blues will not follow the same fire-and-brimstone trail he blazed first time around. That is not to say that his journey will not see him occasionally venture down that familiar path - after all, his polemics do have a habit of bringing the best out of his teams - though at the moment the signs are encouraging that controversy will not be courted as a matter of course.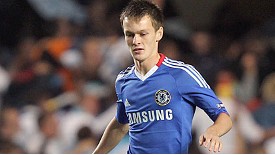 GettyImagesJosh McEachran: Could it be a breakthrough season for the 20-year-old?
As well as refraining from attracting negative headlines, there has been a concerted effort on the manager's part to get the boardroom executives and the club's ultimate authority onside. The popularly held belief that the signing of Andriy Shevchenko in 2006 was an Abramovich vanity purchase foisted upon Mourinho has been scotched by the Portuguese. According to him, the Ukraine superstar was only considered after Barcelona rejected Chelsea's overtures to Samuel Eto'o. In addition, Mourinho has insisted that the owner has never sought to involve himself in football matters, though perhaps most interesting has been his endorsement of Chelsea's compliance with the Financial Fair Play rules, regulations that UEFA president Michel Platini has claimed were championed by Abramovich.

His recent interview with the club's official website - in which he said "everybody accepts the way we are going. I'm not trying to push in a different way. We are all in the same direction" - almost incontrovertibly stated that Mourinho is happy to adhere to the tenets of the new fiscal requirements and will be happy to promote the large populace of loanees and youth graduates that are bubbling beneath the first team. Such a policy would place an emphasis on development rather than big-money recruitment and would mark a significant strategic departure for both the manager and the owner.

Chelsea being Chelsea, there will inevitably be the odd lavish signing which will be necessary to maintain the fight for the big trophies, though those will be supplemented by the promotion of some of the club's brightest young talents. The Blues' record of giving youthful talents a decent opportunity to prove themselves has been scandalously poor in recent times, though with the last ten years having indelibly carved Chelsea's place in the wider football world perhaps that approach has had a modicum of justification. Now it seems that the next stage of the club's evolution is about to take place, one that nurtures talent as well as simply buying it, and that is a policy that has huge appeal to those in the stands as well as the bean-counters in the corridors of Stamford Bridge.

It is a noble change of direction, but as with this fresh image of a mature, unruffled Jose Mourinho and harmony with the boardroom, it will have to be seen in action before it is truly believed.

Follow Phil Lythell on Twitter @PhilLythell