Chelsea need clear direction as transfer cattle-market opens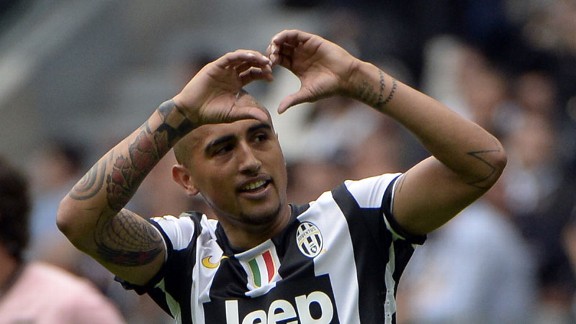 GettyImagesJuve's Arturo Vidal would be the perfect additon to the Chelsea team
The body of the 2012-13 season might still be warm but the nascent stirrings of the next campaign have already begun.

The scramble to reinforce the playing squads of Europe's elite is well underway. With significant deals for exorbitant sums having already been concluded, all the signs are pointing to this summer being a seller's market when it comes to trading players. AS Monaco have led the way by raiding Porto for midfielders Joao Moutinho - a former Chelsea target - and James Rodriguez, though the real feather in their tax-exempt cap has been the capture of Radamel Falcao from Atletico Madrid. The fact that the most sought after number nine has opted to join a freshly promoted French club that will not be competing in any form of continental football next season has hinted at a potential shift in the traditional powerbase of European football, especially in light of Paris Saint-Germain's two-years of lavish spending.

- Napoli: Chelsea interested in Cavani
- Hulk fuels Chelsea rumours
- What can Schurrle offer Jose's Chelsea?

Meanwhile, on these shores, Manchester City have made a bold statement in response to seeing their Premier League crown pass over to cross-city rivals Manchester United by sewing up deals worth almost £60 million for Sevilla winger Jesus Navas and Shakhtar Donetsk's midfield general Fernandinho. While the value of those deals is open to question, what they do illustrate is that those that are slow off the mark could well be left behind; Chelsea should take heed.

The machinations behind Chelsea's transfer policy are not clear-cut. It is known that technical director Michael Emenalo and director of football operations Mike Forde both play a key role in player recruitment at Stamford Bridge, though first team manager Jose Mourinho will also be an integral part of the process. It does not leave much room for accountability and it would be interesting to know who the driving force is behind the supposedly imminent deal for Bayer Leverkusen's Andre Schurrle seeing as negotiations have been continuing for months.

However, despite many in England railing at the thought of the manager not having total control over transfers, decision-making by committee is fairly standard practice elsewhere in the world of football and might actually be of benefit to Chelsea in this instance.

For all his miracle-working, Mourinho has not always been so special in the transfer market. For every Didier Drogba or Ricardo Carvalho, there has been a Khalid Boulahrouz or Shaun Wright-Phillips. Talent-spotting has not been his forte. Instead, motivation, man-management, tactical acumen and fierce professionalism have been his greatest attributes. Having a sounding-board upon which to bounce ideas might help to eradicate the errors and sort the wheat from the chaff more effectively.

Hopefully, that sounding board will dismiss the rather worrying possibility that Juan Mata could be for sale at the right price, a notion presently circulating in the press. Of course, this time of year is not called the silly season for nothing and the vast majority of mooted transfers never come to fruition. However, the theory is that Mourinho is keen to maximise revenue by offloading some of the club's most saleable assets in order to mould the team to his liking. With any luck he will be advised against dispatching the club's double player of the year by his fellow decision makers, due as much to the Spaniard's clear dedication to the Chelsea cause as his obvious talent.

Other saleable assets are believed to be David Luiz and Fernando Torres, one of whom would be missed much more than the other (I'll leave you to guess which one) even though neither are entirely irreplaceable. With Financial Fair Play now a major factor in any transfer policy, most teams will be selling to either recoup a fee or to clear space from their wage bill before they buy. Chelsea are expected to follow suit irrespective of Roman Abramovich's billions.

Top of the wanted list, if Napoli's president is to be believed, is Edinson Cavani. The Italian club's chairman Aurelio De Laurentiis has claimed that Chelsea are interested in securing the striker, seemingly backing up rumours that Chelsea had an offer of £30 million plus Torres rejected by the Serie A club last week. While there might be some truth in that, what is more likely is that Chelsea have baulked at the €63 million buyout clause and Di Laurentiis is using the London club's reported interest to prompt other potential buyers into creating a bidding war, such is the politicking of big-money transfers.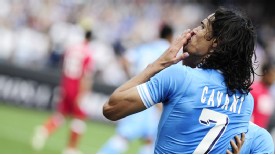 GettyImagesEdinson Cavani: On Chelsea's radar
While the prolific Cavani would be a superb addition to the squad and fit the mould of a Jose Mourinho striker, less enthralling are rumours of some of the other potential targets. The name of Zenit St Petersburg's Brazilian striker Hulk has been doing the rounds once again, just has it has done during several transfer windows over the past few years. A bombastic forward who certainly has a piledriver of a shot, he is also a player that flatters to deceive on too many occasions and is not worth anywhere near the £35 million that has been quoted for his signature.

Equally concerning are the links being mentioned between Wesley Sneijder and Jose Mourinho with tongues wagging that the Portuguese wants to be reunited with his old Inter Milan playmaker, who he sees as a possible replacement for Mata. Although the Dutchman has been a magnificent player in his time, he is also three years older than Mata and has barely played any top level football in the last 12 months due to his stand-off with the Nerazzurri and his subsequent transfer to Galatasaray. It would be a retrograde step for the club and would remove in an instant the one constantly positive element of the team over the past two seasons.

With Chelsea overflowing with advanced playmaking options, the club would be wise instead to look at alternatives in other parts of the squad and two players that should be on Mourinho, Emenalo and Forde's radar are two contrasting midfielders of a more orthodox variety. Juventus' Arturo Vidal is an all-action defensive midfielder who is not afraid to burst forward when the situation demands. Chelsea need a specialist in that department and he would provide a dynamism, a solidity and a driving force in the base of the midfield while also relieving David Luiz from being press-ganged into that role. The 'Old Lady' have offered the Chilean a two-year extension to his contract to ward off potential suitors but it has not been signed as yet, leaving the door open for an interested club to swoop.

The other player is Thiago Alcantara. This stylish passer of the ball is finding it hard to secure a regular berth in Barcelona's team - unsurprising when his path is blocked by Xavi Hernandez, Andres Iniesta and Sergio Busquets - and will reportedly look at his options once his involvement with Spain at the UEFA Euro Under-21 Championship has ended. A player educated in the ways of La Masia, he could be a cultured presence in the middle of Chelsea's team. Despite the 22-year-old's relatively sparse first team experience, he would not come cheap but would be a canny forward-thinking acquisition as well as being the type of player to warm Abramovich's heart.

With Mourinho still only just getting his feet back under the desk and yet to run the rule over his new squad, it is unlikely that any high-profile deals - Andre Schurrle apart - will be conducted in the immediate future, meaning that most of the conjecture filling up web pages and occupying column inches should be read under advisement. Chelsea prefer to keep their transfer dealings - again, Schurrle apart - under their hat until they have been concluded.

But one thing that has been a regular feature of the Abramovich years has been the arrival of at least one exciting player during the summer transfer window, especially upon the appointment of a new manager. So even though Monaco and Man City might be grabbing all the headlines at the moment, don't bet against Chelsea stealing a march on them all.

Follow Phil Lythell on Twitter @PhilLythell