Mourinho motivated to return Premier League title to Chelsea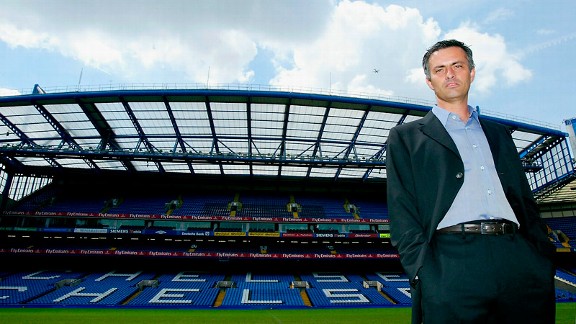 Ben Radford/Getty ImagesAlthough he won plenty of silverware in his first term at Stamford Bridge, Chelsea supporters can expect a very motivated Jose Mourinho in his second spell as manager.
So the waiting is over. Jose Mourinho has signed a four-year deal worth a reported £40 million to become the next Chelsea manager and returns to the place where he enjoyed so much success.

It had been the worst kept secret in football, with Mourinho's assistant at Real Madrid Aitor Karanka speaking openly to the press on the subject and even the official website of the Premier League prematurely announcing the manager's return to Stamford Bridge 24 hours before the news was eventually confirmed by Chelsea's chief executive Ron Gourlay. But the fact that everybody knew it was coming has still done nothing to lessen the impact. Joining Chelsea is a man with a quite astonishing amount of silverware already under his belt, even though he has only just turned 50 and there is plenty of petrol left in the tank.

- Brewin: Back to the Bridge: Jose returns
- Palmer: Understanding Roman Abramovich
- Vilarrubi: Jose will be 'disaster'
- Rigg: No tearful farewell for Mourinho

Theoretically, Mourinho should soon be entering his prime as a manager having spent the last decade honing his methods. In practical terms, however, he has operated at an incredibly high level since the first day he was appointed in the role at Benfica, such has been impact he has made on every team club he has worked for.

With such a glittering managerial career and more money in his bank account than he will know how to spend, the Special One could have been forgiven if he had decided to jack it all in and spend the rest of his days lounging in the Algarve sun. Thankfully for Chelsea and their supporters, he has shunned such thoughts and has returned to a place where he is revered beyond measure.

It is clear that Mourinho is desperate to work in a harmonious atmosphere once again, in an environment where he is loved, or at the very least respected. He was never able to win the hearts and minds of the Bernabeu dressing room during his time there, and despite his relentless power struggles, he was unable to implement the total autonomy that he demands as several senior players circumvented his authority and pursued their grievances directly with the president, Florentino Perez. Life with Mourinho is never exactly plain sailing; such are the strains he places on rival teams, journalists and even his own bosses. However, it is obvious that he sees Chelsea as a place where he can work as he wishes, the club's hierarchical internal structure notwithstanding.

The Portuguese maestro has enjoyed his best times in management when he has been able to create a cohesive, united flock of players. He likes to create a feeling of brotherhood, something he was able to do to tremendous effect at both Chelsea and Inter Milan. Didier Drogba's much-publicised tearful reaction to the news of his manager's departure from Chelsea and the iconic image of Marco Materazzi and Mourinho's emotional embrace when their time together at the San Siro came to an end are testaments to the kind of spirit that he is able to invoke in his acolytes. Mourinho will be determined to foster those type of relationships again as he rejoins the club he left almost six years ago.

What is initially less clear is his motivation for success. Throughout his managerial career, Mourinho has showcased his desire to win at all costs, though rarely has it been winning for its own sake. At Porto he had a point to prove to fierce rivals Benfica after being effectively shunned by the Lisbon club. At Chelsea he wanted to awake a sleeping giant. He then wanted to raise Inter Milan back to the level and international renown that they commanded in their heyday of the 1960s. Real Madrid is the biggest job in world football; Mourinho was never going to be able to resist that challenge and the quest for a tenth European Cup.

But what does he gain from going back to a club that he left in fractious circumstances? What does he have left to prove? Is he on a personal mission to elevate his profile or does he genuinely believe in the Chelsea 'project'? Digging under the surface, it appears to be an amalgam of all those things.

Having already won two Premier League titles, two League Cups, an FA Cup and a Community Shield, there would appear to be little left for Mourinho to achieve at Stamford Bridge, yet there is a lingering sense of unfinished business. After all, he left Stamford Bridge with his tail between his legs following a drab home draw with Rosenborg when his preferred method of departure is by leaving a major piece of silverware in his wake, as he has done at both Porto and Inter Milan. While his name has been sung by the Stamford Bridge faithful in his absence, he will still be driven to fully restore his reputation in the eyes of those fans by once again winning the big trophies regularly and sharing the joy of victory with them.

Of course, there is also a purely personal ambition to be pursued in the process, that of being the first manager to lift the European Cup with three different clubs. Should that summit be reached, his name will forever reside among the very best managers that there have ever been and he would possibly have the strongest claim to be the cream of that particular crop.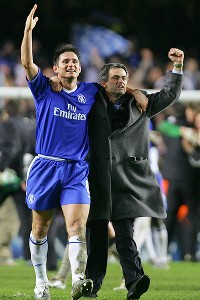 Jim Watson/Getty ImagesWith the backing of players such as Frank Lampard, Mourinho won't likely have the dressing room issues that plagued him at Madrid.
Mourinho's reputation as a master manipulator of public relations and his love of propaganda is well hewn and he has spent much of the past six years making sure that Chelsea fans have not been able to forget about him. Regularly uttered phrases such as "my Chelsea" or "my blood is blue" have repeatedly seduced all those who follow the club, who have willingly allowed themselves to be cast under his spell. But for all the diplomatic rhetoric, there remains a very real sense that he holds a genuine affection for Chelsea Football Club and their supporters.

With that in mind, he will be fully appraised that since he departed in 2007 the club have experienced their moments in the sun but have not enjoyed a period of dominance. There has been a Premier League title, a maiden Champions League crown, a Europa League and room full of FA Cups but none of those wins has prompted any sustained success. In his first spell at Chelsea, Mourinho initiated the winning culture that has endured to this day, though it is the relentless juggernaut of a team that ploughed through opponents week by week that he will be keen to resurrect.

Mourinho will also be aware that he enters a Premier League in a state of flux. With his old sparring partner Sir Alex Ferguson leaving the stage and Roberto Mancini no longer at Manchester City, the Special One will fancy his chances of instant success with the title race seemingly wide open next season due to the uncertainty injected into their closest challengers. He will also relish the chance to lock horns with Arsene Wenger once again, the pair retaining diametrically opposing views on the ideological spectrum with neither previously showing any reticence when the chance to criticise the other has arisen. Manuel Pellegrini, Mancini's successor in waiting and the man that Mourinho replaced at Real Madrid, has experienced the Portuguese's forked tongue during his time in Spain and will no doubt be placed immediately under pressure when he begins work in a new country by his former La Liga rival. Mourinho will want to exploit his relative familiarity with English football and its culture while the Chilean is still getting his bearings.

Despite initial thoughts to the contrary, there is in fact plenty to get the Special One's juices flowing upon his return to Chelsea, even though accepted football wisdom has historically stated that one should "never go back". However, this is Jose Mourinho we're talking about and he has never been a man to bow to convention.

Follow Phil Lythell on Twitter @PhilLythell