Eight games that shaped Chelsea's 2012/13 season - Part two
Chelsea's 2012/13 season was a rollercoaster ride that was both exhilarating and excruciating in equal measure. Acrimony and anger were as commonplace as ecstasy and entertainment as Chelsea veered back and forth from the sublime to the ridiculous with all manner of off-field controversies commanding as many headlines as events on the pitch.

There were 69 competitive fixtures in all -- here is part two of eight matches that shaped this crazy campaign.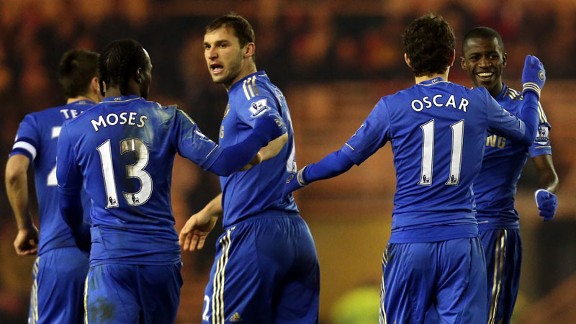 GettyImagesVictor Moses and Ramires helped Chelsea ease to a 2-0 FA Cup win over Middlesbrough
Middlesbrough 0-2 Chelsea, February 27, 2013, FA Cup

Chelsea returned to the north east three and a half weeks after their defeat to Newcastle to face Championship side Middlesbrough. The Blues cruised to a 2-0 win on a freezing night on Teeside, a victory that was as routine as they come. Chances were scarce before Torres and Victor Moses ended the contest, though most of the action was coming from the away support. Constant chanting was aimed at Benitez throughout the second half as protests against his appointment continued. It sparked a furious response from the manager. In the post-match press conference, Benitez chose to use his time in front of the nation's cameras and scribes to decry his detractors and highlight the futility of their targeted campaign.

While initially it served only to inform everyone that he would not be staying at the club beyond the end of the season, it actually proved to be a moment of catharsis for the manager, the players and the supporters. Open hostility never completely evaporated and there was still a 'Rafa Out' banner visible at the final game of the season against Everton, but the protests became muted as Chelsea fans focused on getting behind their team rather than expending their energy on berating Benitez. It might have just been an outburst from a man venting his pent-up frustrations but it proved to be a watershed moment for Chelsea.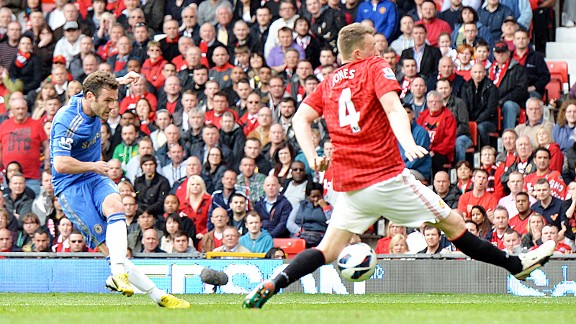 GettyImagesJuan Mata's shot deflected in off Phil Jones for Chelsea's important winner against United
Manchester United 0-1 Chelsea, May 5, 2013, Premier League

After "Rafa's Rant," Chelsea's season gathered positive momentum with only a solitary defeat in the league -- albeit a poor one away at Southampton -- as the race for a top four finish ahead of Tottenham and Arsenal approached the finish line. The Blues had been eliminated by Manchester City in the semi-final of the FA Cup thanks to another catastrophic refereeing display -- this time by Chris Foy -- but results had generally been good. Even so, Chelsea had the toughest run-in of any of the London trio and after Bale had hit a thunderous late winner for Spurs against Southampton the day before, a win at Old Trafford suddenly became vital.

As it turned out, Benitez and his players could be thankful that Manchester United had already claimed the Premier League title on the previous Monday and despite promises from Sir Alex Ferguson that his team would maintain their usual high standards, it was clear from the team sheet that this was not going to be the stern examination that normally awaits Chelsea's visit. The Blues dominated possession without creating too many chances but their patience was rewarded when a rare slick move fell at the feet of Juan Mata whose shot deflected off Phil Jones and inside the far post in the closing minutes. Chelsea's points cushion ahead of their rivals was secure and would never be breached.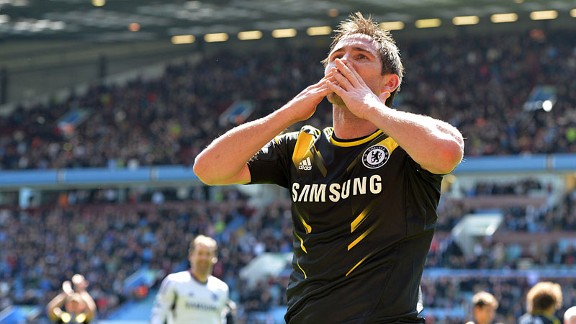 APFrank Lampard celebrates breaking Bobby Tambling's all-time Chelsea goalscoring record with his 202nd and 203rd goals against Aston Villa
Aston Villa 1-2 Chelsea, May 11, 2013, Premier League

The win at United had given Chelsea the opportunity to secure Champions League football with a win at home against Tottenham, but a tired team was yet again unable to hold on to a lead and ended up drawing 2-2. Still, a win at Villa Park would do just as well although with Paul Lambert's side not yet safe from the clutches of relegation and enjoying a good run of form, victory was far from a formality. That trepidation came to life in a first half that saw a lethargic Chelsea allow their energetic opponents the chance to impose their own tempo and they took advantage by opening the scoring through Christian Benteke before the task was made even harder when the physically drained Ramires received his marching orders for earning two yellow cards. The numbers on the pitch should have been evened up before the break but somehow referee Lee Mason chose only to book Benteke for two elbows aimed deliberately at Cesar Azpilicueta. The striker's luck did not last long, however, with his reckless high tackle on John Terry ensuring he saw finally saw red.

It was the moment that changed the game. Suddenly there was a spring in Chelsea's step and a previously pedestrian side was instantly pro-active and purposeful. Almost immediately Eden Hazard found Frank Lampard who shifted the ball onto his left foot before rifling past Brad Guzan to level the score and equal Bobby Tambling's Chelsea goalscoring record in the process. After a brief rally from the hosts was resisted, the Blues set up camp in the Villa half as the minutes ticked down, waiting for the moment to pounce. That moment came just before the 90 minutes was up as Hazard once again linked up with Lampard who slotted home his 203rd goal for the club -- a new benchmark that cements his status as Chelsea's greatest ever player. The final whistle blew after seven minutes of injury time had been played and Chelsea had guaranteed themselves a seat at Europe's top table. Now just one more hurdle remained.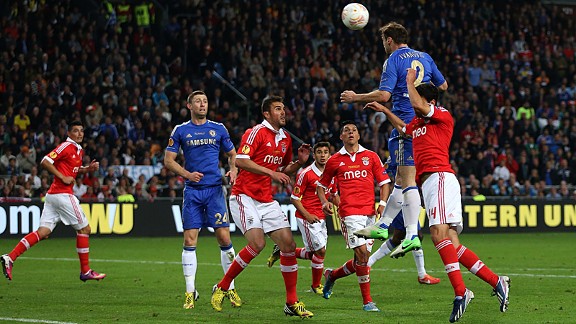 PA PhotosChelsea's Branislav Ivanovic scores the winning goal in the Europa League final
Benfica 1-2 Chelsea, May 15, 2013, Europa League Final

At the start of the season, this was one fixture in which nobody connected with Chelsea envisaged taking part. As reigning European champions, the goal was to become the first team to retain the Champions League, however much of a long shot that appeared to be. It proved to be even longer than was first thought with the club failing to make it out of their group. The Europa League has been much-maligned so it was good to see Chelsea take their unexpected participation in the competition a bit more seriously than some other English clubs. In truth, the club were dealt a fairly easy route to the final with the likes of Ajax and Tottenham avoided and Sparta Prague, Steaua Bucharest, Rubin Kazan and FC Basel placed in their path instead. As the final grew closer so did the anticipation – the fans were desperate to have a day out in Amsterdam and have the chance to witness a bit of history.

While thousands of Chelsea fans turned up at the Amsterdam ArenA, the players appeared not to. The Blues were given the run around by an effervescent though profligate Benfica team who wasted countless openings that could have won them the game before half time. Instead, the second half saw Fernando Torres score his best goal in a Chelsea shirt and Branislav Ivanovic win the game with just seconds remaining, his arcing header keeping everyone in suspense as it took an age to drop under the bar and bulge the net. Gary Cahill still had to pull off an implausible double tackle to ensure the game was won but eventually the final whistle blew and Chelsea became just the fourth team ever to win all three major European trophies.

The indomitable spirit of the side had come to the fore once more; the unquenchable thirst for success manifesting itself on the big occasion just as it has almost every year over the past decade.

It was the perfect finale to a quite extraordinary season.