Champions League specialist managers
Rafa Benitez, perhaps surprisingly, freely admitted the scale of the challenge in front of his Liverpool team. It was the eve of the 2004-05 Champions League semifinal and the Spanish coach offered extreme appreciation of his side's opponents.

NEW: Champions League fantasy
PLAY: Champions League predictor

"You can pinpoint weaknesses here and there but, against Chelsea, you need to do everything perfectly if you are to beat them because they have such a good team."

Except, over the two legs, that was exactly what Liverpool did. As John Arne Riise put it, "Tactically, we played a perfect game."

What ended up being most impressive about that was not how Liverpool had bested a clearly superior side 1-0 on aggregate. It was that, on the domestic front, their performances in the same fixture had been so thoroughly imperfect.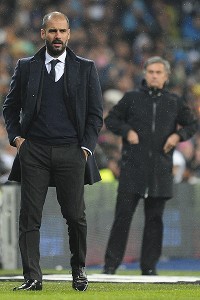 Javier Soriano/AFP/Getty ImagesRivals Pep Guardiola and Jose Mourinho are both desperate to taste Champions League success at their new clubs.
Over six league games against Jose Mourinho's Chelsea, that Liverpool team lost five and only won the very last game. By contrast, the continental record was drastically different. Benitez's team only ever lost to Mourinho once in six Champions League games, and even that was as part of one of the two semifinal victories that the Anfield side enjoyed.

The record raises questions about why exactly some managers are simply more equipped for continental competition, and also points to what may prove a telling theme in this season's competition.

Of the six competing managers with the finest historical Champions League records, three have primarily built their reputations on navigating Europe's elite knockout competition, in contrast to Mourinho and Pep Guardiola who have matched it with domestic success. Benitez himself ultimately got Liverpool to the final more often than he finished in the Premier League top two, and left Anfield with one Champions League but no domestic title.

That contrast was only escalated with Carlo Ancelotti, who won two European Cups but just one Serie A at the San Siro, with Milan's involvement in Europe frequently lasting longer than their influence on the title race. Manuel Pellegrini, meanwhile, has marked himself out on this side of the world by guiding Villarreal to the semifinals and a finance-stricken Malaga to the quarterfinals, both in their debut seasons. Talk about adapting to the level.

The top 10 Champions League records of this season's 32 managers:


Other / ESPN FC
(Only full seasons included -- those with only one full season excluded)


It is noteworthy that two clubs who are becoming the most obsessed with ending Champions League droughts -- Real Madrid and Manchester City -- appointed two of these "specialists" this summer, and it is understood that the European records of Ancelotti and Pellegrini were key to those decisions.

The "why," however, is just as important.

To reduce it to rather simplistic terms, there appears to be no immediately obvious reason why a cosmopolitan manager such as Roberto Mancini could beat Chelsea in the tactically multicultural 2011-12 Premier League, but was previously so outwitted by a Napoli team who the London club had themselves just beaten days before the match with City. It seems to be about something more than the vagaries of luck or, as in boxing, certain styles suiting different opponents.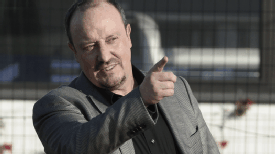 GettyImagesRafa Benitez has proved himself adept at the art of coaching sides in European knockout football.
Some within football talk of "specific match management," and how one breed of coaches are just better at building a generally good force and making isolated changes within that -- as more befits a league -- while others are adept at weighing up every individual element of a contest and acting accordingly, as becomes increasingly important amid the greater nuances of continental competition.

Benitez essentially admitted as much in his book, "Champions League Dreams," with Rory Smith.

"Our expertise ... lay in Europe, though, in the art of the knockout competition, the management of 180 minutes, the tactical preparation needed to overcome opponents expected to best us," Benitez said. "This was a competition no team understood better than us.

"Even a side containing such talent as Ronaldinho, Deco, Xavi, Andres Iniesta and [Leo] Messi can be beaten if you have a plan."

In that memorable first semifinal against Chelsea, the Spaniard surveyed Mourinho's team, pushed his defensive line up three-quarters, maintained solidity, played the offside trap to prevent penetrating balls through to the wingers or Didier Drogba and had Milan Baros run the channels to create space.

In other words, he maximised the extra time in the build-up to get the best out of a minimalist setup and limited quality. There is a lot to be said for how certain managers do that, in contrast to some struggles with the quicker rhythm of the league, to more fully prepare for European ties.

Ancelotti spoke of a similar effect in 2006-07, after Milan had long fallen out of the domestic title race.

"We had lost our determination in Serie A, so our focus was now on the European Cup. In terms of physical conditions, there were beginning to be a few problems, and so I told the team to take a prudent approach."

For a hugely difficult quarterfinal against Bayern Munich, he wisely weighed up the opposition and reintroduced his "beloved Christmas Tree formation." It won the competition.

What was most remarkable about Pellegrini's teams, though, was how there was no acclimatisation necessary. They immediately adapted. Villarreal right-back Javi Venta spoke of how the Chilean "convinces his players because he is convinced himself."

As regards this season's competition, there is one significant caveat to the work of these specialists -- and it perhaps goes some way towards explaining their records. All of their major achievements, other than Pellegrini's quarterfinal with Malaga, came in the more open years between 2002 and 2007. In that period, with the 32-team expansion of the Champions League only recently introduced, many title-winning teams seemed to struggle to balance the extra demands of so many competitions and keep steady right across the board. That allowed more limited sides to stay fresher for the most exacting period between March and May -- which is exactly what Benitez and Ancelotti exploited, as the Italian has admitted.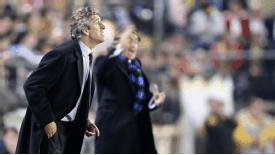 APRoberto Mancini was replaced in the Man City dugout by Manuel Pellegrini -- a man boasting a better Champions League pedigree.
It is no coincidence that, across their combined five final appearances, neither Milan nor Liverpool finished higher than third in the league. They never had to combine a full continental campaign with a title race.

By around 2007-08, though, the modern super-clubs had started to adjust. They managed to better balance so many demands, not least with bigger squads and better approaches. Far from failing in Europe, we have seen an unprecedented series of three trebles in the last five years. The bar has been raised.

So has the platform for all of these specialists, however.

This season, all three find themselves back at clubs better set to more quickly win the Champions League.

Pellegrini's well-resourced Manchester City are just awaiting ascent; Ancelotti's Real Madrid have been on the precipice for some time, while Benitez also returns to the competition on something like his own terms at Napoli -- as opposed to the issues at Inter and US-owned Liverpool, as well as one dead rubber at Chelsea -- for the first time since 2008-09.

In the face of Mourinho and Guardiola choosing to work at recent champions like Chelsea and Bayern, and even aside from the likes of Borussia Dortmund and Manchester United, it's going to be crucial whether they can fully combine their own speciality with their teams' specific circumstances.

One thing seems certain: The balance will have to be perfect.