Champions League storylines: Bayern well set for back-to-back titles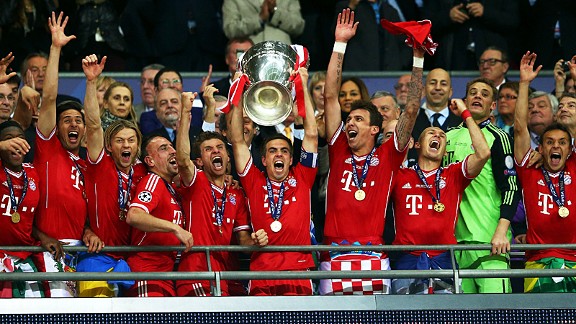 GettyImagesBayern Munich lift the Champions League last season.
ESPN FC's Tony Mabert examines the top storylines heading into the first week of the Champions League.

Bayern have a firm grip on the trophy

If any team is equipped to be the first since AC Milan to win back-to-back European Cups (1988-89, 89-90) then it's Bayern. Even after winning the Treble last term they have strengthened their squad -- midfield duo Mario Gotze and Thiago Alcantara will be posing awkwardly in lederhosen at Bayern's traditional Oktoberfest celebrations for the first time later this month. In the dugout, Jupp Heynckes' replacement Pep Guardiola has himself come close to retaining the trophy. Previous defending champions Milan, Ajax, Manchester United and Juventus have all failed to win two consecutive Champions League finals (three in Juve's case), but the more optimistic Bayern fan may already have designs on matching the club's three consecutive triumphs of the mid-1970s.

• Brewin: UCL group analysis

Jose is due a win soon

On his two previous Champions League triumphs, Jose Mourinho barely stuck around long enough to receive his winners' medal, let alone mount a campaign for a second at the same club. Still, those itchy feet have seen him win the title for Porto and Inter Milan, while Chelsea would have lifted the trophy at the end of a season which began with him in charge were it not for … well, you know. After leaving Real Madrid under a cloud despite drastically improving their European fortunes, Mourinho's quest to be the first coach to win the competition at three different clubs has taken him back to Stamford Bridge. It may not be this year, but his aura of supreme confidence -- as well as his track record -- gives the feat a certain air of inevitability.

Moyes finally hits the big time

Sir Alex Ferguson retired with Manchester United's pedigree largely intact, having guided them to three of the last six Champions League finals. The only mention of his successor, David Moyes, in the annals of the competition's history to date is Everton's 2005 playoff loss to Villarreal. That defeat came with a side featuring Kevin Kilbane and Marcus Bent -- a mark both of how good an achievement it was and how far Moyes has come since. After humiliation in the transfer market this summer, Moyes embarks on his maiden campaign in the competition proper with questions to answer. But then, being a debutant didn't stop Pep Guardiola or Jupp Heynckes lifting the trophy in their respective first seasons.

Tata can give tiki-taka a fine tuning

Gerard Pique caused a stir last week when he commented that Barcelona had become "slaves" to the intricate passing they have developed which, for better or worse, can at times be more performance art project than tactical blueprint. While that was good enough to win Barca two Champions Leagues in three years not so long ago, obdurate opponents such as Inter Milan, Chelsea and Celtic have shown that sometimes a more agricultural approach is required. If Gerardo "Tata" Martino -- another Champions League debutant in the dugout of a top club -- can devise a more direct Plan B to which Pique refers without compromising Barca's trademark tiki-taka, they can hope for a lot more than a seventh consecutive semifinal appearance this season.

Real bring in Bale to bag "La Decima"

It's a minor miracle that Gareth Bale joined Real Madrid at all considering that, even after he starred in Europe for Tottenham, his then-manager Harry Redknapp still saw him primarily as a left-back. But Bale is now the world's most expensive player, brought in to help Los Blancos win their tenth European Cup. Redknapp manages QPR in the Championship. However, the Welshman's arrival has not been so much the final piece of the puzzle as shifting some pieces off the board. Kaka and Mesut Ozil were sold to better accommodate the €100 million man alongside Cristiano Ronaldo. The move is reminiscent of the 2009-10 campaign, when Arjen Robben and Wesley Sneijder were deemed fit for scrap at the Bernabeu. The pair were to be reunited in that season's final with their respective new clubs. Real didn't make it past the last 16.

The nouveau riche can revive their revolution

Despite money -- and the avaricious plundering thereof -- being at the very heart of the Champions League's raison d'etre, last season several heavily backed upstarts discovered that it takes more than deep pockets to get on the fast-track to European domination. Manchester City finished bottom and winless in their group, a second straight failure to reach the knockout phase, while Zenit St Petersburg's €80 million outlay for Axel Witsel and Hulk ultimately bought them a Europa League spot. Malaga and Paris Saint-Germain fared better, as they both reached the quarterfinals, but the former are currently banned from European competition due to financial irregularities. With Manchester City poaching Malaga's manager and Edinson Cavani joining Ibrahimovic & Co. at PSG, this could the year that "new money" truly shakes up the establishment.