Three Things: AC Milan vs. Atletico Madrid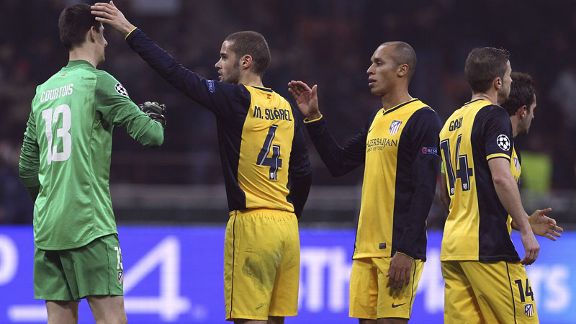 GettyImagesAtletico Madrid put in a distinctly Italian display to defeat AC Milan.
Three thoughts on Atletico Madrid's smash-and-grab 1-0 victory over AC Milan at the San Siro.

1. It takes a thief to catch a thief

Just before the sides' October meeting in the group stage, Porto coach Paulo Fonseca had referred to Atletico Madrid as "an Italian team playing in the Spanish championship." When his opposite number Diego Simeone had arrived in the Spanish capital, a few days before Christmas in 2011, those who had followed his coaching career wondered how the ultra-cautious approach of his teams would tally with Atletico's swashbuckling style.

"They play with a couple of deep lines, and are really quick on the counter-attack," Fonseca explained. "I foresee a real lack of space [for us] to work in, and we have to be patient against a very strong opponent."

The cliché of Serie A as defend, defend, defend before snatching a goal is something that frequent viewers of the league in recent years would dispute as old-fashioned, but against a club that knows the mechanics of top-level European club knockout football intimately, this was the consummate away performance by Atleti. We were not treated to Los Colchoneros at their most exhilarating, but no regulars at the Vicente Calderon will be complaining.

Whilst wowing Europe under Simeone and installing themselves as many's dark horses for the Champions League, beyond the headlines they had actually ground out a result or two -- notably in that aforementioned match at Porto, where they started slowly, went a goal down but gradually worked their way back into the match. It was a similar story here, with Kaka inspiring the hosts in the early stages but Atletico knowing exactly how to hang in there.

When Diego Costa found space behind a dozing Ignazio Abate to scissor-kick Gabi's typically astute delivery over the bar a few minutes into the second half, the steal was coming. That the leading scorer held his head and wore a pained expression after that miss showed what high standards he sets for himself these days. His winner with seven minutes of normal time to go, heading in unchallenged at the back post after Gabi's corner was inadvertently flicked on by Abate, was the ultimate sucker punch, with Atleti perennially strong from set plays. It was Costa's 27th goal of a remarkable season.

Though the locals may have felt their side deserved at least a draw -- and they might have had an equaliser when Adil Rami's pile driver flew just wide of Thibaut Courtois' right-hand post -- Atletico were rarely in danger after taking the lead. "Our best quality is our squad's unity," goal scorer Costa told TV reporters directly after the match. "We were better at the crucial moment." For the umpteenth time this season, it was difficult to argue otherwise.

2. Seedorf comes home, again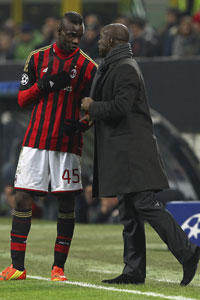 GettyImagesClarence Seedorf got the best out of his players and they arguably deserved more from the match.
If Clarence Seedorf's rapid accession to the post of Milan head coach had a natural feel to it -- in a prematch television interview, he had said that it was like "coming back from being injured or from vacation" -- then, his first night leading the Rossoneri in the Champions League only enhanced the sense of destiny. This is Seedorf's competition, and has been since 2003, when he shed tears of joy on the Old Trafford pitch after becoming the first player to win the competition with three different clubs -- the third one being Milan in that final against Juventus.

The Dutchman will probably get the longest period of grace to get it right at a club this size since the halcyon days of Sir Alex Ferguson, given not only the enormous goodwill toward him from Silvio Berlusconi and the club's fans from his previous (playing) incarnation here, but that they're struggling somewhat financially, it's a dauntingly long project, and he's relatively cheap.

Even bearing that in mind, a good showing was necessary here, on a stage synonymous with the glorious Milan of the past. It had an importance of which Seedorf would not have needed reminding. One of the more bewildering sights of the Champions League group stage had been Milan's humiliatingly painful crawl to qualification on Matchday 6 against Ajax at the San Siro. At that moment, it had never been clearer quite how reduced Milan's circumstances were, and are.

A positive, Zen presence these days, Seedorf is a pragmatist, too, though. The anticipated resumption of the Rami/Philippe Mexes partnership at centre-back, for example, looks unlikely to take root going forward, particularly after the shambolic defensive display in the recent loss at Napoli. The former Auxerre and Roma man, on a reputed 4 million euros annual wage that Milan can ill-afford, was back on the bench here, and one senses he might be used only for emergencies in future.

Seedorf was nearly in that position, with a host of players unavailable through injury and suspension, including Riccardo Montolivo, Sulley Muntari, Cristian Zapata and Stephan El Shaarawy. Yet his ability to organise, and coax extra out of those whose glory years we might have assumed were behind them, was apparent. Captain Kaka was a case in point. He almost scored twice in the first half -- when his raking left-foot shot from the edge of the area, which smacked the crossbar via a light deflection off Emiliano Insua, and when he later hit another shot narrowly over from an intelligent Mario Balotelli backheeled flick.

The coach also got good value out of his midfield shield of Nigel de Jong and Michael Essien. The Ghanaian, playing his 75th Champions League match, was zesty, and it was his mugging of Raul Garcia which was the genesis of Kaka's first opportunity. Seedorf is getting Milan organised.

3. Dealing with "favourites" tag

Atletico arrived for the tie in Italy having lost just four of their previous 40 outings. However three of those defeats arrived successively, in the space of six days at the beginning of this month -- both legs of the Copa del Rey semifinal against Real Madrid sandwiching a shocking La Liga loss at modest Almeria. It seemed leading from the front at long last was a pressure they weren't ready for.

That was why Saturday's 3-0 win over Valladolid felt like a turning point. Simeone's men once again looked like their voracious selves, scoring twice in the opening four minutes of the match. The return of their confidence was clear from first to last, as centre-back Diego Godin charged into the penalty area in the final minutes, in open play, to narrowly miss the chance for a fourth.

Against Milan, their start was tentative, though maybe any side would have been taken aback by the Rossoneri's vigour as the home side rose to the occasion admirably. Contrary to popular belief, Milan are still a stern proposition at home. They have lost only two of their past 23 Serie A matches at the San Siro. But Atletico stuck it out -- and that is the mettle that potential Champions League winners are made of.