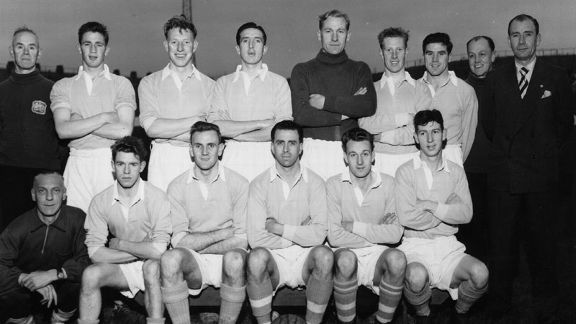 EmpicsMan City in 1954 tried something new from what had been seen at the World Cup.
In the summer of 1954, Les McDowall had a plan. The Manchester City manager knew something new and different was required after a disappointing campaign. He had seen the future, and he was determined to embrace it.

He cut short his squad's holiday break. They were called into preseason training two weeks ahead of schedule. If that did not give them a clue that things were about to change, then what happened when they arrived certainly did: Laurie Barnett, the fitness coach, worked them relentlessly.

More intriguingly still, at stark odds with the prevailing wisdom -- that players should see the ball as little as possible during the week so that they might be hungrier for it come Saturday -- they were told that there was to be a renewed emphasis on technique.

City's players embraced the new vision, but they had to wait until McDowall told them what it was all for. Eventually, he gathered them together. "We are going to play football this season," he told them. "Keep the ball down, no big kicking, no wild clearances from the defence. We want to aim for a smooth link up between defence and attack, letting the ball do the work."

This was revolutionary enough. McDowall turned to his best player, a wing-half by trade -- a right-sided midfielder, more or less -- who could also play a little further up the pitch, as an inside forward.

"Ever play centre-forward?" he asked. (That is one position where the name has not changed.) His star man said he had, but there was a further twist. "You won't be playing an orthodox centre-forward game. You're always saying you like the short, square pass, with the ball played straight to your feet. We're going to give you that chance. I want you to play deep, and I want the other lads to play to you in the open spaces."

The man McDowall -- one of football's forgotten figures -- was talking to would go on to become one of its most famous: Don Revie.

There are various versions of how it came about – Ken Barnes and Jonny Williamson both insist they introduced it first, in the club's reserves – but the way Revie tells it is this.

McDowall had spent the summer watching the Aranycsapat -- the Hungarian 'Golden Squad.' He had been following them for almost a year, ever since they destroyed England 6-3 at Wembley in 1953. It was in the World Cup that summer, though, even as Hungary lost in the final to West Germany, that he had decided it was time to bring a little of their magic dust to the motherland.
Ask anyone about the central figure in that Hungary team and the chances are they will name Ferenc Puskas, the Galloping Major. The side's key component, though, the one whose performances had the most impact, was Nandor Hidegkuti. Hidegkuti was the conductor of the gilded orchestra. He was the withdrawn centre-forward. He was the great tactical shift. He was the first-ever false nine.

That was the role McDowall wanted Revie to play. It had never been seen in Britain before -- or, at least, if it had, nobody had the forethought to mention it -- as the game stuck rigidly to the tactical convention of Herbert Chapman's W-M formation. That was McDowall's plan. He had seen how baffled opponents were by the Hungarians, and he thought City could ape their approach. His scheme would come to be known as The Revie Plan.

In Revie's autobiography, 'Soccer's Happy Wanderer', he sketches out how the plan would work. Revie would drift back deep into his own half, and pick up the ball from goalkeeper Bert Trautmann. He would then exchange passes with his teammates, short and to feet, as he worked his way up the pitch. McDowall warned him he would require boundless stamina to do it. If he was double-marked, one of his teammates would step in to the role.

City started the season at Preston. The Revie Plan's debut on English soil ended with a 5-0 defeat to a side inspired by, as Revie puts it with typical drama, "Tom Finney and his henchmen."

McDowall and Revie stuck with it. They had faith that this was the future. It carried City all the way to the 1955 FA Cup final, where they lost to Newcastle. They got there again in 1956. This time, they beat Birmingham. It is a game best remembered for Trautmann's heroics, the former German paratrooper playing on with a broken neck, but it was not decided by his saves. No, it was decided by Revie. "His craft," wrote the FA News later that year, "befuddled Birmingham."

There is a point to this brief history lesson. It is this: In 1954, the World Cup was where new ideas were born, where they grew. We tend to think of that world as monochromatic, isolated and mysterious. It was before the European Cup existed, even. The only contact English fans had with foreign teams came through exhibition tours, both on these shores and abroad -- that, and the snapshots of flickering newsreel from the World Cup.
But there was nevertheless a tremendous appetite for new ideas, for new concepts. The FA's contemporary quarterly bulletins show that they were growing increasingly conscious of the advances being made abroad, everywhere from Denmark to Yugoslavia, from Belgium to Brazil. They knew about the "continental coaching techniques." They knew that English boys were not getting as much ball time, essentially, as their foreign counterparts, and there was a huge appetite at the governing body to change something. In that sense, the world they lived in is not so very different from today. It's just that we've got Wi-Fi.

It seems fair to assume, then, that people involved in football -- people like McDowall and Revie -- were scouring the international scene for hints and tips as to how they could gain a slender advantage. They watched the World Cup -- some even travelled to the tournaments, though whether McDowall went to Switzerland is unclear -- to be inspired. For all the enduring English arrogance that the game's home was its standard-bearer, they were aware that things were changing, and that the best place to see how was at the World Cup.

At some point, that has changed. Indeed, it has not just changed, it has flipped by 180 degrees. The World Cup is no longer the forge where the future of the game is determined. Instead, it is now simply a showroom where on-going developments are displayed in glossy cabinets. To draw a parallel: The World Cup used to be a fashion month, where designers unleashed their most vibrant creations. Now, it is the high street. The catwalks, where imagination runs wild and inspiration is unimpeded, have moved elsewhere.

"The Champions League is the crème de la crème," Jurgen Klinsmann, the United States national coach, said last week. "This is where the trend is made, in the Champions League. The way they play this year in the Champions League, you will see it in the World Cup in the summer. The systems, the approaches: It is the best of the best."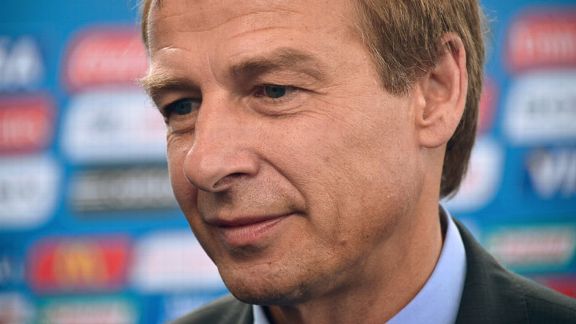 GettyImagesUSA boss Jurgen Klinsmann looks to Europe for his innovations.
The Champions League was responsible for making the Makelele role so popular there was a point when it was essentially compulsory. The Champions League made 4-2-3-1 the default formation across the world. It made everyone want to be Barcelona; it made everyone believe that you can be beautiful and triumphant. The Champions League helped us all fall in love with Borussia Dortmund's frenetic pressing game.

We are at a point now where it is not the case that a club manager will be waiting for the World Cup to offer him his next great insight. Rather, the converse is true: National side managers like Klinsmann will be watching the Champions League ties over the next week and looking for clues, hints, as to where the game is going.

It may be in Paris Saint-Germain's slow-fast pressing. It may be in Bayern Munich's front screen. It may be in Manchester United's continuing attempt to abolish the midfield. Whatever it is, it will be seen first in the Champions League. This is where the best players are, and the best managers. This is where innovation happens.

In 'Soccernomics', Simon Kuper and Stefan Szymanski assert that "EEC football" -- the football played in western Europe -- has become the only recognisable form of football at world level. They suggest that how tapped in to this core knowledge a country is defines how bright their footballing outlook can be. This is broadly true. Even Brazil and Argentina are in some way European in their approach now. The differences between elite sides are extraordinarily slender, whether at club or international level.

It is in the Champions League, the very centre of the hothouse, where the game's best minds are trying to eke out whatever advantage they can, with whatever tactical or technical advancement they can make. They are risk-takers, pioneers, like McDowall. It is just that their risks are not quite so obvious.

One of them, though, whether it is Laurent Blanc or Pep Guardiola or David Moyes -- the inventor of the false 10 -- one of them will try something in the coming weeks, and it will work. And there will be someone watching. There will be a coach who sees it and, when the World Cup rolls around, pulls his team together and says: "I was watching Galatasaray the other week, and I've had an idea."