Guardiola aims to make impossible dream a reality
It was the obvious question, even if Pep Guardiola was never going to give the answer intended.

Is this Bayern Munich team already as good as his last side, the team so commonly argued as the greatest ever?

"I can't compare to my past, my Barcelona," Guardiola responded, in what was a surprisingly placid press conference on the eve of his team's last-16 first leg against Arsenal.

- 50/50 Challenge: Arsenal vs. Bayern

In truth, it's probably very difficult for anyone to compare. Even though the two squads ended up meeting in last season's monumental semifinal, and the difference was so big, this was also a very different Barca -- and the general differences from campaign to campaign are arguably even greater.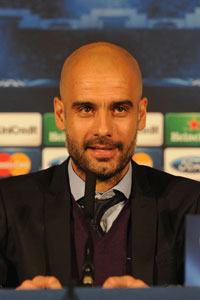 GettyImagesPep Guardiola fell short of claiming back-to-back Champions League titles in 2010 and 2012.
Because of changes in the field, and the individual alterations in teams, what is exceptional one year may only be excellent the next.

It is something that also cuts to the heart of the debate about whether Barca winning two titles in three years in a more congested Champions League is any way comparable to Milan retaining it in a very different European Cup knockout format.

That, however, is also where Bayern may ultimately trump Barca. If you can't compare their overall approach due to different contexts, you can compare their records.

There is no disputing the grand theme to Bayern's entire season, particularly since their current record is so awesome. The Germans can become the first club since Arrigo Sacchi's famed Milan to retain the European Cup. By overseeing that feat, Guardiola would also perhaps go some way to making up for his oh-so-narrow failure to do so with Barca in both 2010 and 2012.

The Catalan coach, for his part, claims he doesn't look at it that way.

"I think our target is to play every week better than the last week. Retaining the title is so difficult. It hasn't happened for a long time. I am not worried about that. My life is not going to change. I know that people are waiting there. I know when we don't win we are disappointed for the people but I know how difficult it is in sport to win one year and then the year after."

In private, of course, it's a little difficult to think a perfectionist like Guardiola actually believes that. In public, however, it's perhaps the best approach to take -- especially when you consider the astounding manner in which Barcelona actually failed.

Quite simply, it remains remarkable that the Catalans didn't achieve the feat first.

The margins are still mind-boggling. Against Inter Milan in 2010, there was an ash cloud, a few borderline referee calls and at least two big missed chances.

In 2012, it was arguably even more galling -- not least because of Leo Messi's penalty miss. A player who that year broke the record for goalscoring couldn't put away the single kick that would have proved the most decisive and possibly most defining.

Of course, another angle is that it reflected the one remaining error in Guardiola's otherwise exceptional approach.

For all Barcelona's absolutely brilliant dominance there was an occasional sloppiness, which the Chelsea game in 2012 arguably the ultimate example of. Despite going 2-1 up and playing so magnificently, not to mention having a man advantage, they somehow contrived to leave Ramires coursing through on goal.

A particularly harsh analysis would say it also somewhat applies to this Bayern.

Even after the frantic final moments of the last-16 second leg against Arsenal last season, the Germans still managed to nearly finish second in their group this season as they lost to Manchester City at home.

The key difference may be whether lessons are fully learned -- and applied. It is perhaps also why Guardiola so intensely insisted on full application at the Emirates. It was the single moment when the temperature of an otherwise calm press conference went up. Guardiola was almost growling.

"When tomorrow we leave the ball to them, we are going to suffer," Guardiola acknowledged, before offering a warning. "Tomorrow, the most important thing, me [thinking] like a trainer, the players [thinking] like players, the team will take more of the ball, dominate the ball, we are going to get the chance."

Of course, there's also perhaps evidence of another lesson there. Guardiola himself has never won at the Emirates, and that despite his Barcelona largely commanding two separate first legs, in 2010 and 2011. It ensured the returns at the Camp Nou were needlessly tense.

"Arsenal is a typical, typical team from the Champions League. [Arsene Wenger] has coached the last 20 years with the same idea, with good quality, with passing," Guardiola said. "I never won here. I learned you can never dominate 90 minutes against Arsenal. What happens, is that you can dominate 30 minutes, to half-time, to 75, but a complete 90 minutes is impossible.

"I am pretty sure tomorrow the fans are going to enjoy because Bayern want the ball and Arsenal wants the ball. When that happens, it's good. I don't think too much about the second game, we concentrate on what we have to do tomorrow."

That concentration, again, could be crucial. One potential reason that no club has retained the modern Champions League is because, these days, the quality of about eight elite clubs is so close that any slight drop-off in psychology or motivation will have a significant effect. What's more, opposition sides work even harder to figure out. Both Guardiola and the Spanish national team found that once they started coming up against blanket defences.
GettyImagesPep Guardiola has managed to invigorate a Bayern Munich side that could have rested on its laurels after last season's Treble triumph.
In order to prevent that, you do need two big alterations, which require a huge degree of bravery -- a change in tactical approach, and even a change in personalities to freshen up the mood and retain motivation.

It is arguable that Guardiola has provided both. Arjen Robben alluded to that.

"I think it has been good that a fresh wind came in and as players we had to be focused from the first day on and go with the new coach and his new plan." Robben said.

That new plan has most obviously involved the use of Philipp Lahm as a defensive midfielder. More subtly, and arguably even more importantly, there has been the manner that Guardiola has managed to make one surprise change for almost every game.

Bayern are almost impossible to predict, which ensures virtually everyone is predicting them to make history.

Guardiola can at least make one comparison from his time at Barcelona: he has lived with that pressure before.

"I have to handle, to live every game, to accept we are favourites, to say we are favourites to win, I can't deny that. I would lie to live without these feelings, it's impossible."

Doing so, however, may ensure that Guardiola finally manages the impossible.