50-50 Challenge: Arsenal vs. Bayern Munich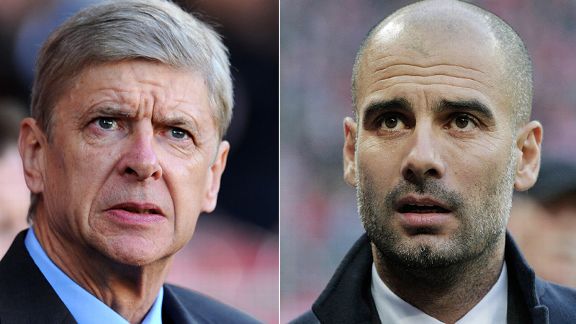 GettyImagesArsene Wenger and Pep Guardiola will go head to head.
This week, our 50-50 Challenge series focuses on the resumption of the Champions League as club experts John Cross and Susie Schaaf face off ahead of Wednesday's clash between Arsenal and Bayern Munich at the Emirates Stadium in London.

John is a football reporter for the Daily Mirror and one of ESPN FC's experts on all things Arsenal. He's been at the Mirror for 15 years. He regularly covers the Gunners and has done so throughout Arsene Wenger's reign.

Susie is ESPN FC's resident Bayern Munich expert. She co-hosts the only English-speaking Bayern Munich podcast @Rekord_Pod and talks Bundesliga on BBC World Service and SiriusXM FC.

Both writers will address the same topics, so here we go: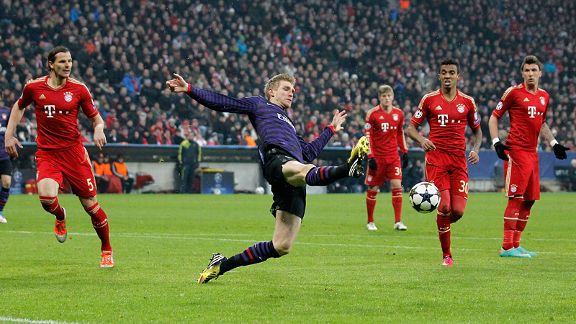 GettyImagesArsenal nearly turned the tie on its head in Munich last season.
Match memories
John Cross: I've had the pleasure of attending all previous six meetings between Arsenal and Bayern Munich in the Champions League. Until last year, the feeling has always been that the teams were well-matched, even if Bayern had the edge, winning in Munich in 2001 and 2005 while Arsenal won and drew their two games in London. But last season, it felt like men against boys. Arsenal were humbled. The Gunners were up against giants, both in terms of stature and skill. Bayern Munich looked on a different level at the Emirates and their 3-1 victory left Arsene Wenger wobbling. It was such a comprehensive defeat that the score line did not do Bayern's dominance justice.

I remember going to Munich for the return amid whispers that Wenger was going to rest players because the tie was effectively over. In the end, Wenger went for it. All his fit players played -- even though Wojciech Szczesny and Thomas Vermaelen were dropped (the latter knew he was axed and still did the prematch press conference) -- and Arsenal nearly caused an upset, winning 2-0 on the night. Bayern sat back complacently, and Laurent Koscielny and Olivier Giroud scored, but Arsenal ran out of time and lost by the margin of an away goal.

But that was, without doubt, the turning point of the past 12 months. It was the catalyst of a new run of form; the Gunners went on an unbeaten run, and victory in Munich gave them renewed confidence. That night last year can give them similar belief in trying to upset the European champions. I love going to German grounds -- always lively and full of atmosphere. And Arsenal always seem to go there when it's cold!

Susie Schaaf: While there is not a whole lot of history between the two sides, they have still managed to meet in the Champions League on three (now four) different occasions. My favourite Bayern performance would have to be the 3-1 demolition of Arsenal at the Emirates last season at this same point in the tournament. That's when I really felt that Bayern could win the whole thing. And in contrast, the return leg last season in Munich was one of the most uncomfortable, "squeaky bum time" matches I've watched in recent history. Laurent Koscielny's 86th-minute header at the Allianz Arena propelled Arsenal, and they needed just one more goal to go through, but Munich staved off the Gunners' relentless attack. And that match would be the touchstone for Bayern to see their way through the rest of the tournament.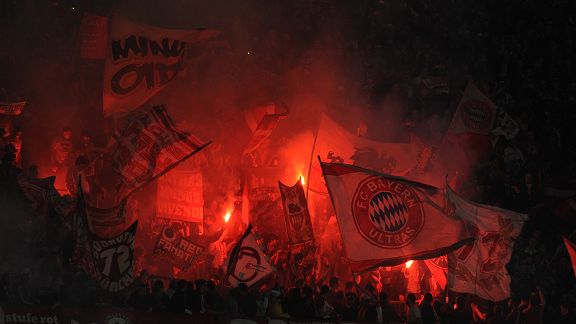 GettyImagesBayern Munich fans could taunt their hosts with English football songs.
The rivalry
JC: I don't think it's as much rivalry as respect. Bayern play with style and power, and they look terrific. They can definitely retain the title. Arsenal really like Bayern's Mario Mandzukic as a centre-forward. He's top-quality: powerful, strong and a goal scorer. He may be out of favour when Robert Lewandowski arrives and one for the Gunners to snap up. What makes me smile is that Arsenal want to model themselves on Bayern, and last year Wenger claimed they were not far behind. At the time, Gervinho head-to-head with Arjen Robben or Franck Ribery didn't quite add up. English clubs enjoy playing German teams as the love for the Bundesliga makes some of us feel that the fans are paid to go rather than have to pay to watch. But just wait until the German fans start singing their English football songs. Football's coming home and so on...

SS: Anybody I know who is a fan of German football follows Arsenal to some degree. With Lukas Podolski, Per Mertesacker and Mesut Ozil in the Gunners squad -- joined by German youngsters Serge Gnabry and Gedion Zelalem -- it's hard not to be compelled to watch the London club. That being said, my last visit to the Emirates wasn't a pleasant one -- despite the 3-1 victory. Verbally abused over 90 minutes without retaliation wasn't easy. And no, I couldn't possibly mention what was said.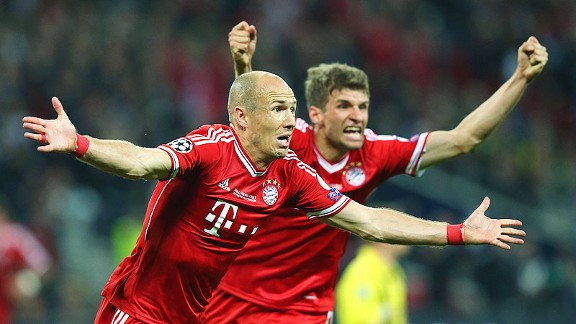 Alex Livesey/Getty ImagesArjen Robben is the player that can cause big problems for Arsenal.
Fear factor
JC: Without doubt, Arjen Robben is one to fear from Bayern. I love to watch him in full flight. With Ribery seemingly missing out, Robben is the man to watch. He is direct and pacey and will cause plenty of problems. But, to be honest, there are many others: Thomas Muller, Bastian Schweinsteiger and Javi Martinez were majestic at the Emirates. Mandzukic is so strong, too. But I love wingers and Robben is so deadly. Bayern are on a hot streak, playing really well under Pep Guardiola, and they present so many dangers. But Robben stands out from the crowd.

SS: After suffering an early-season knee injury, Alex-Oxlade Chamberlain is hitting his stride at the right time -- scoring a brace against Crystal Palace, and adding a goal and assist in Arsenal's recent FA Cup victory over Liverpool. If he manages to get some space to run against Bayern Munich, he may be the Arsenal player to inflict the most damage.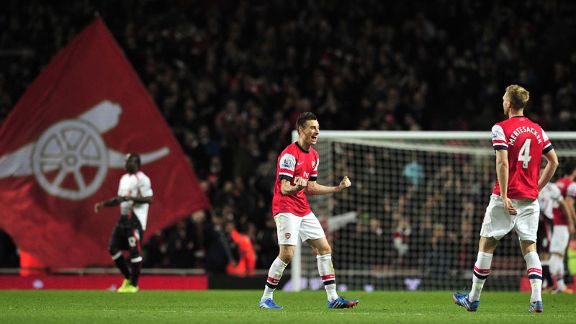 GettyImagesArsenal's defensive solidity will be key to the tie against Bayern.
X factor
JC: Keeping a clean sheet in the first leg is key to overall victory. It used to be that in European football a 1-0 defeat away from home was OK. These days, the fear factor of away ties has gone. I think Arsenal would regard 0-0 as a good result. They fancy themselves to score away from home, and at home their defensive record is superb, with 10 clean sheets in their last 13 games. They have been mauled away from home, but at the Emirates, Arsenal are confident, disciplined and strong. Going forward, Arsenal's threat will be from midfield. Santi Cazorla and Ozil can create openings, space and opportunities. But the key will be Arsenal's defence.

SS: Bayern's midfield will decide how this match operates. And while they're missing Ribery and Xherdan Shaqiri, Guardiola still has options for his attack. While moving Robben left and starting Mueller on the right has been an option this season in an attacking midfield, there's also the option of keeping Robben on his preferred side, with a fantastic Mario Goetze on the left. If Bayern are given the space to operate in the middle of the park, it could be a long night for Arsenal at the Emirates. The only teams this season that have had any sort of success against Munich have been the overtly physical ones. And Wenger's Arsenal don't play that way.

Predicted outcome
JC: I think the tie this year will be much closer than last term. That's saying something, given that Bayern Munich went through only on away goals, but the reality was different. Bayern were much better than Arsenal. They eased home in the first game, relaxed in the second, and then Arsenal nearly caught them. Arsenal are better now, stronger and with belief. The one thing they don't have is a top-class striker or finisher. It will be tight; it may come down to a missed chance or two, and Bayern have the extra quality to get through. Arsenal will be better than last season, but they'll still be disappointed.

SS: Despite my love for Mertesacker, there are goals to be had through Arsenal's defence. If Bayern Munich can get the ball behind the back four -- and with the quickness of Goetze, Thiago Alcantara and Robben, they will -- I can see this match going 2-0 or 3-1 in favour of Bayern. I would prefer a clean sheet, naturally, but would be happy with any positive result. While this Arsenal is a better team than last season, this year's edition of Bayern is a better Bayern, too.