Top spot guarantees luck of the draw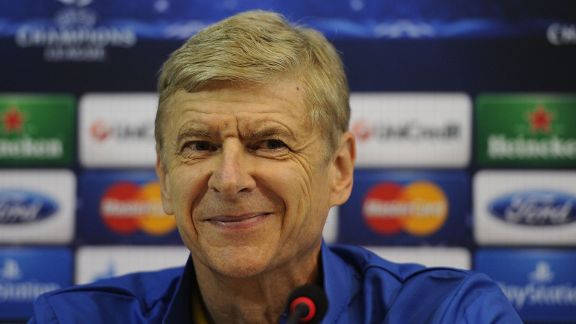 GettyImagesArsene Wenger wants a 'lucky' draw, but there's not a lot luck can do for Arsenal.
Try telling Arsene Wenger that it really matters where you finish in the UEFA Champions League groups. The Frenchman has always been a stout defender of the "You have to beat the best to be the best" philosophy, but one look at the possible knockout draw for the Gunners on Monday might make him change his tune.

Borussia Dortmund's late goal against Marseille caused shockwaves in Group F as not only did it put the Germans through in top spot but also knocked Napoli out and relegated Arsenal to second position. The ramifications for Wenger and company are simple: instead of getting a relatively simple draw against the likes of Galatasaray or Olympiakos, they have been handed possible ties against a "Who's Who" of Europe's elite instead.

Monday's draw -- which takes place at 11 a.m. GMT on Dec. 16 -- sees the group winners and group runners-up placed in two separate pots to face each other.

Group winners: Manchester United, Real Madrid, Paris Saint-Germain, Bayern Munich, Chelsea, Borussia Dortmund, Atletico Madrid, Barcelona.

Group runners-up: Bayer Leverkusen, Galatasaray, Olympiakos, Manchester City, Schalke, Arsenal, Zenit St Petersburg, AC Milan.

For the last 16, a team can't draw another from the same country or one from the group they have just advanced from.

So that means, for Arsenal, they avoid Manchester United and Chelsea (English) and Dortmund (in Group F) but are handed one of Real Madrid, Paris Saint-Germain, Bayern Munich, Atletico Madrid or Barcelona.

Even the "weakest" of the teams on paper, Atletico, are three points ahead of their city rivals Real in La Liga and have won over Gunners legend Thierry Henry, who told Sky Sports on Wednesday night: "Sometimes, the likes of Barca, Real or Bayern can leave themselves exposed by the way the play, but I saw them [Atletico] play this year and they don't give you one centimetre."

Home advantage in the second leg is another positive for finishing top of your group, so Wenger and Co could easily find themselves up against it if they don't keep a clean sheet at the Emirates in the first tie in mid-to-late February.

While the Gunners will find themselves in a similar situation -- they have been eliminated by Barcelona, AC Milan and Bayern respectively in their last three campaigns -- Man City's first foray into the last 16 sees them handed a possible tie against Madrid, PSG, Dortmund, Atletico or Barcelona.

Certainly the two English sides will be ones to avoid for the group winners, but Milan are there as well and, as they are the only Italian team to advance, have a few more options -- they could be troublesome opposition for Manchester United, Madrid, PSG, Bayern Munich, Chelsea, Dortmund or Atletico.

Proof that finishing top of your group is a better route to the final is evident when examining the draw Manchester United and Chelsea could get. Neither were in the best of form during the group stages but both will be licking their lips at the prospect of drawing the weaker teams:

United could face Galatasaray, Olympiakos, Schalke, Zenit St Petersburg or Milan, while Chelsea will meet Bayer Leverkusen, Galatasaray, Olympiakos, Zenit or Milan.

Despite losing to City on the final matchday, defending champions Bayern are rewarded for their efforts in finishing top of the group and could face Galatasaray, Olympiakos, Schalke, Arsenal, Zenit or Milan.

One would imagine most of the group winners will be looking to draw Russian side Zenit, who made history by qualifying for the knockout stages with a paltry six points. That would be just reward for their hard work during the group stage; Arsenal and City, having settled for second, will now have to pull out all the stops to produce a shock if they are to make sure their Champions League dream lives on.

Matches will be played on Feb. 18-19 or 25-26 and 11-12 or March 18-19.